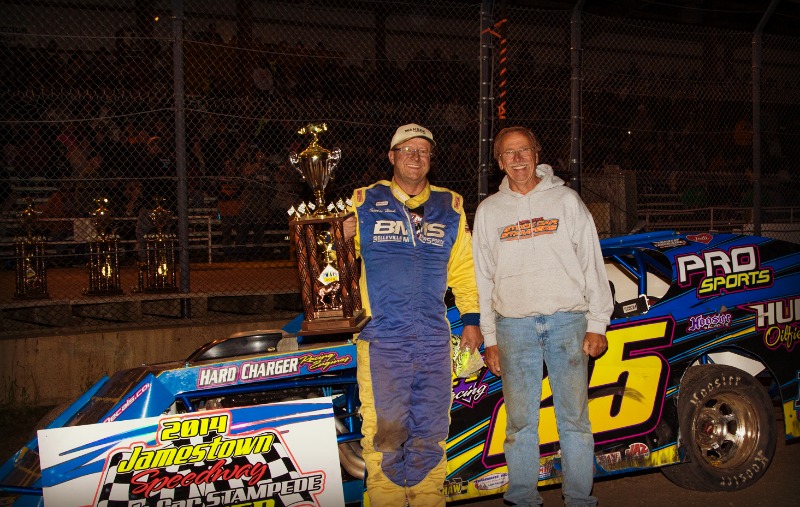 JAMESTOWN, N.D. (Sept. 20) – Hank Berry made history and $2,000 when IMCA Xtreme Motor Sports Modifieds made their debut at Jamestown Speedway's 43rd annual Stock Car Stampede special.
The veteran from Montana worked his way up from the ninth starting spot to win Saturday's 25-lap main event, a qualifier for the 2015 Fast Shafts All-Star Invitational ballot.
"This is a pretty prestigious event. I've been to 30 or so of them, won the Late Model feature twice and now the Modified feature three times," said Berry. "It was neat to win the inaugural IMCA race at the Stampede. That was cool."
Shawn Strand started 12th and made a strong charge to second. Jeremy Keller drew the pole, led the first 16 circuits and ended in third.
Completing the top five were Jason Wolla and Mike Greseth.
Keller got out to a big lead at the start of the race but that advantage was erased by a lap nine caution.
Berry was up to third by lap 15. Making the most of the top side, he was up to second the next time around and came out of turn four with the lead on lap 17.
Aaron Turnbull had challenged Keller and stayed close to the front before pulling into the infield; Strand took over second following a lap 18 restart but couldn't catch Berry, who won the race to the checkers by three car lengths.
Feature results – 1. Hank Berry; 2. Shawn Strand; 3. Jeremy Keller; 4. Jason Wolla; 5. Mike Greseth; 6. Dan Aune; 7. Drew Christianson; 8. Tim Perkins; 9. Allen Kent; 10. Dev Malmlov; 11. Eric Burwick; 12. Bryce Borgen; 13. John Flory; 14. Jordan Huettl; 15. Scott Bintz; 16. Kody Scholpp; 17. Jeff Odden; 18. Brent Pulskamp; 19. Aaron Turnbull; 20. Josh Eberhardt; 21. Mark Dahl; 22. Mike Johnson; 23. Josh Wolla; 24. Brian Swenson.