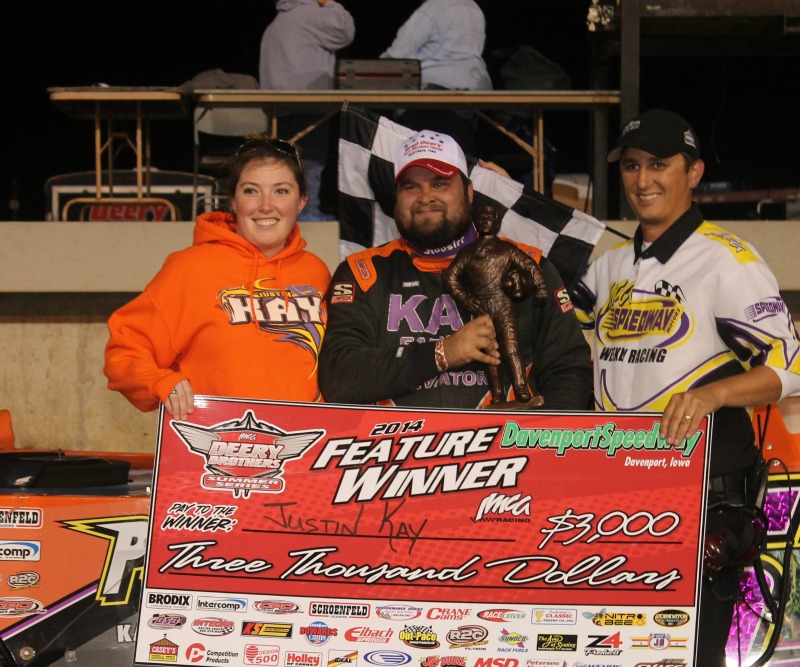 DAVENPORT, Iowa (Sept. 20) – Justin Kay took a big step toward another IMCA championship with his fifth Deery Brothers Summer Series feature win of the season Saturday at Davenport Speedway.
With a second straight national title already secured and a 30-point advantage over Andy Eckrich, Kay can clinch his career first series title by starting his heat race when the IMCA Late Model tour concludes in a two-day event Oct. 3 and 4 at West Liberty Raceway.
Kay's latest win paid $3,000 and came by reining in Eckrich, who had started on the pole and led the first 27 of 35 laps on the half-mile oval at Davenport.
After working his way up from 10th starting, Kay was inside and almost side-by-side with Eckrich, one groove higher and always ahead when the two crossed the stripe.
Following a caution with nine laps left, Eckrich switched to the lower line. Kay went outside, got a good run in the second set of turns and was in front when lap 28 went into the books.
The final yellow came with four to go but there was no catching Kay. Andy Eckrich, Brian Harris, Brunson Behning and Denny Eckrich rounded out the top five.
Behning's fourth place showing was the best of his brief Deery Series career. Scott Fitzpatrick was the $250 Sunoco Race Fuels feature qualifier drawing winner.
Bob Dominacki was the IMCA Xtreme Motor Sports Modified winner at Davenport. Tony Olson topped the Karl Chevrolet Northern SportMod feature.

Deery Series feature results – 1. Justin Kay, Wheatland; 2. Andy Eckrich, Oxford; 3. Brian Harris, Davenport; 4. Brunson Behning, Calamus; 5. Denny Eckrich, Tiffin; 6. Jeff Aikey, Cedar Falls; 7. Colby Springsteen, Wapello; 8. Joe Zrostlik, Long Grove; 9. Joel Callahan, Dubuque; 10. Nick Marolf, Moscow; 11. Ryan Dolan, Davenport; 12. Tyler Bruening, Decorah; 13. Jason Rauen, Farley; 14. Scott Fitzpatrick, Urbandale; 15. Todd Cooney, Des Moines; 16. Travis Denning, Sterling, Ill.; 17. Jon Poll, Delmar; 18. Jonathan Brauns, Muscatine; 19. Ray Guss Jr., Milan, Ill.; 20. Todd Malmstrom, Silvis, Ill.; 21. Mike Murphy Jr., Colona, Ill.; 22. Jay Johnson, West Burlington; 23. Darrel DeFrance, Marshalltown; 24. Spencer Diercks, Davenport.
1st heat (top three qualify) – 1. Kay; 2. Malmstrom; 3. Johnson; 4. Cooney; 5. Harris; 6. Nate Beuseling, Silvis, Ill.; 7. Bruening; 8. Chad Holladay, Muscatine; 9. Curtis Glover, Des Moines; 10. Gary Webb, Blue Grass.
2nd heat – 1. Rauen; 2. Callahan; 3. Denny Eckrich; 4. Poll; 5. Diercks; 6. Guss; 7. D.J. Burke, Davenport; 8. Fitzpatrick; 9. Jeremy Grady, Story City.
3rd heat – 1. Andy Eckrich; 2. Behning; 3. Springsteen; 4. Aikey; 5. Marolf; 6. DeFrance; 7. Joe Ross, Thomsen, Ill.; 8. Stephan Kammerer, Blue Grass; 9. Rick Wages, Colona, Ill.
4th heat – 1. Brauns; 2. Zrostlik; 3. Murphy; 4. Denning; 5. Ron Klein, Sherrill; 6. Matt Ryan, Davenport; 7. Dolan; 8. Jay Chenoweth, Wapello; 9. Jeremiah Hurst, Dubuque.
1st "B" feature (top four) – 1. Aikey; 2. Marolf; 3. Cooney; 4. Harris; 5. Beuseling; 6. DeFrance; 7. Bruening; 8. Holladay; 9. Kammerer; 10. Webb; 11. Glover; 12. Ross; 13. Wages.
2nd "B" feature – 1. Denning; 2. Poll; 3. Guss; 4. Diercks; 5. Dolan; 6. Ryan; 7. Fitzpatrick; 8. Hurst; 9. Chenoweth; 10. Grady; 11. Burke; 12. Klein.
Hard charger – Dolan. Series provisionals – Fitzpatrick, Bruening and DeFrance.