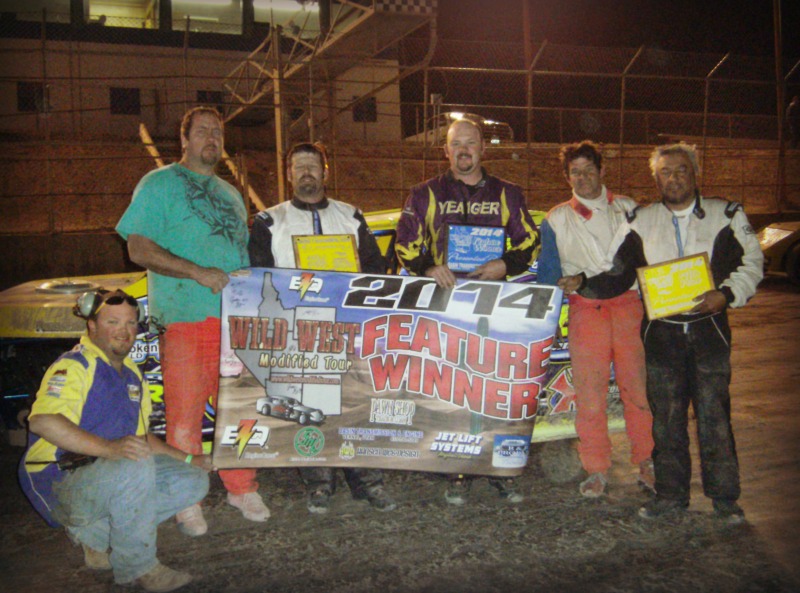 ROCK SPRINGS, Wyo. (Sept. 12-13) – Jeff Hunter and Justen Yeager won the battles while Bert Beech won the war, when the EQ Cylinder Heads Wild West Tour concluded with Friday and Saturday features at Sweetwater Speedway.
Hunter and Yeager were $1,000 winners in main events for touring IMCA Xtreme Motor Sports Modifieds. Beech ran third both nights at Rock Springs to capture the series championship, his first with IMCA.
"We made all the features this year and the car was real good the last three weekends," said Beech, who caught Chase Hansen in the race for the crown. "We've been following the tour for about five years so it feels pretty good to win it."
Hunter's win on opening night came in his career 14th Wild West Tour outing. He started the 30-lapper from sixth, was in front by lap five and stayed there 'til midway.
He'd get the lead back late and beat travel partner Eddie Belec across the stripe. Beech, Tony Steward and Jake Donnelly completed the top five.
"I bought Eddie's Race car from last year and have had a great season. This was my second win and we've had a lot of top five's in 27 races," Hunter said. "I'm psyched because I made the Fast Shafts All-Star ballot. Eddie can't have his old car back."
Yeager was much less pleased with his opening night showing.
After being part of a first-lap scuffle, he drove back to the front and got caught up with leader Michael Hale in the late going.
"That was 100 percent my doing," he said. "It was one of my worst nights ever racing. I wasn't too happy with myself. It was one of those race nights I'd just as soon forget."
He made his way up from ninth starting the next night and ran side-by-side or bumper-to-bumper with Belec much of the way.
Belec got turned around late and wound up sixth. Travis Metz, Beech, Chris Clark and Rick Fierro all got by to fill out the top five.
Yeager's Saturday win was his fourth this season on the tour and career 18th.
Feature Results
Sept. 12 – 1. Jeff Hunter; 2. Eddie Belec; 3. Bert Beech; 4. Tony Steward; 5. Jake Donnelly; 6. Rick Fierro; 7. Don Baisch; 8. Chris Clark; 9. Mike Yost; 10. Dan Waldemar; 11. Jason Donnelly; 12. Mickey Stubbings; 13. Ronnie Roy; 14. Michael Hale; 15. Justen Yeager; 16. Don Robertson; 17. Brian Ungaro; 18. Chase Hansen; 19. Casey Delp; 20. Travis Metz; 21. Kevin Wright; 22. Paul Jones Jr.; 23. Tim Christensen; 24. Heath Denney; 25. Tim Dower; 26. Josh Robinett.
Heat winners were Robertson, Yeager, Delp and Wright.
Sept. 13 – 1. Yeager; 2. Metz; 3. Beech; 4. Clark; 5. Fierro; 6. Belec; 7. Yost; 8. Denney; 9. Christensen; 10. Roy; 11. Jones; 12. Steward; 13. Wright; 14. Hansen; 15. Baisch; 16. Robinett; 17. Delp; 18. Waldemar; 19. Hale; 20. Hunter; 21. Jake Donnelly; 22. Jason Donnelly; 23. Ungaro; 24. Stubbings; 25. Robertson; 26. George Ashby.
Heat winners were Yeager, Hale, Belec and Delp.