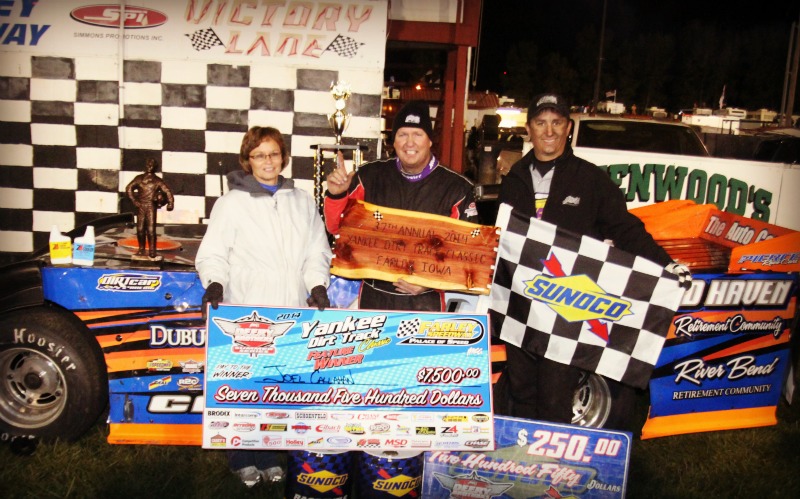 FARLEY, Iowa (Sept. 14) – Joel Callahan finished the Yankee Dirt Track Classic Deery Series main event at Farley Speedway a year older and $7,500 richer.
The 100-lap IMCA Late Model tour event started late Saturday evening and finished in the wee hours on Sunday.
Callahan, who figured he turned 50 somewhere around lap 27, inherited the front spot when race-long leader Colby Springsteen cut his right rear tire and then led to the checkers in repeating as the big money Yankee winner.
"I think we step up our game for this race. There's a lot of adrenaline pumping," he said. "To me, this is the biggest race on the Deery schedule and not because of the pay but because it's at my home track."
"The track was fast from top to bottom," he added. "It didn't matter where you were running."
Richie Gustin was second in the best showing of his brief Deery career. Denny Eckrich was third and point leader Justin Kay roared all the way back to fourth after exiting to fix a flat tire on lap 58 and restarting at the rear.
The 59 entries for the Yankee were the most for a Deery Series event this season and the most in 78 races dating back to opening night in 2010.
Jason Rauen drew the pole but it was Springsteen shooting into the lead from his outside row one start.
The race was stopped following a lap 30 mishap that collected Tyler Droste, Terry Neal and Jason Hahne, then stayed green for the next 28 circuits.
Springsteen looked to have the race in hand before the flat tire relegated him to 16th and Callahan took over.
The last caution came with 12 laps left. Callahan was quickly celebrating in victory lane with crew chief Stan Thomas, crewman Al Dix, sons Zach and Joey, wife Cindy and daughter Stephanie.
"I focused on hitting my marks and keeping the car straight," said Callahan, also winner of the $250 Sunoco Race Fuels feature qualifier drawing. "I knew if I did that we'd still have tires at the 75-lap mark. That was key."
Scott Fitzpatrick earned the hard charger starting spot and Jeff Aikey and Brian Harris both took provisionals; all three advanced 14 positions to eighth, ninth and 10th, respectively.
Samples were taken from tires from each of the top five finishing cars and race results remain unofficial.
Next on the Deery Series schedule is the Saturday, Sept. 20 ½-mile show at Davenport Speedway. Pit gates open at 4:30 p.m., the grandstand opens at 5 p.m., hot laps are at 6:30 p.m. and racing starts at 7 p.m.
The tour concludes with a two-day show Friday and Saturday, Oct. 3 and 4 at West Liberty Raceway.
Feature results – 1. Joel Callahan, Dubuque; 2. Richie Gustin, Gilman; 3. Denny Eckrich, Tiffin; 4. Justin Kay, Wheatland; 5. Andy Eckrich, Oxford; 6. Ryan Dolan, Lisbon; 7. Matt Ryan, Davenport; 8. Scott Fitzpatrick, Urbandale; 9. Jeff Aikey, Cedar Falls; 10. Brian Harris, Davenport; 11. Curt Martin, Independence; 12. Luke Goedert, Guttenberg; 13. Tommy Elston, Keokuk; 14. Jon Merfeld, Dubuque; 15. Nick Marolf, Moscow; 16. Colby Springsteen, Wapello; 17. Ryan Griffith, Webster City; 18. Kyle Hinrichs, Swisher; 19. Ray Guss Jr., Milan, Ill.; 20. Terry Neal, Ely; 21. Jason Hahne, Webster City; 22. Tyler Bruening, Decorah; 23. Tyler Droste, Waterloo; 24. Jason Rauen, Farley; 25. Dave Stichter, Shannon, Ill.
1st heat (top two) – 1. Elston; 2. Denny Eckrich; 3. Jon Poll, Delmar; 4. Dolan; 5. Neal; 6. Guss; 7. Chad Holladay, Muscatine; 8. Kyle Neels, Freeport, Ill.; 9. Jason Udelhofen, Potosi, Wis.; 10. Marty Scheckel, Long Grove.
2nd heat – 1. Gustin; 2. Hinrichs; 3. Merfeld; 4. Darren Ackerman, Readlyn; 5. Spencer Diercks, Davenport; 6. Ross Pierce, Dubuque; 7. Todd Frank, Montrose; 8. Curtis Glover, Des Moines; 9. Steve Hunter, Hopkinton; 10. Rick Wendling, Hazleton.
3rd heat – 1. Andy Eckrich; 2. Springsteen; 3. Hahne; 4. Droste; 5. Rob Klein, Sherrill; 6. Todd Cooney, Des Moines; 7. Brian Harris; 8. Jerry King, Waterloo; 9. Rob Moss, Iowa City; 10. Charlie McKenna, Clear Lake.
4th heat – 1. Kay; 2. Martin; 3. Griffith; 4. Jay Chenoweth, Wapello; 5. Doug Yates, Monticello; 6. Jeff Tharp, Sherrill; 7. Travis Denning, Sterling, Ill.; 8. Larry Harris, Muscoda, Wis.; 9. Don Pataska, Miles; 10. Jay Johnson, West Burlington.
5th heat – 1. Stichter; 2. Rauen; 3. Marolf; 4. Bruening; 5. Aikey; 6. Joe Zrostlik, Long Grove; 7. Dean Wagner, Evansdale; 8. Darrel DeFrance, Marshalltown; 9. LeRoy Brenner, Aledo, Ill.; 10. Scott Fitzpatrick, Urbandale.
6th heat – 1. Goedert; 2. Callahan; 3. Ryan; 4. Greg Kastli, Waterloo; 5. Jeremy Grady, Story City; 6. Becky Roth, Kieler, Wis.; 7. Dan Shelliam, Hazel Green, Wis.; 8. Mel Abels, Freeport, Ill.; 9. Scott Welsh, Cedar Rapids.
1st "B" feature (top three) – 1. Griffith; 2. Dolan; 3. Neal; 4. Guss; 5. Poll; 6. Trump; 7. Denning; 8. Holladay; 9. Chenoweth; 10. Yates; 11. Neels; 12. Larry Harris; 13. Pataska; 14. Udelhofen; 15. Scheckel; 16. Johnson.
2nd "B" feature – 1. Merfeld; 2. Bruening; 3. Marolf; 4. Ackerman; 5. Zrostlik; 6. Aikey; 7. Diercks; 8. Wagner; 9. Fitzpatrick; 10. Wendling; 11. DeFrance; 12. Frank; 13. Pierce; 14. Hunter; 15. Glover; 16. Brenner.
3rd "B" feature – 1. Ryan; 2. Hahne; 3. Droste; 4. Klein; 5. Brian Harris; 6. Cooney; 7. Shelliam; 8. Kastli; 9. McKenna; 10. Grady; 11. Moss; 12. King; 13. Welsh; 14. Abels; 15. Roth.
Hard charger – Fitzpatrick. Series provisionals – Aikey and Brian Harris. Guss won the last-chance qualifier.