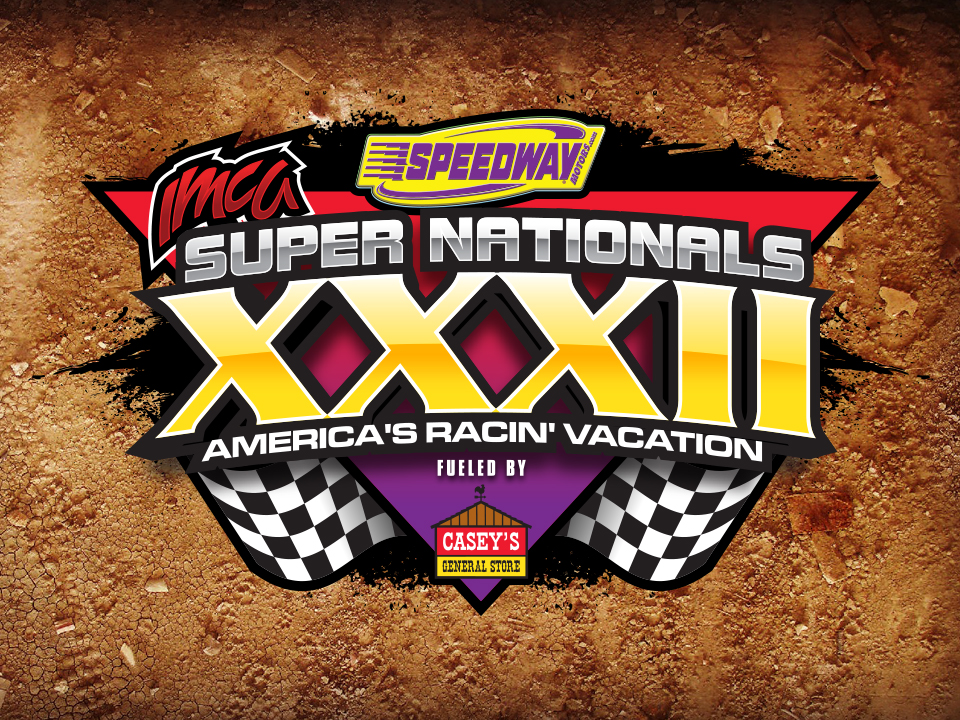 Werkmeister is first, last at Super Nationals XXXII
BOONE, Iowa (Sept. 6) – Regardless of how tonight's main event action plays out, Casey Werkmeister will go home to North Platte, Neb., with a pair of IMCA Speedway Motors Super Nationals fueled by Casey's distinctions.
First in his Friday night Stock Car qualifying feature, Werkmeister was also the 866th entry to compete during the Sept. 1-6 Super Nationals at Boone Speedway.
That car count total is the second highest in event history, just eight fewer than the record set in 2012
*
Pre-race ceremonies, including determination of best-looking Modified and Stock Car entries with the 'Speedy' Bill Smith Speedway Motors tribute theme, begin at 1 p.m.
Fifteen last-chance heats for the Modifieds will be followed by the 25-lap last-chance feature for the Stock Cars. The top six finishers in that event advance to the back two rows of tonight's big dance.
A trio of 12-lap last-chance races each add three cars to the back of the Modified main event field, with the 10-lap Stephenville Starter Race of Champions for Hobby Stocks, the 10-lap BSB Manufacturing Race of Champions for Northern SportMods, the 10-lap Sunoco Race Fuels Race of Champions for Stock Cars and the 12-lap Harris Auto Racing Race of Champions for Modifieds next.
The greatest show on dirt concludes with 30-lap Hobby Stock, SportMod and Stock Car events, and ultimately the 40-lap Modified headliner.
*
By popular fan acclamation, Calera, Okla.'s William Gould was judged the Modified winner of the best looking car contest.
Les Lundquist of Sioux City was the winner in the Stock Car division.
Both drivers received trophies.
*
Rich Lewerke of Mason City had the high card and will start on the pole this afternoon in the Harris Auto Racing Race of Champions for Modifieds.
Keith White of Little River Academy, Texas, will start outside the front row.
Lining up third through 12th in the 12-lap, $1,000 to win event are Mason Big Eagle of Manor, Sask., 2001 race winner John Logue of Boone, Eric Dailey of Armstrong, Todd Shute of Des Moines, William Gould of Calera, Okla., Mike Petersilie of Hoisington, Kan., defending race winner Dustin Smith of Lake City, Jesse Sobbing of Glenwood, Levi Nielsen of Mason City and Mike Van Genderen of Newton.
*
Displaying the high card in the Sunoco Race Fuels Race of Champions draw was Dan Mackenthun of Hamburg, Minn.
Starting to his immediate right will be 2008 Sunoco RoC winner Kevin Opheim of Mason City.
Completing the third through 10th positions in the 10-lap, $500 to win race will be Scott Pippert of Elberon, Todd Reitzler of Grinnell, Matt Guillaume of Haslet, Texas, Nathan Wood of Sigourney, 2004 winner Mike Nichols of Harlan, Devin Smith of Lake City, Michael Jaennette of Newton and Travis VanStraten of Hortonville, Wis.
***
Kyle Strickler won again, this time in an afternoon game of roshambo with fellow Friday Modified qualifying feature winner Johnny Whitman to decide the outside front row starting spot.
Tyler Droste, Hunter Marriott, Adam Larson, Jeremy Mills, Adam Johnson and Jason Cummins line up third through eighth.
*
Another driver extending his Super Nationals win streak alive was Casey Werkmeister, who bested a young representative for Justin Temeyer in roshambo to determine the outside front row start in tonight's Stock Car main event.
Next in line will be Rick Mahlberg, John Heinz, Michael Jaennette, Jake Masters, Stefan Sybesma and Scott Pippert.
*
Werkmeister has to share credit for his qualifying with cousin and crew chief Wade Hill.
The freshman football coach at North Platte High School, Werkmeister watched his club blank Hastings 42-0 Thursday night before starting the trip to Boone. He got to the track Friday morning, won both his heat and the qualifying feature, then rock-paper-scissored his way to a front row start.
"I wasn't even going to come but Wade said 'We've got one day, we can do it,'" said Werkmeister. "I think I'll have as good a shot as the next guy to win the main event. Everything is lining up. Maybe it'll keep going."