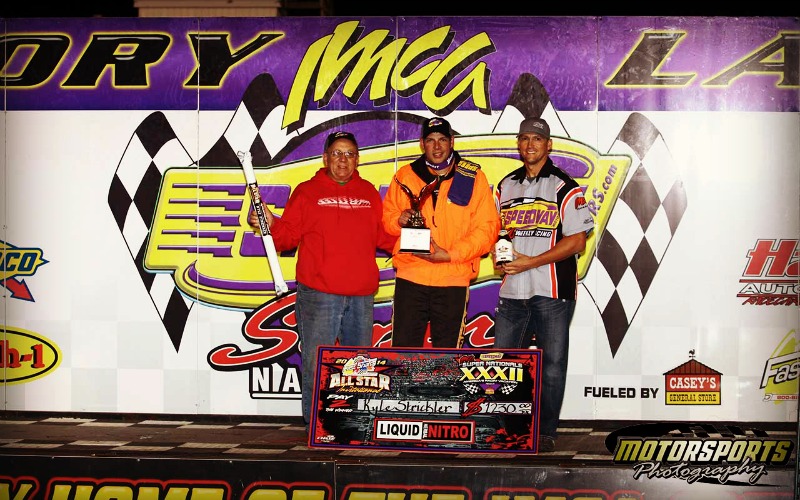 BOONE, Iowa (Sept. 5) – Kyle Strickler enjoyed the privilege of racing with a lot of his idols as much as he did winning Friday's Fast Shafts All-Star Invitational at Boone Speedway.
Strickler led the last 23 circuits in the 30-lap Modified feature, on night five of the IMCA Speedway Mo­tors Super Nationals fueled by Casey's. He earned $1,230 – including lap money – for the vic­tory, which came almost half a straightaway ahead of defending race winner Todd Shute.
"This is such a big event. Winning this race ranks right up there," he said. "When you look at the names of the drivers that were in it, a lot of them are my idols. It's amazing to be on the same track with them and win."
2011 Invitational winner Chris Abelson, 15th starting Troy Cordes and 17th starting Ricky Thornton com­pleted the top five. Jimmy Gustin charged from 25th starting to sixth.
An Invitational record 16 states were represented in the 30-car field.
Shute led the first seven laps after starting in the middle of row one. Strickler took the initial green from inside row two and after back-to-back yellows on lap four, quickly closed the gap on Shute.
Shute and Strickler were pulling away from the rest of the field by lap six; Shute's advantage was not much more than the width of his bumper when the next lap was scored.
Strickler was ahead on lap eight. The last caution of the contest came out on lap nine and Strick­ler set sail from that point.
"I kept on looking at the board and hope the track didn't change. Sometimes the leader can be a sitting duck," he said. "I wasn't sure if the race was 25 or 30 laps but I had a really good car. We didn't make any changes from Wednesday or Thursday. There were no adjustments you could have made to make this car any faster."
Strickler's win puts him on the ballot for next year's Fast Shafts All-Star Invitational. He had been the top vote recipient in the first of two rounds of social media voting to elect All-Stars from candi­dates that included winners of sanctioned races that paid $1,000 or more to win and 2013 re­gional and state champions.
Ronn Lauritzen and Cory Sample completed the field as the top non-elected candidates compet­ing at Boone based on national points and feature wins, respectively.
Feature results – 1. Kyle Strickler, Mooresville, N.C.; 2. Todd Shute, Des Moines; 3. Chris Abel­son, Sioux City; 4. Troy Cordes, Dunkerton; 5. Ricky Thornton, Chandler, Ariz.; 6. Jimmy Gustin, Marshalltown; 7. Cory Sample, Winnemucca, Nev.; 8. Jeff Taylor, Cave City, Ark.; 9. Cody Gear­hart, Turpin, Okla.; 10. Jason Murray, Hartford; 11. Dean Abbey, Waco, Texas; 12. William Gould, Cal­era, Okla.; 13. Ronn Lauritzen, Jesup; 14. Mike Jergens, Plover; 15. Keith White, Little River Academy, Texas; 16. Brad Pounds, Bakersfield, Calif.; 17. Scott Hogan, Vinton; 18. Ryan McDan­iel, Olivehurst, Calif.; 19. Jeremy Frenier, Fort Morgan, Colo.; 20. Chris Fleming, Union Springs, N.Y.; 21. Chase Hansen, Myton, Utah; 22. Robert Hellebust, Minot, N.D.; 23. Joe German, Aber­deen, Wash.; 24. A.J. Ward, Ionia, Mich.; 25. Tim Ward, Gilbert, Ariz.; 26. Jason Noll, Peoria, Ariz.; 27. Jesse Sobbing, Glenwood; 28. Jared Siefert, Luxemburg, Wis.; 29. Corey Lagroon, Sa­lina, Kan.; 30. Dustin Smith, Lake City.