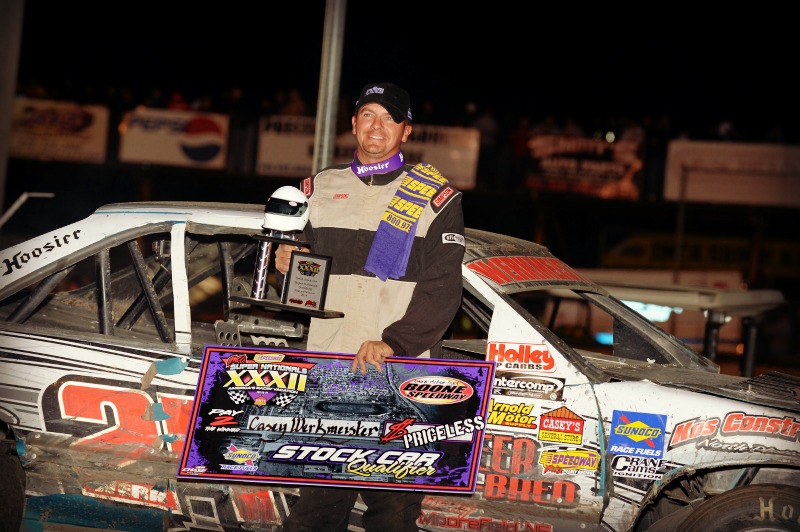 Late arrival Werkmeister, Temeyer top Stock Car qualifiers
BOONE, Iowa (Sept. 5) – He got to town late but Casey Werkmeister joined Justin Temeyer as a Stock Car qualifying feature winner at the IMCA Speedway Motors Super Nationals fueled by Ca­sey's on Friday night.
A high school football coach, Werkmeister was on the sidelines when his team won on Thursday, drove part of the way to Boone after the game and completed the trip the next morning.
He promptly won his heat, started third in the opening qualifier and sped to the win ahead of Rick Mahlberg, Michael Jaennette and Stefan Sybesma.
Temeyer made his way to the front after starting 10th in the nightcap. John Heinz, Jake Masters and 13th starting Scott Pippert were next across the stripe.
Werkmeister and Temeyer will play a game of roshambo to determine who starts on the front of the outside row of Saturday's main event, with the rest of the top four drivers in each qualifier complet­ing the row.
Temeyer will take the green in his career 10th Stock Car main event. Heinz and Sybesma are both in for the third time, Masters for the third.
Second-time qualifiers are Werkmeister and Jaennette. First-timers are Mahlberg and Pippert.
1st qualifying feature – 1. Casey Werkmeister, North Platte, Neb.; 2. Rick Mahlberg, Denmark, Wis.; 3. Michael Jaennette, Newton; 4. Stefan Sybesma, Sanborn; 5. Jesse Brown, Nashua; 6. Calvin Lange, Humbolt; 7. Michael Dancer, North Platte, Neb.; 8. Ned Kalis, Wells, Minn.; 9. Ca­sey Woken, Ogallala, Neb.; 10. Jordan Lathram, Hobbs, N.M.; 11. Allan Schmidt, Holstein; 12. Bruce Wickman, Emmetsburg; 13. Roger Verdoorn, Sibley; 14. Tristan Carman, Killeen, Texas; 15. James Richert, Comfrey, Minn.; 16. Norman Chesmore, Rowley; 17. Travis Prochaska, Iowa Falls; 18. Donavon Smith, Lake City; 19. Bob Chalupa, McCook, Neb.; 20. Jason Rogers, Selden, Kan.; 21. Gene Stigall, Winston, Mo.; 22. Norman Belew, Granger; 23. Nick Tubbs, Colby, Kan.; 24. Jason Minnehan, Churdan; 25. Luke Lemmens, Kewaunee, Wis.; 26. Dave Plowman, Omaha, Neb.; 27. Derek Green, Granada, Minn.; 28. Russell Damme, Waterloo; 29. Nathan Burke, Minot, N.D.; 30. Jason Batt, Hatcher Heights, Texas.
2nd qualifying feature – 1. Justin Temeyer, Independence; 2. John Heinz, Green Bay, Wis.; 3. Jake Masters, Graettinger; 4. Scott Pippert, Elberon; 5. Robert Stofer, Jefferson; 6. Troy Woelber, Hull; 7. Michael Pepper, Lakin, Kan.; 8. Jim Lynch, Kahoka, Mo.; 9. Jeff McCollum, Mankato, Minn.; 10. Les Lundquist, Sioux City; 11. Dennis Bissonnette, Stephenville, Texas; 12. Tom Killen, Des Moines; 13. Kevin Rose, Waterloo; 14. Matt Speckman, Sleepy Eye, Minn.; 15. Jer­emy Christians, Horicon, Wis.; 16. Wayne Gifford, Boone; 17. Rodney Richards, Madrid; 18. Ben Walding, Des Moines; 19. Brad Whitney, Trenton, Mo.; 20. Don Vis, Marshalltown; 21. Matthew West, Kellerton; 22. Bob Hoing, Overton, Neb.; 23. William Wade, San Angelo, Texas; 24. Roger Ciesielski, Waterloo; 25. Jeff Tubbs, Colby, Kan.; 26. Casey Jones, Sioux City; 27. Jeff Holstein, New Ulm, Minn.; 28. Dean Wray, Jamesport, Mo.; 29. Dustin Larson, Worthington, Minn.; 30. Jim Hendricks, Council Rocks.
***
Whitman, Strickler take Friday Modified qualifying checkers
BOONE, Iowa (Sept. 5) – Johnny Whitman and Kyle Strickler starred in Friday night Modified qualify­ing features at the IMCA Speedway Motors Super Nationals fueled by Casey's.
Whitman topped the first qualifier at Boone Speedway while Strickler, winner of the Fast Shafts All-Star Invitational earlier in the evening, paced the nightcap.
They'll determine who starts at the front of the outside row in the main event during a Saturday afternoon roshambo session.
Five states were represented by the top four finishers from the two qualifiers.
Twentieth starting Hunter Marriott, 16th starting Jeremy Mills and ninth starting Jason Cummins chased Whitman across the stripe in their 25-lapper.
Tyler Droste – a qualifier for Monday's Deery Brothers Summer Series main event – Adam Lar­son and Adam Johnson were next in the second qualifier. Corey Lagroon was disqualified from fourth place in post-race tech inspection for failure to meet frame specifications.
Mills and Larson both will start career fifth Super Nationals Modified main events, Cummins and Strickler both their second and Whitman, Marriott, Droste and Johnson each their first.