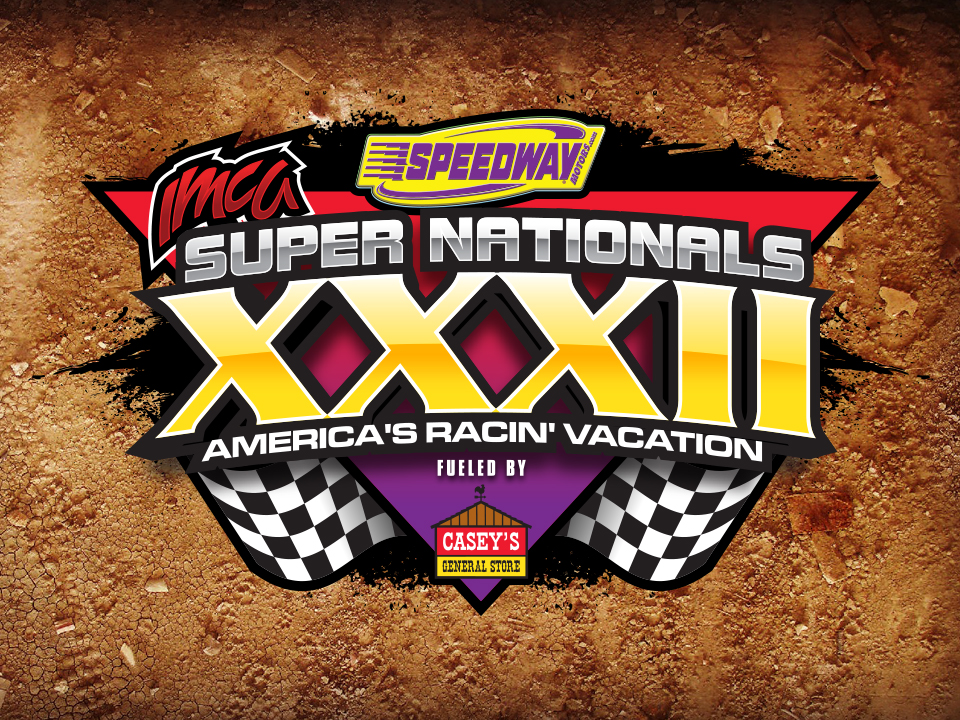 All-Stars shine Friday at Super Nationals
BOONE, Iowa (Sept. 5) – Thirty of the best Modified drivers in the country get their chance to shine on night five of the IMCA Speedway Motors Super Nationals fueled by Casey's.
The Fast Shafts All-Star Invitational headlines the Friday show at Boone Speedway. That race will be 30 laps and pays $1,000 to win plus lap money.
As a bonus, the winner becomes a candidate for the 2015 All-Star Invitational ballot.
Drivers elected to tonight's starting field were Dean Abbey of Waco, Texas, 2011 race winner Chris Abelson of Sioux City, Troy Cordes of Dunkerton, Chris Fleming of Union Springs, N.Y., Jeremy Frenier of Fort Morgan, Colo., Cody Gearhart of Turpin, Okla., Joe German of Aberdeen, Wash., William Gould of Calera, Okla., Jimmy Gustin of Marshalltown, Chase Hansen of Myton, Utah, Robert Hellebust of Minot, N.D., Scott Hogan of Vinton, Mike Jergens of Plover, Corey Lagroon of Salina, Kan., Ryan McDaniel of Olivehurst, Calif., Jason Murray of Hartford, Jason Noll of Peoria, Ariz., Brad Pounds of Bakersfield, Calif., defending race winner Todd Shute of Des Moines, Jared Siefert of Luxemburg, Wis., Dustin Smith of Lake City, Jesse Sobbing of Glenwood, Kyle Strickler of Mooresville, N.C., Jeff Taylor of Cave City, Ark., Ricky Thornton Jr. of Chandler, Ariz., A.J. Ward of Ionia, Mich., Tim Ward of Gilbert, Ariz., and Keith White of Little River Academy, Texas.
Completing the grid are Cory Sample of Winnemucca, Nev., the top All-Star candidate in attendance at Boone in feature wins, and Ronn Lauritzen of Jesup, the top All-Star candidate in national points.
The All-Star autograph session has been moved from the fan zone to a dryer location behind the west grandstands.
*
Thirty Modified heats – already underway – and 20 Stock Car heats are on the schedule today at Super Nationals.
The top four finishers in each of two qualifying features for those divisions advance to the outside row of their respective main event fields.
*
Winners of Thursday night qualifying features for both Modifieds and Stock Cars will also sign autographs during track prep sessions on Friday.
*
The foursome of Jerrod Hansen, Kent Inman, Andy Griffith and Chris Obermeir carded a six-under score of 30 to win this morning's Duffer Nationals Golf Tournament.
Each team was required to have at least one Super Nationals participant. The 25th annual tournament was held at the Cedar Pointe Golf Course.
*
Results of the past two days proved Jay Schmidt to be a better race car driver that roshambo player.
Schmidt won his qualifying feature, and his career 12th Super Nationals Stock Car main event start, on Wednesday.
On Thursday, Jerry Gifford got the rock, paper, scissors best of Schmidt to earn the Saturday night pole.
"We came in with the same setup, motor and tranny as we run weekly, said Schmidt, the runner-up last year and not much concerned about where he starts from tomorrow night. "The first few years I qualified were really nerve wracking. We've learned to just go run your race. That's what we did Wednesday night."
***
When Perry Misner left the draw tent Thursday, he figured Lady Luck would be riding along with him that evening.
"I drew 31 for the Race of Champions and I was 31 when I started racing," he explained. "I drew 124 for my heat and I lived at 124 Walnut Street when I was growing up."
The numerologist from Garden City, Kan., started 14th in the second qualifying feature last night and raced his way to third – and into Saturday's Stock Car main event.
"I usually start in back and work my way through. I guess it's a challenge," said Misner, the point leader at Dodge City Raceway Park. "I'm in it to win it. We were pretty good last night. I think we can be a little bit better yet."
Third in the Kupper Chevrolet Dakota Tour, Misner also counts his Jax Sports Grille Great Plains Series win at DCRP among his highlights of the season.
"There were a lot of good drivers that night. I won my 'B" and started the feature in 13th and won that, too," he said. "We changed our setup after the heat and again after the 'B.' I knew we could be faster."
Misner was 15th in his Super Nationals debut two years ago.
*
When the green flag flies for the Stock Car main event on Saturday, Devin Smith will be at the front of the middle row.
The rookie from Lake City got the best of Heath Tulp in a game of roshambo Friday afternoon, moved to the front of the main grandstands.
Damon Murty, Shaun Bruns, Perry Misner, Mike Nichols, Chris Pruitt and David Smith complete the front eight.
***
More roshambo results: Josh Gilman will line up at the front of the middle row in tomorrow night's Modified main event, ahead of Chris Mills, Jared Siefert, Dylan Smith, Scott Drake, Rciky Thornton Jr., Troy Cordes and Nick Roberts.
*
To determine who starts where in tonight's All-Star Invitational, each of the 30 drivers first put their initials on a grid: A corresponding answer key then revealed each of their starting spots.
When the initial green flag flies, the All-Stars will line up this way:
Row 1: Cory Sample, Todd Shute and Cody Gearhart.
Row 2: Kyle Strickler, Ronn Lauritzen and Chris Abelson.
Row 3: Keith White, Ryan McDaniel and Jeff Taylor.
Row 4: Jared Siefert, A.J. Ward and Jason Murray.
Row 5: Jeremy Frenier, Mike Jergens and Troy Cordes.
Row 6: Dustin Smith, Ricky Thornton Jr. and Tim Ward.
Row 7: Joe German, Dean Abbey and Corey Lagroon.
Row 8: Jason Noll, Chris Fleming and Scott Hogan.
Row 9: Jimmy Gustin, William Gould and Jesse Sobbing.
Row 10: Robert Hellebust, Brad Pounds and Chase Hansen.
Sixteen states are represented in this year's All-Star field, the most in the 11-year history of the race.