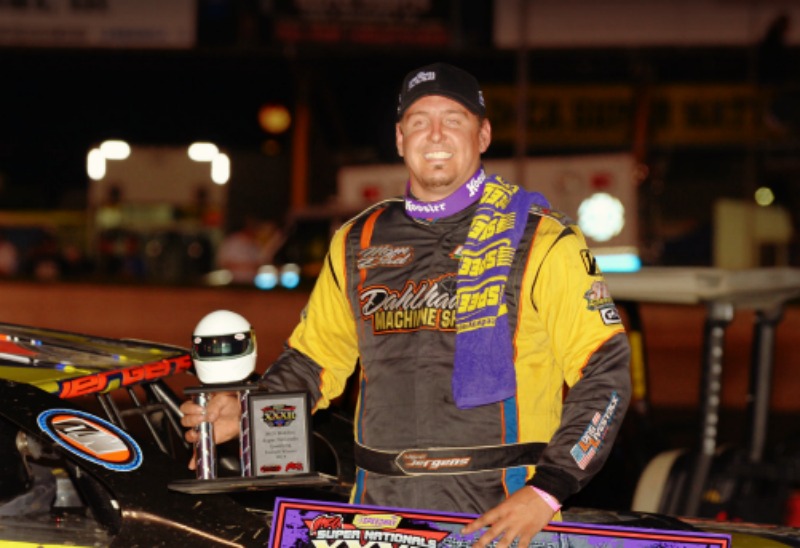 Super Nationals nears car count record; Modifieds, Stocks begin qualifying today
BOONE, Iowa (Sept. 3) – Day three of the IMCA Speedway Motors Super Nationals fueled by Casey's boasts the first qualifying races Modifieds and Stock Cars, while last-chance races are on the docket for Hobby Stocks and SportMods.
Hot laps are currently underway at Boone Speedway, where 277 Modifieds and 176 Stock Cars see their first action of the week.
The Modified car count is up more than 20 from last year; total car count is currently 865, the second highest number in the 32-year history of Super Nationals.
"Our car count is a reflection of our weekly racing. As our membership grows, so does the popularity of Super Nationals," IMCA Vice President of Operations Brett Root said. "Plus, it's a really cool place to be."
"This year's Super Nationals is also a very fitting way to remember 'Speedy' Bill Smith and all that he and Speedway Motors have done for IMCA for so many years," Root added.
Thirty Modified heats and 20 Stock Car heats are on the Wednesday card. Two qualifying features will be held for each division to determine the front eight starters on the inside row of Saturday main events.
Six drivers advance from last-chance features to the back two rows of Saturday main events for the Hobbies and the SportMods.
***
Jeff McCollum was planning to come to Boone Speedway as a spectator this week, but before taking the green flag last Saturday at Arlington Raceway he made a promise that if he won that evening's IMCA Sunoco Stock Car feature, he'd come to Boone and race instead.
After winning for the 100th time in his IMCA career, the Mankato, Minn., driver made good on that promise.
"The car has been working really good. If I could win this too, wouldn't that be something?" asked McCollum, who qualified for the big show at Boone five years ago.
The folks at Arlington presented McCollum with a special-made trophy following his landmark win.
"It's a pretty big trophy," he said. "They had it made for me last year but it took a while for me to get it."
*
His rapid ascension the past four weeks has taken A.J. Ward from 63rd to 54th, to 24th and ultimately to 10th in IMCA's national point standings.
The first-time Fast Shafts All-Star driver, from Ionia, Mich., counts nine wins among 29 top five finishes. He has yet to finish outside the top eight in 31 starts, no small achievement when you remember that he races weekly at Tri-City and Crystal.
He aims to win track titles at both, with his sights on the state crown and Crystal's Great Lakes Nationals special as well.
"Making the dance at Super Nationals would cap everything off. Even if we finished last, it would be the highlight of my career," said Ward, who made the nine-hour tow for the third time. "If I didn't race weekly, I'd get a car just to come to this place. We look forward to Super Nationals all year."
***
Ethan Dotson joined fellow Bakersfield, Calif., pilots Levi Kiefer and Tina McGowan Tuesday as a qualifier for the Saturday night SportMod main event.
The 15-year-old Independence High School sophomore has come to Super Nationals in the capacity of race fan the last two years. He finished fourth in his qualifier, in a borrowed ride.
"It was better than anything I've ever done," said Dotson, who had four feature wins and "way too many seconds" to show so far for his first full year in the division. "I'd be happy with a top five finish of Saturday but I'm always shooting for the win."
He raced in a local stock class before making the switch to a SportMod last season.
"What I like best about this class is that we can race at any sanctioned track we want and don't have to change the car," Dotson said. "I like going to other tracks knowing we'll be legal when we get there.
*
Having sealed the deal at 12:20 p.m. this afternoon, Tim Czarneski will race both his newly-purchased Stock Car and his Modified at Super Nationals this week.
The Denmark, Wis., driver will be trying to match the 2004 accomplishment of buddy Benji LaCrosse in qualifying for main events in both divisions.
"He did it, so I've got to do it, too, Czarneski said.
A Modified regular at 141 Speedway – and a winner of one of the Red, White and Blue Series races there this season – Czarneski has just four Stock Car starts to his credit this season.
Time is at an ever greater premium as Czarneski and his wife Leah welcomed their fourth son Reed on May 6. Family activities keep both busy and Czarneski has added Pop Warner football coach to his parental resume.
This is the seventh September he's brought a Modified to Super Nationals.
"We look forward to this every year," he said. "We have a good time and just keep coming back."
*
1993 Super Nationals champion Ron Pope of Mason City will debut his Modified displaying a Hayden's Hope wrap during Wednesday qualifying.
He's promoting awareness of the Hayden's Hope Foundation, which has raised more than $100,000 for research into a cure for Friedreich's Ataxia (a rare form of muscular dystrophy) and the foundation's 5K/10K Warrior Run on Sept. 27 in downtown Mason City.
Hayden Despenas, the son of family friends, was diagned with Friedreich's Ataxia in May of 2012, when he was eight years old. Pope's wife Kelly designed the wrap, done by Sybesma Graphics.
"Hayden just loves race cars. It means a lot for us to be part of this," Pope said. "There were quite a few emotions when we rolled the car out for the first viewing. People knew something was up because the race car trailer was there. It was very exciting."
***
Tristan Carman got the last laugh on whoever it was that broke into his race shop three weeks ago.
IMCA's national Stock Car rookie of the year last season, the 17-year-old from Killeen had made plans to compete at Boone this week. Not long after, a thief or thieves tried to rain on his Super Nationals, stealing his tools, shocks, springs, set-up equipment … even his steering wheel.
"Everything on the car and in the truck now is what we have left or borrowed," he said. "After the break-in, we made it a point to come and so far Super Nationals has been everything I expected, except that there are a lot more cars."
"I've always wanted to run Super Nationals," added Carman, armed with a new B & B Chassis. "And I want to win the show."
While the money was designated for Super Nationals expenses, Carman picked up some extra bucks before Boone the old-fashioned way: He shaved his beard.
Phil Egbert, P.J. Egbert, Michael Walter, Kenny Stone and an anonymous donor pledged a total of $900 and Carman agreed to put his razor back to use.
***

Burg is best in last-chance feature for Hobby Stocks
BOONE, Iowa (Sept. 3) – A caution with three laps left made things more interesting, but Andrew Burg completed his green to checkered run at the front of the field to win Wednesday's last-chance qualifying feature at Boone Speedway.
He'll be joined in the back two rows of Saturday's IMCA Speedway Motors Super Nationals fueled by Casey's main event starting grid by Weston Koop, Tiffany Bittner, Kyle Parizek, Mike Traskow­sky and Justin Nehring.
The start in the big dance will be Burg's career third.
Koop, Bittner, Traskowsky and Nehring all are in for the second time, Parizek for the first.
***
Ryerson reigns in SportMod last-chance feature
BOONE, Iowa (Sept. 3) – Chad Ryerson caught Brandon Long at the line and led the last six laps in winning the IMCA Speedway Motors Super Nationals fueled by Casey's last-chance qualifying feature for SportMods Wednesday afternoon.
Ryerson had started on the pole but chased Long the first 18 times around the Boone Speedway. Michael Murphy slipped by Long with three to go for runner-up honors.
The rest of the top six finishers advancing to the back two rows of Saturday's main event were Clinton Luellen, Daniel Gottschalk and Ryan Hiscocks.
Luellen is in the big dance for the fifth time in his career, Long for the second. Ryerson, Murphy, Gottschalk and Hiscocks are all first-time qualifiers.
*
The number of states represented at Super Nationals XXXII is an event record 27 as competing drivers hail from Arizona, Arkansas, California, Colorado, Illinois, Indiana, Iowa, Kansas, Michigan, Minnesota, Missouri, Montana, Nebraska, Nevada, New Mexico, New York, North Carolina, North Dakota, Oklahoma, Oregon, Pennsylvania, South Dakota, Texas, Utah, Washington, Wisconsin and Wyoming.
Nine of those states were represented by the 10 drivers in the sixth Modified heat.
Tom Berry Jr. (Oregon) and Joe German (Washington) made long trips from the scenic Pacific Northwest for their first Super Nationals and will get the opportunity to watch plenty of racing before getting on the track themselves. Both are in the 29th of 30 Wednesday night heats.
***
Gifford takes checkers ahead of Stock Car qualifying drama
BOONE, Iowa (Sept. 3) – He wasn't part of the finish line drama, but Jerry Gifford was the winner of an IMCA Speedway Motors Super Nationals fueled by Casey's Stock Car qualifying feature that announcer Jerry Vansickel was quick to describe as epic.
Gifford led all 25 laps of Wednesday's first Stock qualifier at Boone Speedway. Travis VanStraten took over second place for good five laps in while 2001 champion Brian Blessington started 11th and cemented third with three laps left.
The top four finishers advance to the inside row of Saturday's main event and Brandon Taylor and Derek Green were both bound and determined to get it.
After completing the 24th and next-to-last lap virtually bumper to bumper, the pair got together and slid sideways toward the finish line. Abe Huls and Terry Pruitt both took advantage and drove by, with Huls getting fourth and the transfer spot.
Taylor was scored sixth, Green seventh.
Top four finishers from each of the two qualifiers will square off in games of roshambo on Thursday in the fan zone to determine inside row starting positions.
Blessington is now a 12-time qualifier for the main event. VanStraten is in for the fifth time, Huls the third and Gifford the first.
Schmidt scores big in second Stock Car qualifier
BOONE, Iowa (Sept. 3) – Jay Schmidt led all but the first lap and held off defending champion Brandon Czarapata in winning Wednesday's second IMCA Speedway Motors Super Nationals fueled by Casey's Stock Car qualifying feature at Boone Speedway.
Schmidt started fourth and drove by Trent Murphy on the second circuit; after a lap 21 caution, Czarapata used the ensuing restart to his advantage to take over the runner-up spot.
He couldn't reel in Schmidt, however. Murphy was third while Kyle Vanover made a last-lap charge to steal the fourth and final qualifying spot from Nathan Wood.
Top four finishers from each Wednesday qualifier will play roshambo in the fan zone to determine how they'll line up on the inside row for Saturday's main event.
Schmidt will start his career 12th Super Nationals main event, Czarapata his 10th, Murphy his seventh straight in the division and 10th overall. Vanover made the show for the third time.
***
Stone, Jergens to decide pole for Super Nationals Modified main event
BOONE, Iowa (Sept. 3) – Californian Paul Stone or home state driver Mike Jergens will start on the pole when the biggest event in dirt track racing goes green Saturday night at Boone Speed­way.
Stone ran second the last 19 laps of Wednesday's first IMCA Speedway Motors Super Nationals fueled by Casey's Modified qualifying feature, then was promoted to the top spot when Adam Lar­son failed to meet frame specifications in post-race tech.
Jergens had tracked down and race-long leader Kyle Strickler in lapped traffic with a couple cir­cuits to go in the second qualifier. Strickler became a DQ from the runner-up spot for use of unapproved wheels; Chase Allen crossed the line in third and also failed post-race tech for failing to meet frame specs.
Stone and Jergens will duke it out in a game of roshambo, in the fan zone south of the main grand­stand, on Thursday to determine who gets the coveted pole position in Saturday night's main event.
They'll be joined on the inside row by top three finishers Aaron Turnbull, 2011 champion Richie Gustin and Jay Noteboom from the first qualifier and Johnny Saathoff, Troy Jerovetz and Josh Most from the second.
Gustin had started 13th and Noteboom 15th in the first qualifier. Jergens took the initial green from 13th, Jerovetz from 16th, Most from 28th and Saathoff from dead last in the 30-car second qualify­ing field.
Saathoff made the big dance for the 14th time in his career, Noteboom for the ninth and Gustin for the fourth.
Stone, Jergens, Turnbull and Most all are second-time main event qualifiers while Jerovetz is in the big show for the first time.