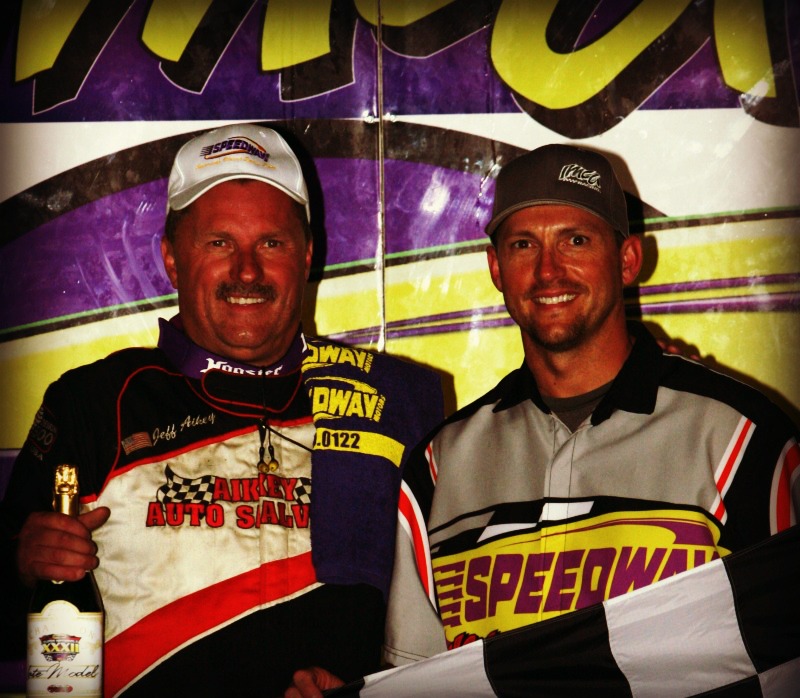 BOONE, Iowa (Sept. 1) – The first champion crowned at the 32nd annual IMCA Speedway Motors Su­per Nationals fueled by Casey's has already promised to return to Boone Speedway next Septem­ber in pursuit of a record fifth crown.
Jeff Aikey won the Monday night main event for IMCA Late Models at Boone Speedway, leading all 50 laps. While earning his career-leading 63rd Deery Brothers Summer Series victory – and $3,300 – Aikey also matched the division record of four Super Nationals titles held by Gary Webb.
Tyler Bruening started inside Aikey on the front row and ran second most of the way. Charlie McKenna took over the spot following the first restart of the night, on lap 40; series point leader Justin Kay passed McKenna after a restart on the next circuit and chased Aikey to the checkers.
"I'll come back next year and try to get number five," Aikey said. "All four of my Super Nationals (1995, 2004 and 2013) have been special. Kay has been running so strong this season and that's what makes this win so good."
McKenna, Andy Eckrich and Bruening completed the top five.
Aikey and Bruening caught up with the back of the field on the ninth circuit; Aikey stretched his lead out before Bruening and McKenna cleared lapped traffic on lap 28 and cut his advantage to a couple car lengths.
The lap 40 yellow took lapped cars out of the equation. Aikey pulled away to win by a comfortable mar­gin after the next restart.
"I knew somebody was going to have an awfully good car to beat me tonight because my car was on," he said. "Through (turns) three and four, right through the middle, it just bit. I knew nobody was going to catch me in that corner."
Darrel DeFrance was the $250 Sunoco Race Fuels feature qualifier drawing winner. He finished 17th in his career 25th Super Nationals appearance.
Aikey started his 17th Super Nationals Late Model main event, Greg Kastli his 16th and Todd Cooney his 11th.
Feature results – 1. Jeff Aikey, Cedar Falls; 2. Justin Kay, Wheatland; 3. Charlie McKenna, Clear Lake; 4. Andy Eckrich, Oxford; 5. Tyler Bruening, Decorah; 6. Joel Callahan, Dubuque; 7. Brian Harris, Davenport; 8. Richie Gustin, Gilman; 9. Scott Fitzpatrick, Wheatland; 10. Todd Cooney, Des Moines; 11. Todd Frank, Montrose; 12. Jason Hahne, Webster City; 13. Jason Rauen, Farley; 14. Joe Zrostlik, Long Grove; 15. Jon Passick, Waterloo; 16. Jeremy Grady, Story City; 17. Darrel DeFrance, Marshalltown; 18. Ryan Dolan, Lisbon; 19. Paul Nagle, Nevada; 20. Darren Ackerman, Readlyn; 21. Greg Kastli, Waterloo; 22. Al Johnson, Story City; 23. Ray Guss Jr., Milan, Ill.; 24. Allan Hopp, Harlan; 25. Tyler Droste, Waterloo.
1st heat – 1. Bruening; 2. Frank; 3. Droste; 4. Hopp; 5. Guss; 6. Paul Conrad, Colo; 7. Sam Halstead, New London; 8. Terry Neal, Ely; 9. Ryan Giles, Grimes.
2nd heat – 1. Hahne; 2. Callahan; 3. Johnson; 4. Nagle; 5. Dolan; 6. Passick; 7. Randy Foote, Stanton; 8. Randy Faux, Earlham.
3rd heat – 1. Aikey; 2. Fitzpatrick; 3. Gustin; 4. DeFrance; 5. Don Pataska, Miles; 6. Dean Wag­ner, Evansdale; 7. Bill Crimmins, Fort Dodge; 8. Craig Jacobs, Des Moines.
4th heat – 1. Eckrich; 2. McKenna; 3. Kastli; 4. Grady; 5. Todd Johnson, Mitchellville; 6. Ryan Grif­fith, Webster City; 7. Cooney; 8. Matt Ryan, Davenport.
5th heat – 1. Harris; 2. Kay; 3. Zrostlik; 4. Ackerman; 5. Josh Most, Red Oak; 6. Ben Nading, Ankeny; 7. Curtis Glover, Des Moines; 8. Rauen.
1st "B" feature – 1. DeFrance; 2. Hopp; 3. Ackerman; 4. Cooney; 5. Dolan; 6. Wagner; 7. Con­rad; 8. Foote; 9. Johnson; 10. Giles; 11. Jacobs; 12. Nading; 13. Neal.
2nd "B" feature – 1. Grady; 2. Nagle; 3. Passick; 4. Guss; 5. Rauen; 6. Crimmins; 7. Ryan; 8. Halstead; 9. Most; 10. Pataska; 11. Faux; 12. Glover; 13. Griffith.