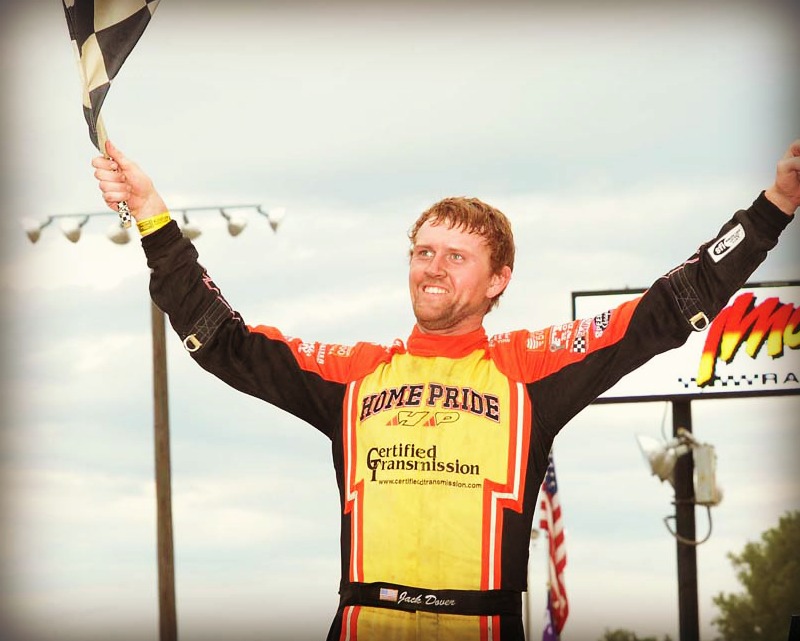 By Greg Soukup
EAGLE, Neb. (Sept. 1) – One day late, Jack Dover won the rain-delayed Sprint Car Super Nationals at Eagle Raceway.
The $2,000 to win feature was rescheduled from Sunday to Labor Day due to inclement weather. Dover took the lead following a late re-start and held off fellow Nebraskan Tadd Holliman for the victory.
"I knew that the key would be set-up and tire management. That, and I found the rubber first," said Dover, also $1,000 richer after winning Saturday's Speedy Bill Smith Memorial Race of Champions.
Ryan Hall, John Ricketts and Luke Cranston rounded out the top five in the second annual event for IMCA Eagle Motorsports RaceSaver Sprint Cars.
Jason Martin led the field at the end of the first circuit with Tadd Holliman, Jerry Hammock and Ryan Hall in hot pursuit. Luke Cranston slowed on lap six and headed pitside with a flat right front.
Hall took third on the restart and Tyler Thompson also passed Hammock the next lap. Hammock headed for the pits on lap nine. Chase Brewer then looped his ride to bring out another caution.
Dover cracked the top four on lap 15 and moved to third four laps later. Martin went extremely high following a lap 25 restart, causing a melee behind him. Both Doug Lovegrove and Joey Danley ended up flipping in turns one and two. Also involved were R.J. Johnson and Justin Melton.
That put Holliman out front, Dover second, Hall third and Thompson fourth. Dover grabbed the lead on the restart and Ricketts took over fourth. Jason Howell spun with four to go for the final caution of the event.
Winners of $700 qualifying features were Holliman on Friday and Martin on Saturday.
Dover then held on for the win.
More than 80 race teams from across the country competed at the Sprint Car Super Nationals and seven states were represented in the main event.
Results
Main event – 1. Jack Dover, Springfield; 2. Tadd Holliman, Murray; 3. Ryan Hall, Midlothian, Texas; 4. John Ricketts, Burleson, Texas; 5. Luke Cranston, Holcomb, Kan.; 6. Jason Martin, Lincoln; 7. Claud Estes, Godley, Texas; 8. Stu Snyder, Waverly; 9. Jason Howell, Azle, Texas; 10. Matt Richards, Lincoln; 11. Shayle Bade, Lincoln; 12. Brian Herbert, Dodge City, Kan.; 13. Gene Ackland, Martell; 14. Mark Vanderheiden, Papillion; 15. Rodney Henderson, Gun Barrel City, Texas; 16. Jerald Harris, Harrisonburg, Va.; 17. Dustin Sargent, Cleveland, Minn.; 18. Tyler Thompson, Des Moines, Iowa; 19. Joey Danley, Lincoln; 20. Doug Lovegrove, Waverly; 21. Justin Melton, Flower Mound, Texas; 22. R.J. Johnson, Pella, Iowa; 23. Adam Gullion, Lincoln; 24. Jake Bubak, Arvada, Colo.; 25. Mark Pace, Lincoln; 26. Chase Brewer, Springtown, Texas; 27. Jerry Hammock, Ennis, Texas.
Race of Champions – 1. Dover; 2. Ricketts; 3. Cranston; 4. Martin; 5. Howell; 6. Matt Richards; 7. Terry Richards, Denton; 8. Bubak; 9. Mike Stien, Ceylon, Minn.; 10. Josh Hawkins, Whitehouse, Texas; 11. Thompson; 12. Toby Chapman, Panama; 13. Snyder; 14. Herbert; 15. Brewer.