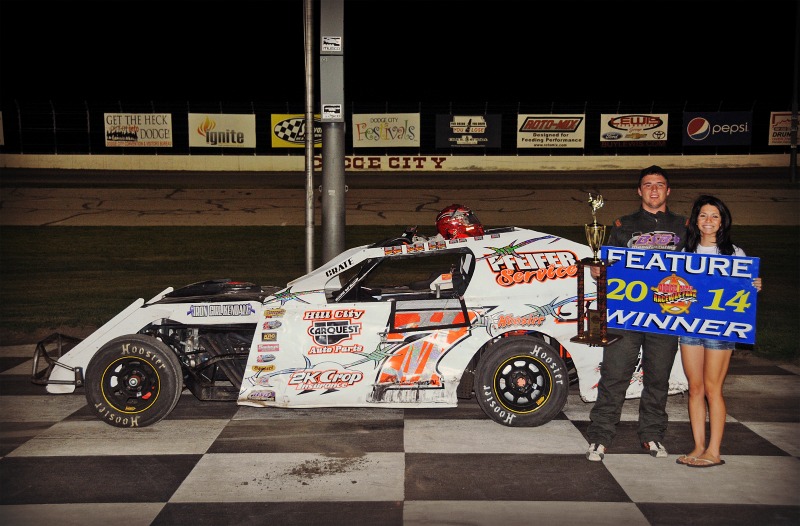 By Lonnie Wheatley
DODGE CITY, Kan. (Aug. 23) – Clay Money stepped up to the occasion by racing to a $1,000 victory in Saturday night's Inaugural 30-lap IMCA SportMod Mayhem feature event atop the 3/8-mile Dodge City Raceway Park clay oval.
The high school junior from Penokee, Kan., battled past Kameron Gruber for the lead on the 14th lap then kept reigning track champion Jeff Kaup at bay over the final 10 circuits to secure his second feature win of the season at DCRP over a stout field of 33 competitors.
With Money gridding the Sport Modified Mayhem main event outside the third row, Gruber outgunned Michael Shenberger to snare the early lead from the pole position.
Money made his way to third behind Gruber and Angel Munoz by the time the first caution flew after four laps and then took second from Munoz on the eighth circuit.
Money wasted little time closing the gap on Gruber in short order and began pressuring for the point, finally squeezing underneath in turn three on the 14th round to edge into the lead.
Following a caution at the midway point, Kaup slipped by Gruber and set his sights on Money for the point. Money's 10 car-length advantage dwindled down to just a couple of car-lengths with five laps to go.
But Money picked up the pace in the final handful of laps, opening the advantage back to 10 car-lengths by the time the checkered flag flew.
Kaup settled for second with Daniel Gottschalk taking command of third on the 20th round when Brandon Smith looped it in turn four and held it the rest of the way. Austin Walker was fourth with Gruber rounding out the top five.
Feature results – 1. Clay Money; 2. Jeff Kaup; 3. Daniel Gottschalk; 4. Austin Walker; 5. Kameron Gruber; 6. Josh Appel; 7. Blaine Walt; 8. Brandon Smith; 9. Dustin Leonard; 10. Toby Witthuhn; 11. Daylon Bergeron; 12. Ryan Moser; 13. Tristen Barton; 14. Brian May; 15. Kevin Tabor; 16. Curtis Dreasher; 17. Angel Munoz; 18. Nate Ginest; 19. Bart Baker; 20. Jeremy Sigler; 21. Michael Shenberger; 22. Jamie French.
Heat winners were Kaup, Gottschalk, Appel and Shenberger. "B" feature winners were Leonard and Sigler.