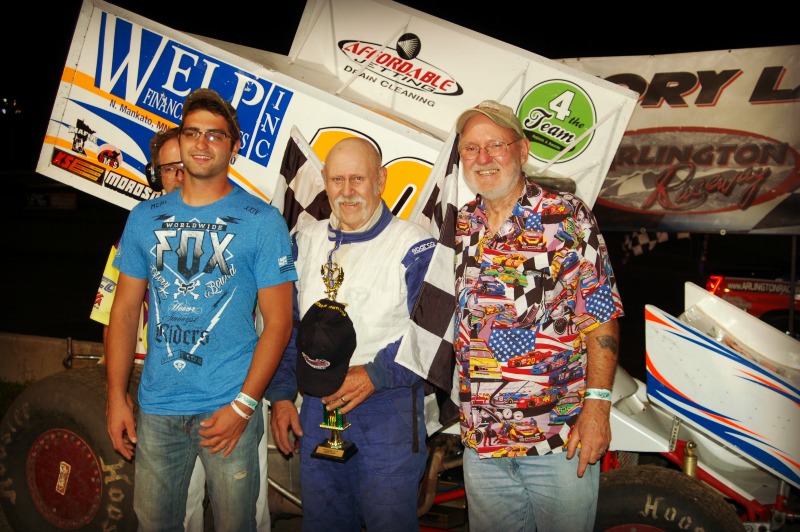 ARLINGTON, Minn. (Aug. 23) – Seventy-three-year-old Dwain Wilmes piloted his 95.7 IMCA Sprint Car to the checkers Saturday at Arlington Raceway to win his first-ever 305 RaceSaver event.
Dalyn Cody took second and Dustin Sargent rounded out the top three in the green to checkered race.
For the second consecutive week, Andy Timm of Mankato won the MN 93 IMCA Modified feature. Jeff Coon was the early leader but halfway through the race got too high and went off the top of the track.
That gave the lead to Timm, who stayed in front the remainder of the race. Chad Porter chal­lenged at the end but settled for second ahead of Coon and Dan Menk.
Chet Ragan won his first feature ever in the Unhinged Pizza IMCA Northern SportMods, leading from the beginning to end after starting in the second row. Eric Larson was runner-up and third was Josh Larsen.
Cory Probst made the trip worthwhile as he started 12th in the Eckblad Trucking IMCA Hobby fea­ture and won for the first time ever at Arlington Raceway.
Dan Mackenthun once again took the victory in the Annihilator IMCA Stock Cars. Matt Speckman moved through the field to challenge but settled for second ahead of Ken Tietz.
Nate Coopman continues to be the driver to beat in the Coors Light IMCA Sport Compact division, win­ning yet another feature, this time in a 19 -car field. Joe Bunkofske took second and Kyren Porter took third.