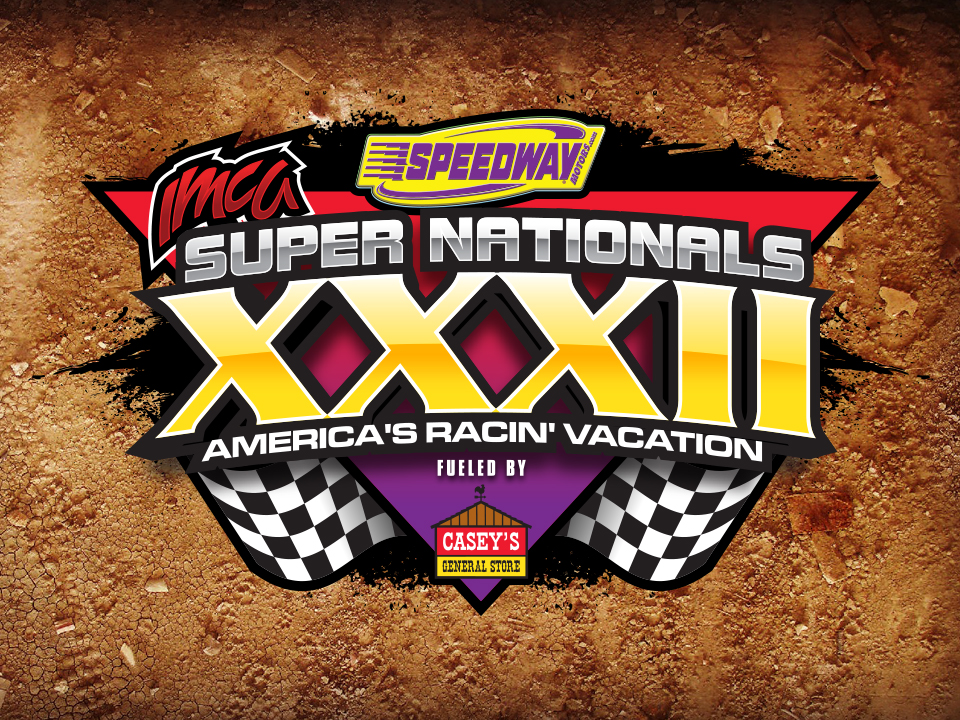 BOONE, Iowa – The biggest dirt track racing event is just around the corner and competitors from 26 states and Canada have already signed on to be part of America's Racin' Vacation.
The IMCA Speedway Motors Super Nationals fueled by Casey's will be held Monday through Saturday, Sept. 1-6 at Boone Speedway. Many of the best drivers in six IMCA divisions will chase championships and accompanying places in the IMCA history book during the 32nd annual event.
"Super Nationals has grown to be much more than six days of racing," emphasized IMCA Vice President of Operations Brett Root. "From the party and live music on the Sunday before to a week of camping on the speedway grounds for many fans, it has truly become a racing vacation for many fans and drivers."
Start time for racing has been moved up to 2 p.m. each day. IMCA has also announced changes in pre-tech inspection intended to speed that process and reduce the amount of traffic in the pit area.
Manufacturers' Row, located on the northeast side of the speedway grounds, is at full capacity with 40 vendors and counting, and will be open throughout the week.
The first 2014 Super Nationals champion will be crowned on Labor Day. The Late Model feature is part of the Deery Brothers Summer Series. The entire Sport Compact program is on Tuesday, Sept. 2.
Hobby Stock and Northern SportMod qualifying is Monday and Tuesday; Modified and Stock Car qualifying completes race programs the next three nights.
The Fast Shafts All-Star Invitational is on Friday, Sept. 5.
A very busy Saturday program boasts race of champions and main events for the Hobby Stocks, Northern SportMods, Stock Cars and Modifieds.
The Late Model feature pays $3,000 to win, with another $30 paid for each of as many as 50 sanctioned starts during the current point season. Sport Compacts vie for $250 to win, plus $5 for each of as many as 50 starts.
First place in the All-Star race is good for $1,000.
The main event for Stock Cars pays $1,000 to win, along with a bonus of $50 for each of as many as 50-point season starts. Northern SportMods race for $1,000 and Hobby Stocks for $600 to win, both with bonuses of $25 per sanctioned start up to 50.
The Modified champion earns $2,000 plus $100 for each of as many as 50 sanctioned starts, making for a potential $7,000 payday.
Stock Car, Northern SportMod and Hobby Stock mains all start 30 cars while 33 cars will take the initial green flag in the Modified dance.
Approximately $250,000 in purse money and a similar amount of cash and contingency awards went home with the 842 drivers competing at Super Nationals last year.
"There isn't another dirt track event with a purse or anywhere near the amount of cash and contingencies that go to so many different drivers," said Root said. "It's a real source of pride for us that so many drivers will go home with cash or product or both, in addition to shares of the purse."
XSAN will keep fans who can't attend can keep up with all the action from Boone via internet broadcasts. Results will also be posted on the IMCA and Boone Speedway websites.
IMCA officials have also announced the early registration deadline has been bumped back to Thursday, Aug. 28.
"This is a good problem to have, and it seems like it's one we 've been having every year as long as I can remember," Root said. "I can't emphasize enough how important it is for anyone who hasn't pre-registered or sent in their forms for camping to do so as soon as possible. It speeds up the registration process immensely at the event and saves the racer a few bucks in the process."