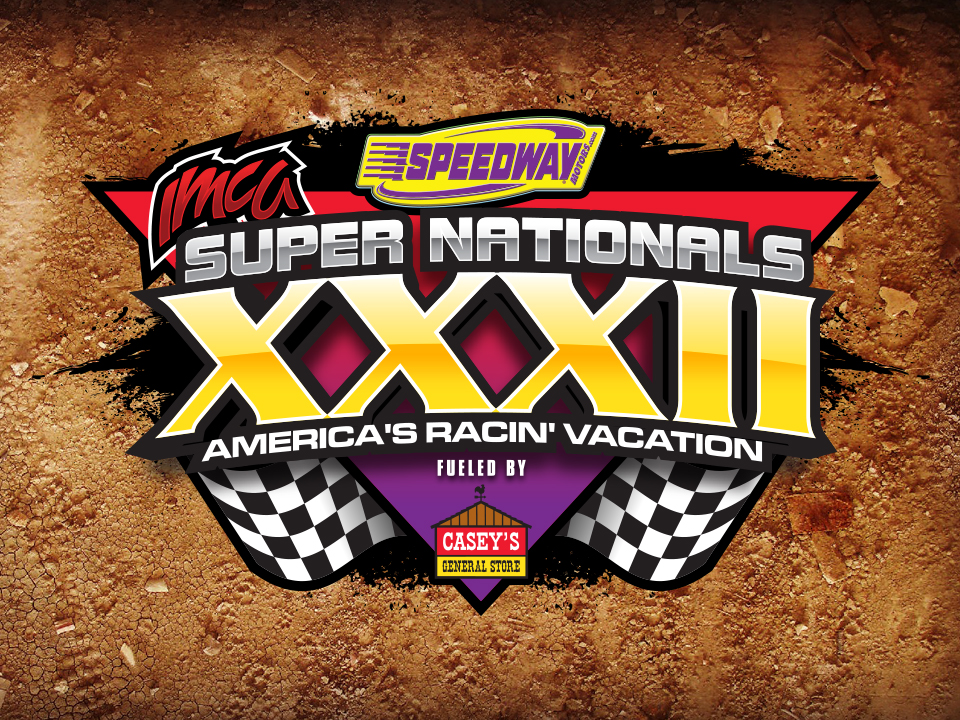 Tech inspection precedes practice, Sunday Night Tailgate
BOONE, Iowa – Tech inspection, an open practice session, some music and a pretty awesome party are planned for Sunday, Aug. 31, the night before the IMCA Speedway Motors Super Nation­als fueled by Casey's get underway at Boone Speedway.
A new tech inspection process has been announced for the 32nd annual event and beginning at 9 a.m. Sunday, drivers will receive tech inspection sheets and inspection group cards at the tech inspection trailer on a first-come, first-served basis.
Drivers will be called over the PA system to the lineup board for staging and then sent to the inspec­tion area in groups; drivers are encouraged to go to the tech trailer and get their inspection sheets and cards as soon as they and their race cars arrive at the speedway.
Pre-tech opens at 10 a.m. Sunday for Hobby Stocks and Northern SportMods only, the two divi­sions that begin qualifying on Labor Day. Tech inspection ends at 4 p.m. and the $10 pit pass fee will be refunded to everyone who exits the pit area by 4:30 p.m.
An open practice session for all divisions is from 5-7 p.m. and has a $10 admission for those who did not purchase a pit pass.
Once practice is complete, there will be no free admission to the pit area. The traditional pre-Su­per Nationals tailgate party follows, with complimentary food and beverages and a return engage­ment by the Cedar Rapids, Iowa-based rock band Helforstout, which plays from sundown to 1 a.m.
Super Nationals open houses planned by Karl, Harris
BOONE, Iowa – Karl Auto Parts and Performance and Victory Chassis, and Harris Auto Racing both host open houses for drivers and fans attending the IMCA Speedway Motors Super Nationals fueled by Casey's.
Karl, located in the northeast corner of the speedway grounds, will open its doors and serve complimentary donuts and juice during its Customer Appreciation Open House on Thursday, Sept. 4 from 9-11 a.m.
Daily prizes to be given away include an 18-volt cordless four tool combo kit on Monday, mobile gear set on Tuesday, eight gallon 4.5 HP shop vac on Wednesday, jobsite radio on Thursday, portable battery pack on Friday and 12-volt cordless drill kit on Saturday.
Harris Auto Racing, located at 1775 219th Lane in Boone, will feature its annual open house on Friday, Sept. 5 from 9 a.m. to noon.
While enjoying sandwiches, chips and beverages, guests can check out the 2015 Modified and SportMod chassis, as well as the 2015 Terminator Stock Cars and Hobby Stocks.
Hope For The Warriors receives donations from Casey's, IMCA during Super Nationals
BOONE, Iowa – Drivers winning heat races and displaying Casey's General Store decals will gener­ate donations of approximately $5,000 for Hope For The Warriors over the course of the Sept. 1-6 IMCA Speedway Motors Super Nationals fueled by Casey's.
The Ankeny-based company and presentation sponsor will donate $10 for each heat race won by a Modified, Late Model, Stock Car, Hobby Stock, Northern SportMod or Sport Compact driver displaying a Casey's decal between Sept. 1 and Sept. 5.
IMCA will match that amount. Depending on the number of heat races held, Hope For The Warri­ors President and CEO Robin Kelleher will accept a check for approximately $5,000 on Saturday afternoon, Sept. 6 on the frontstretch at Boone Speedway.
Hope For The Warriors is a national nonprofit organization founded in 2006 that assists post-9/11 service members, their families, and families of the fallen who have sustained physical and psychologi­cal wounds in the line of duty.
Founded in North Carolina, the organization maintains offices in New York, Washington D.C., Vir­ginia, and Florida. Its representatives cover California, Texas, Illinois, and Wyoming, enabling Hope For The Warriors to maintain a nation-wide presence. Leadership of the organization still remains in the dedicated hands of military wives.
The official convenience store of IMCA, Casey's has supported Hope For The Warriors with previ­ous fundraisers, including a donation at the 2013 Super Nationals.
"We are very proud to have established this relationship with Hope For The Warriors and Casey's General Stores and can't be more excited to help raise funds to support their mission of restoring self, family and hope," IMCA Marketing Director Kevin Yoder said.
Transponders required for Modifieds, Stocks
BOONE, Iowa – Transponders are required again for all Modified and Stock Car competitors at the IMCA Speedway Motors Super Nationals fueled by Casey's.
The electronic scoring devices will be used in all races for the two divisions Wednesday through Saturday, Sept. 3-6.
Drivers will be able to use their own MyLaps/ABM compatible transponder at Boone Speedway or rent one for $30 for the week. Transponders will be available in the pre-tech inspection tent and a driver's license or credit card will be held for deposit.
Transponders will be also be required for Monday night's Late Model main event, qualifying and last-chance features on Monday, Tuesday and Wednesday for Hobby Stocks and Northern SportMods, and Saturday main events for SportMods and Hobby Stocks.
The devices will be installed at no charge to those drivers.
MyLaps remains the official timing and scoring system of IMCA and Super Nationals.
One-way radios mandatory for all divisions at Super Nationals
BOONE, Iowa – One-way radios will be mandatory for all drivers in all divisions competing at the Sept. 1-6 IMCA Speedway Motors Super Nationals fueled by Casey's.
Numerous one-way devices, such as the Nitro-Bee, are legal for use at Super Nationals; specific information on those devices and channels is to be announced.
If they do not already own such a device, drivers will be able to purchase one on Manufacturers' Row during the week.
Fan Zone will be popular Super Nationals locale
BOONE, Iowa – Fans looking to meet and greet with their favorite drivers, and maybe score an autograph or even a picture or two, will have plenty of opportunities to do so throughout the week of the IMCA Speedway Motors Super Nationals fueled by Casey's.
The Fan Zone, located south of the main grandstands at Boone Speedway, is the site for numerous events each day of America's Racin' Vacation.
On Monday, Sept. 1, the Casey's General Store redraw for starts in the front six rows of that evening's Deery Brothers Summer Series event will be held at approximately 7 p.m.
The Late Model feature winner will sign autographs beginning at about 9 p.m.
Card games to determine the starting grid for Northern SportMod and Hobby Stock race of champions events will be held at 3 p.m. and 4 p.m., respectively, on Tuesday.
Monday's Hobby Stock and Northern SportMod qualifying feature winners sign autographs at 6 p.m. on Tuesday. The Sport Compact champion takes their turn in the Fan Zone spotlight starting at approximately 8 p.m.
Stock Cars entered in the best appearing car contest will be on display at 1 p.m. and top four finishers from Wednesday's Modified and Stock Car qualifiers Rochambeau for starting positions and sign autographs starting at 6 p.m. Thursday.
Best appearing Modified entires are on display beginning at 1 p.m. and drivers starting that evening's Fast Shafts All-Star Invitational are the center of Fan Zone attention starting at 3 p.m. Friday. Qualifiers from the Thursday features for Modifieds and Stock Cars take their turn in the tent starting at 4 p.m.
Sunoco Race Fuels Race of Champions and Harris Auto Racing Race of Champions card games are scheduled for 1 p.m. on Saturday.
Modified and Stock Car best appearing entries will be judged during pre-race activities Saturday.
Friday's Stock Car and Modified qualifiers sign autographs at 3 p.m. Career win award presentations to Todd Cooney and Brian Blessington will also be held that afternoon, at a time to be announced.
The Casey's/IMCA heat winner presentation check to Hope For The Warriors will be at approximately 5 p.m.
Duffer Nationals Golf Tourney Sept. 5 at Cedar Pointe
BOONE, Iowa – All the driving won't be on the race track during Super Nationals.
The 25th annual Duffer Nationals Golf Tournament will be held Friday, Sept. 5 at Cedar Pointe Golf Course in Boone starting at 8:30 a.m.
The tournament costs $40 per person to enter, which includes nine holes of golf, a golf cart and lunch. Entries will be taken right up until tee time.
Each team must have at least one Super Nationals participant in order to compete.
Entry forms for this year's tournament are available in the Super Nationals section at www.imca.com or you can call tournament director Rich Lange at 515 432-1679.
Saturday champions will go home with new Karl engines
BOONE, Iowa – Saturday night champions at the IMCA Speedway Motors Super Nationals are guaranteed to go home with new engines, courtesy of Karl Performance and Karl Chevrolet.
After the final victory lane pictures have been taken on Sept. 6, the engines that powered a Modified, Stock Car, Hobby Stock and Northern SportMod to championships will be sold at a public auction in the infield at Boone Speedway.
Modified, SportMod or Hobby Stock champions who won titles with crate motors will then receive a new GM 604 or 602 crate from Karl Chevrolet.
Drivers who won with claim motors will receive custom built engines from Karl Performance and straight from the company's state-of-the-art, in-house machine shop.
The Modified champion would get a KPM CPH383-60D engine valued at $6,999, the Stock Car champion a KPM 360 spec engine and the SportMod and Hobby Stock champions both a KPM CC355-06F engine.
The Stock Car, SportMod and Hobby Stock engines are all built with quality EQ cylinder heads. All engines have been built, dynoed and are ready to race.
They'll be on display on Manufacturers' Row throughout the week of Super Nationals and presented to the champion drivers following the Saturday auction.
"The engine auction is one of the staples of this event and the partnership with Karl has ensured that each Saturday night feature winner will go home with a brand new engine to replace the one being sold," noted IMCA Marketing Director Kevin Yoder. "Their support through this program is tremendous and we are very excited to present the champions with their new power plants."

'Speedy' Bill Smith tribute is theme for Super Nationals best looking car contest
BOONE, Iowa – Best-looking Modifieds, Stock Cars, Hobby Stocks and Northern SportMods with a 'Speedy' Bill Smith theme will be selected during the IMCA Speedway Motors Super Nationals fueled by Casey's.
Smith, founder and owner of the Lincoln, Neb., speed shop, died on May 30 at the age of 84. Speedway Motors is IMCA's longest tenured marketing partner and has been title sponsor of Super Nationals for 20 years.
Voting will be conducted on Tuesday, Sept. 2 in the Fan Zone south of the main grandstand at Boone Speedway for the Hobby Stocks and Northern SportMods; Modified and Stock Car best looking car entries will pull onto the front stretch and be determined by fan acclamation during pre-race ceremonies on Saturday, Sept. 6.
Drivers who win best looking car awards but are not quali­fied for main events will have their cars on display in the Fan Zone on Saturday evening.
Winners in each division receive trophies. All entries receive mini-doors.
Drivers in all four divisions, as well as the Late Models and Sport Compacts bringing tribute cars to Boone receive $100 gift cards from Speedway Motors.
"We've had some great looking cars fitting our theme at the past two events and this year should be no different. The tribute to Speedy Bill is very appropriate for this event and one that has a personal attachment for a variety of IMCA racers," said Kevin Yoder, director of marketing for IMCA. "We're looking forward to seeing how creative our members get in honoring a true pioneer and one of the most well-respected men in our industry for over half a century."