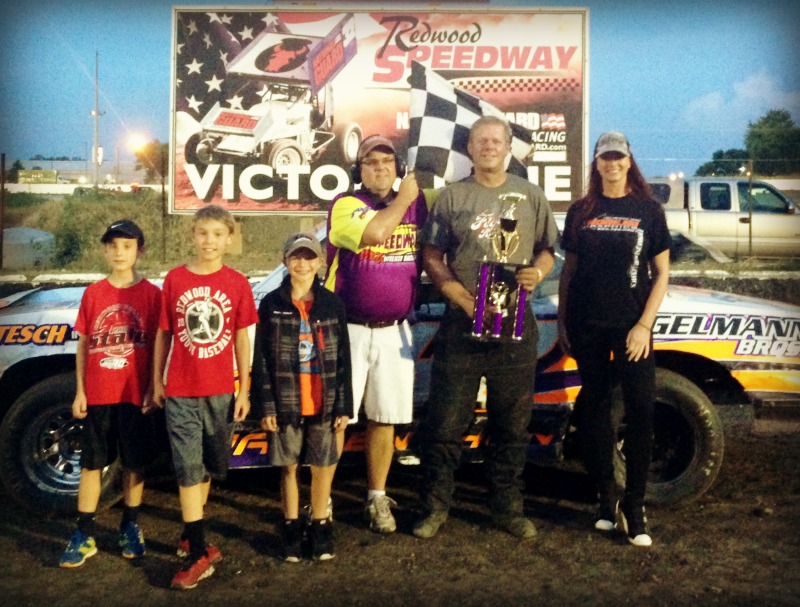 REDWOOD FALLS, Minn. (Aug. 10) – It was the kind of finish fans like to see, but the conclusion of Sunday's IMCA Sunoco Stock Car feature at Redwood Speedway was a tad too close from Dan Mackenthun's point of view.
Mackenthun edged Mike Bruns by all of half a car length to win the third and final race in the Dominick Bruns Memorial Challenge Cup Chase. The victory paid $1,000.
Mackenthun drew the pole start and led all 20 circuits. After an early caution, the last 17 laps ran green.
"I had a plan going out there," Mackenthun said. "I drove right around the tires in (turns) one and two and on the high side in three and four."
Rich Gregoire challenged at the onset. Bruns made best use of the bottom line and almost caught Mackenthun at the stripe.
"It was a good race for the fans. They like it better when it's close like that," Mackenthun said.
Dan Veenstra, Jeff McCollum and Gregoire rounded out the top five.
Jim Larson clinched the overall Chase championship with his ninth place finish, earning a $1,000 share of the series' $2,000 point fund while becoming eligible to qualify for the Sunoco Race Fuels Race of Champions at the upcoming IMCA Speedway Motors Super Nationals fueled by Casey's.
Kevin DeBaere repeated as series runner-up and earned $600; Gary Mattison was third and pocketed $400.
NASCAR Camping World Truck and Nationwide Series driver Jennifer Jo Cobb is a special guest Sunday at Redwood.
IMCA Sunoco Stock Car driver Shaun Bruns and his wife Becky founded the Dominick Bruns Memorial Foundation in 2008 after losing their son to SIDS.
The point fund is generated by the sale of T-shirts and racing shirts by the foundation along with contributions from area sponsors.
Feature results – 1. Dan Mackenthun; 2. Mike Bruns; 3. Dan Veenstra; 4. Jeff McCollum; 5. Rich Gregoire; 6. Ken Tietz; 7. Matt Speckman; 8. Jake Bruns; 9. Jim Larson; 10. Gary Mattison; 11. Dustin Larson; 12. Kevin DeBaere; 13. David Moriarty; 14. Shane Bruns; 15. Jim Richert; 16. Shaun Bruns; 17. Dean Nething; 18. Jesse Timm; 19. Chris Palsrok; 20. Jim Gregoire; 21. Matthew Schauer; 22. Daniel Eckblad; 23. Andy Altenburg.