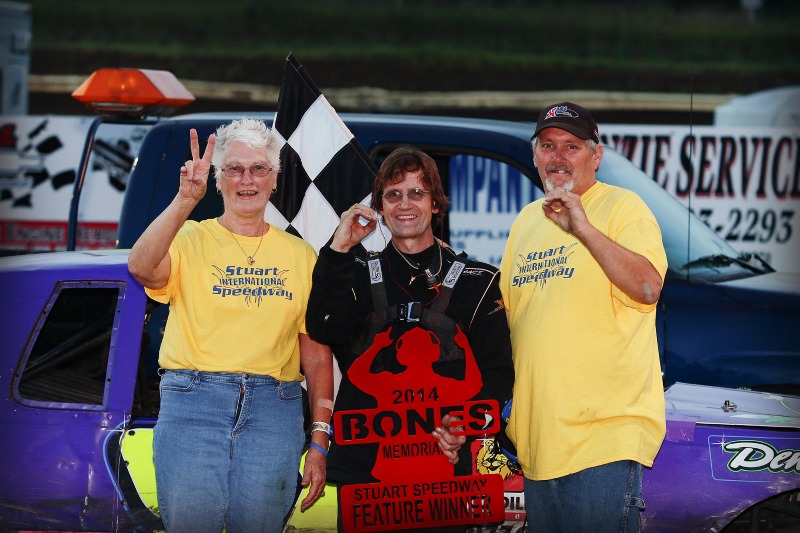 BREDA, Iowa (Aug. 10) – Brian Blessington got to celebrate twice on Sunday.
The first occasion was his 23rd wedding anniversary. Blessington and wife Liz tied the knot in 1991, the year after he started racing an IMCA Sunoco Stock Car weekly.
The second was his 200th career feature win, during the Bones Memorial program at Stuart Speedway.
"Two hundred career wins ranks right up there," said Blessington, just the fourth Stock Car driver to achieve the feat, as well as perennial contender for national honors, a 25-time track champion and the 2001 IMCA Speedway Motors Super Nationals fueled by Casey's king. "It was something I tried not to think about as we got closer. I wanted to focus on the job of racing. I hoped if I did a good job at that, the wins would come."
From Breda, Blessington bought his first car after accompanying some buddies to the Sioux City swap meet. Finally realizing the near impossibility of ever making that ride IMCA legal, he bought a second car, which he debuted in the final race of the 1989 season at Buena Vista Raceway.
"When I started racing, I just thought I'd try it. "I was hooked the first time out" Blessington said. "My cousin Jeff Soyer had raced a Stock Car. It seemed like there was nothing to it other than a steering wheel and an on/off switch. I seriously underestimated the whole racing thing, that's for sure."
He's fuzzy on the details of his first win – Blessington recalled being promoted due to disqualification at Alta with Toby Kruse in the flagstand – but his first checkers came at Audubon Speedway.
Kruse also flagged Blessington's 100th win, in 2004 at Alta.
His brother-in-law took an extra week of vacation to make sure he was at the track that evening. There wasn't as much hoopla following the Sunday milestone in the pits at Stuart as Blessington as barraged by congratulatory texts and handshakes.
Todd Cooney had won his career 200th IMCA Late Model feature the week before at the same track. Blessington also visited victory lane
"It seems like I've had a lot of seconds and thirds (10 and 12, respectively, in 47 starts) this year," said Blessington, who started the season with 195 career checkers. "I race weekly against some pretty dominant drivers, guys like Mike Nichols, Dave Smith and Marcus Fagan."
"Two hundred career wins is special," he continued. "There are a lot of competitive drivers in this division and they make it tough to get a win."