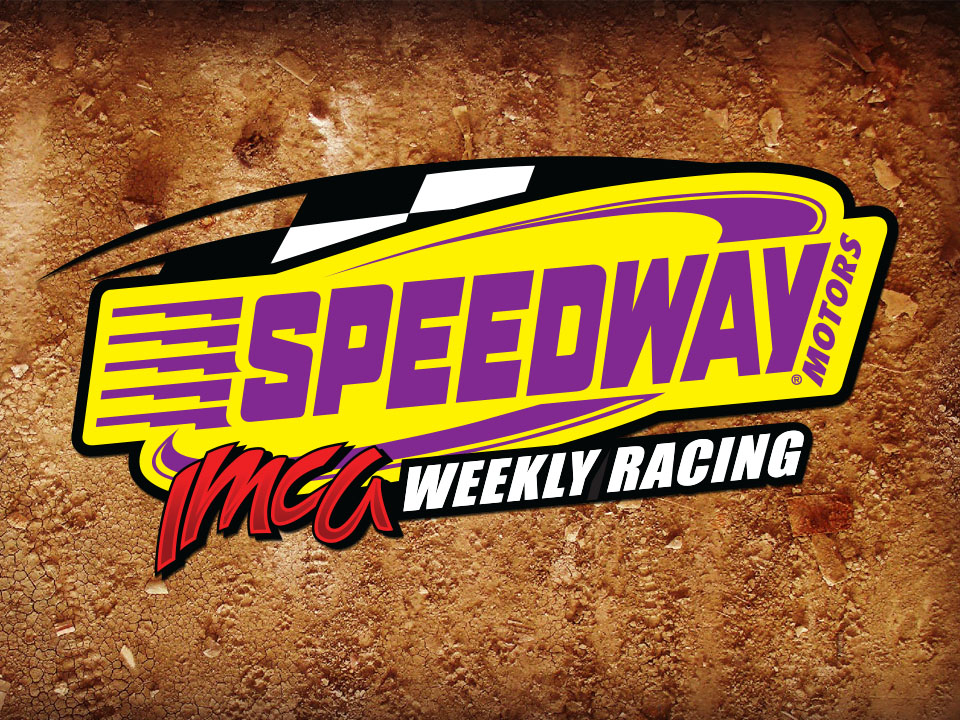 By Greg Soukup
EAGLE, Neb. (Aug. 2) – A large crowd turned out for Dirt Thunder Night presented by Froggy 98 and Comfort Suites Saturday night at Eagle Raceway.
Trent Roth took the lead on the fifth lap to drive to his third win of the season in the NAPA IMCA Northern SportMod feature. Benji Legg ran second ahead of Shawn Harker and Gary Saathoff.
Mike Hansen also earned his third win of the season in the Valentino's IMCA Hobby Stock feature. Hansen took the lead on the 10th circuit en route to victory. Justin Busboom, Mark McKinney and Russ Specht completed the top four.
Following an early restart, Mike Densberger made his way into second in the Kaplan University IMCA Modified feature. Another restart a short time later allowed Densberger to snag the lead from Clint Homan on the way to his second win of the year. Chad Andersen ran second ahead of Anthony Roth and Roger Hadan.
Larry Cronin grabbed the lead on a lap two restart and drove to victory in the Sam's Club IMCA Sport Compact feature. Matt Moyer ran second, Nick Jensen was third and Tim Horsham rounded out the top four.
Joey Danley ran second at the completion of the first lap of the Mud in America RaceSaver IMCA Sprint Car main. He took the top spot one lap later when leader Kyle Flodman spun to bring out the caution. Danley led the remainder of the event to score the second win of his rookie season ahead of Mike Boston, Doug Lovegrove and Terry Richards.
Next weekend is Hit The Dirt Night presented by Hormel and Coors Light, featuring the Mud In America RaceSaver IMCA Sprint Cars, Kaplan University IMCA Modifieds, NAPA IMCA SportMods, Valentino's IMCA Hobby Stocks and Sam's Club IMCA Sport Compacts.
Front gates open at 5:30 p.m. with hot laps starting at 5:35. Adult front gate admission is $10, youths 6-12 $5 and children five and under free.
Pit gates will open at 4 p.m. and pit admission is $25.
Feature Results
Hobby Stocks – 1. Mike Hansen; 2. Justin Busboom; 3. Mark; 4. Russ Specht; 5. John Cain; 6. Tyler Saathoff; 7. Rob Brown; 8. Luke Nicholson; 9. Nick Beckman; 10. Tim Kozak; 11. Chad Fegley; 12. Denny Berghahn Sr.; 13. Jason Kohl; 14. Michael Rice; 15. Roy Armstrong; 16. Joe Copeland; 17. Roger Timperley; 18. Kenny Roberts; 19. Ben Becher; 20. Thom Mars.
Modifieds – 1. Mike Densberger; 2. Chad Andersen; 3. Anthony Roth; 4. Roger Hadan; 5. Stacey Wilhelm; 6. Bob Zoubek; 7. Johnny Saathoff; 8. Shane Hiatt; 9. Clint Homan; 10. Justin Wulf; 11. Matt Boucher; 12. Doug Deterding; 13. Phil Penney; 14. Nathan Landauer; 15. Josh Blumer; 16. Dustin Gray; 17. Matthew Kiner; 18. Dana Dankert; 19. Lowell Holland; 20. Tim Pickens; 21. Aaron Pella; 22. Jan Korth; 23. Jared Deterding; 24. Rik Grop.
Sport Compacts – 1. Larry Cronin; 2. Matt Moyer; 3. Nick Jensen; 4. Tim Horsham; 5. Cole Krichau; 6. James King; 7. Luke Jackson; 8. Amanda Rhiley; 9. Spencer Pavey III; 10. Kevin Fearing; 11. Kurt Beckstrom; 12. Ryan Lafrenz; 13. Kenny Danley; 14. Ole Olsen; 15. Brandon Thornton; 16. Rick Hollandsworth; 17. Jimmy Grasso; 18. Justin Olsen; 19. Mitchell Wachter; 20. Josh Johnson.
Northern SportMods – 1. Trent Roth; 2. Benji Legg; 3. Shawn Harker; 4. Gary Saathoff; 5. Josh Kennell; 6. Scott Bivens; 7. Nathan Kobus; 8. Jason Harms; 9. Adam Vrbka; 10. Mary Lenz; 11. Dion Kovar; 12. Jeremy Noonan; 13. Jared Cote; 14. Dave Coberly; 15. Jack Prall III; 16. Ken Eckhoff; 17. Jason Trent; 18. Arie Schouten; 19. Jamie Bruce; 20. Joe Schidler.
Sprint Car – 1. Joey Danley; 2. Mike Boston; 3. Doug Lovegrove; 4. Terry Richards; 5. Toby Chapman; 6. Shayle Bade; 7. Clint Benson; 8. TJ Artz; 9. Eric Reichwaldt; 10. Neil Dvorak; 11. Matt Richards; 12. Gene Ackland; 13. Tadd Holliman; 14. Brandon Horton; 15. Frank Sheridan; 16. Mark Vanderheiden; 17. Chase Weiler; 18. Nick Bryan; 19. Adam Gullion; 20. Kyle Flodman; 21. Dwight Carter; 22. Shon Pointer; 23. Keith Dragoo; 24. Nate Weiler.