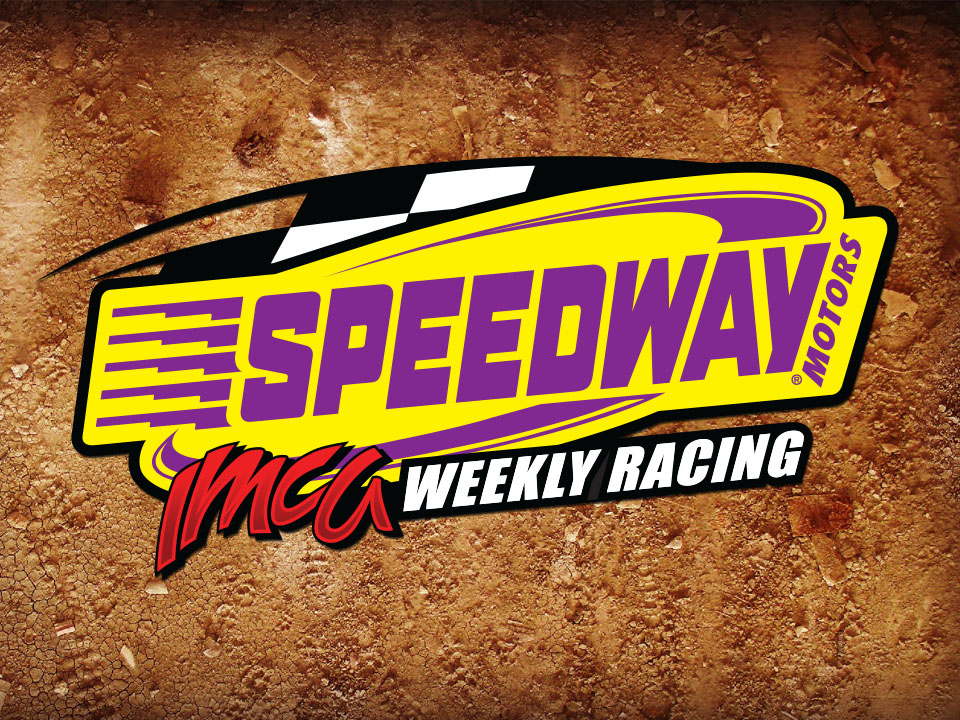 By Mike Hughes
HAYS, KS (Aug. 2) – RPM Speedway officials had to shorten the racing program Saturday evening, August 2, when a continuous drizzle and lightning forced officials to cancel the IMCA Stock Car and Modified features. Those two features will be made up at the next race program on Saturday, August 16.
Austin Walker led all 20 laps en route to his first Golden Plains Trucking IMCA Northern SportMod feature win at Hays, his second victory of the week after his feature win at Wakeeney the previous Sunday.
Several caution flags kept the field close, but Walker was up to the challenge and drove off for the trip to victory lane. Clay Money finished second, followed by Daniel Gottschalk, Blaine Walt, and point leader Tyler Frye. Heat race winners were Walt, Walker and Frye.
Garrett Hager won his third Rebel Tank Service IMCA Hobby Stock feature at his hometown track. Hager took the lead from Tyrel Smith on lap 15 and held on through a late race caution to claim the victory. Cody Graham finished in the runner-up spot, trailed by Duane Wahrman and heat race winners Adam Armstrong and Kent Tammen. Point leader Ron Wehling finished 15th, so Armstrong is the new point leader with a slim lead over Hager. Hager also won a heat race.
Hometown driver Kiowa Higdon drove to his sixth win of the year in the Tom's Machine & Welding IMCA Sport Compact feature, but Dean Herzog made him work for it. Herzog led the first five laps before Higdon took the lead at the halfway mark of the 12-lap race.
Herzog got back around Higdon on the following lap, but heat one winner Higdon took the lead for good on lap eight and held on for the win. Heat two winner Michael Smith passed Dean Herzog out of turn four on the final lap to edge out the runner-up spot. Richard Tegethoff was fourth and point leader Art Herzog was fifth.
The race was sponsored by Black Teal Oil LLC.
Racing returns to RPM Speedway on Saturday, August 16, with the regular five divisions in action starting at 7 p.m. The make-up features for the Stock Cars and Modifieds will open the program, with a full show to follow. It will also be Girls Night Out and all ladies will be admitted free to the grandstands if they arrive by 7.
Feature Results
Northern SportMods – 1. Austin Walker; 2. Clay Money; 3. Daniel Gottschalk; 4. Blaine Walt; 5. Tyler Frye; 6. Brian Fink; 7. Tracy Holloway; 8. Cory Struckhoff; 9. Jeremy Sigler; 10. Pat Bedore; 11. Tyler Watts; 12. Dan Lauer; 13. Jason Dove; 14. Dakota Sproul; 15. Eric Pfeifer; 16. Trenton Kleweno; 17. Kurtis Pihl; 18. Mark Axelson; 19. Kamron Gruber; 20. Cory McGann; 21. Triston Barton; 22. Tony Fisher; 23. Brenden Damon; 24. Nate Ginest; 25. Cody Stefanski.
Hobby Stocks – 1. Garrett Hager; 2. Cody Graham; 3. Duane Warhman; 4. Adam Armstrong; 5. Kent Tammen; 6. Brady Bencken; 7. Shay Simoneau; 8. Oscar Runyon; 9. Robert Emmons; 10. Jacob Harms; 11. Tyrel Smith; 12. Leon Pfannenstiel; 13. Kyle Pfeifer; 14. Al Emmons; 15. Ron Wehling; 16. Jason Sucky; 17. Josh Hrabe; 18. Lyle Russell; 19. Trevor Schmidt; 20. Justin Meserve; 21. Colton Pfeifer; 22. Jesse Prockish; 23. Monte Honas; 24. Colin Heim; 25. Jeromy Wagner.
Sport Compacts – 1. Kiowa Higdon; 2. Michael Smith; 3. Dean Herzog; 4. Richard Tegethoff; 5. Art Herzog; 6. Kirk Pfannenstiel; 7. Nathan Barton; 8. Madison Reed; 9. Brandon Lobdell.
Stock Cars – Rained out. To be made up August 16.
Modifieds – Rained out. To be made up August 16.