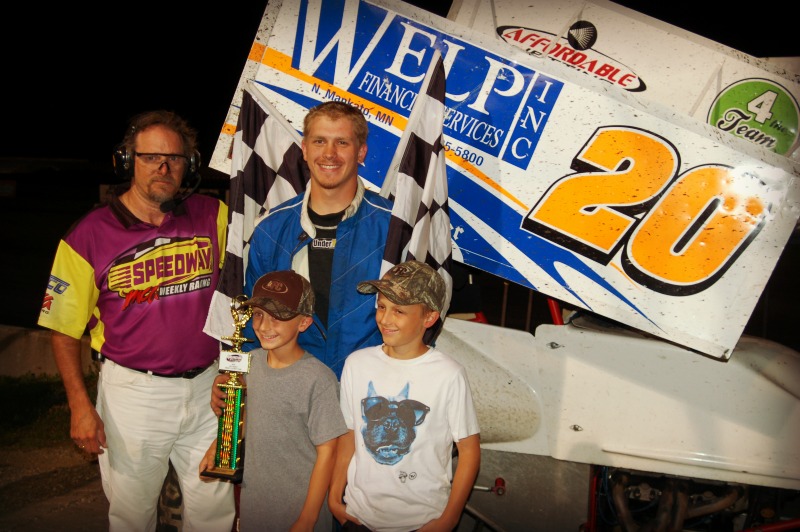 ARLINGTON, Minn. (Aug. 2) – There were new winners in victory lane for the UFC Sibley County Fair races Saturday night at Arlington Raceway.
Dan Menk won his first feature of the year in the MN 93 IMCA Modified class by taking over the lead on the 13th lap from Billy Johnson. Johnson led at the start, but settled for third at the stripe. Tyler Limoges was closing the gap late on Menk, but ran out of time and took second.
Kyren Porter won her first feature of the year in the Coors Light IMCA Sport Compact division by leading the entire distance in that event. Eric Ladner worked from an eighth place start but was unable to reel in Porter and settled for second. Nate Coopman rallied from an early spin to finish third.
Newcomer Justin Luinenburg started 12th in the 22-car field in the Eckblad Trucking IMCA Hobby Stocks and took the lead lap seven. Another newcomer, Cory Probst, was also in the mix as he moved up from his 12th place start to challenge the leader.
In the end, Luininburg took the win with Probst in second. Brian Loscheider had his best run of the season with a third place finish.
Jeremy Brown started ninth in the Unhinged Pizza IMCA SportMod feature and took over the lead on the ninth lap from Travis Schurmann. Brown went on to earn his first career win in the division. Matt Looft challenged, but finished second ahead of Adam Voss.
Jordan Wilmes only had one previous night in his 95.7 IMCA Sprint Car and was in victory lane after leading that race from start to finish. Brett Allen followed him the entire distance to take second. Ron Guentzel, who started ninth, finished third.
In the Annihilator IMCA Stock Car feature, there were four different leaders with Dean Cornelius taking the top spot for the first two laps. Chuck Winters got around him and led for the next five laps before the red flag halted action when Jeff Holstein rolled his car in turn three.
When the race resumed, Chris Meyer took the lead from Winters, but Dan Mackenthun challenged him and took over the lead and drove to the win. Cornelius finished second ahead of Meyer.
Feature Results
Hobby Stocks – 1. Justin Luinenburg; 2. Cory Probst; 3. Brian Loscheider; 4. Matt Olson; 5. Mike Christensen; 6. Austin Jahnz; 7. Rodney Manthey; 8. Brad Strauss; 9. Ryan Grochow; 10. Kevin LaTour; 11. Shane Honl; 12. Todd Sievert; 13. Jeremy Ziemke; 14. Logan Kelly; 15. Sarah Voss; 16. Chad Taylor; 17. Allen Fetchenhier; 18. Kristin Voss; 19. Mike Vogt; 20. Dakota Robinson; 21. Jessie Johnson; 22. Josh Telecky.
Sport Compacts – 1. Kyren Porter; 2. Eric Ladner; 3. Nate Coopman; 4. Alan Lahr; 5. Stephanie Forsberg; 6. Scott Espey; 7. Joe Bunkofske; 8. Jed Trebelhorn; 9. Ashelyn Moriarty; 10. Ben Wilhelmi; 11. Daniel Jacobus; 12. Megan Voss; 13. Robby Severson; 14. Blake Braunworth; 15. Dayton Robinson; 16. Dave Revier; 17. Dylan Braunworth; 18. Luke Trebelhorn; 19. Joe Regnar; 20. Robert Rutt.
Northern SportMods – 1. Jeremy Brown; 2. Matthew Looft; 3. Adam Voss; 4. Josh Larsen; 5. Travis Schurmann; 6. Chris Isaacson; 7. Dustin Engelke; 8. Tim Bergerson; 9. John Albrecht; 10. Tom Malchow Jr.; 11. Eric Larson; 12. Adam Revier; 13. Paul Konakowitz; 14. Glen Martner; 15. Joe Maas; 16. Wade Marshall; 17. John Rice; 18. Tiffany Maus; 19. Derek Wolters; 20. Zach Schultz.
Modifieds – 1. Dan Menk; 2. Tyler Limoges; 3. Bill Johnson; 4. Tim Pessek; 5. Jason Helmbrecht; 6. Jerry Wren; 7. Nick Helmbrecht; 8. Chad Porter; 9. Clint Hatlestad; 10. Andrew Timm; 11. Brent Reierson; 12. Fred Heidecker; 13. Curt Lund; 14. Bruce Nilsen; 15. Jeff Coon; 16. Dalton Magers; 17. Trent Loverude.
Sprint Cars – 1. Jordan Wilmes; 2. Brett Allen; 3. Ron Guentzel; 4. Michael Stien; 5. Trevor Serbus; 6. Aaron Wisch; 7. Jeremy Schultz; 8. Bruce Allen; 9. Nate Eakin; 10. Dalyn Cody; 11. Dustin Sargent.
Stock Cars – 1. Dan Mackenthun; 2. Dean Cornelius; 3. Chris Meyer; 4. David Moriarty; 5. Matthew Schauer; 6. Chuck Winter; 7. Shane Bruns; 8. Brent Reierson; 9. John Polifka; 10. Daniel Eckblad; 11. George Motto; 12. Jesse Anderson; 13. Michael Bruns; 14. Brent Uecker; 15. Matt Speckman; 16. Jeff McCollum; 17. Jeff Holstein.