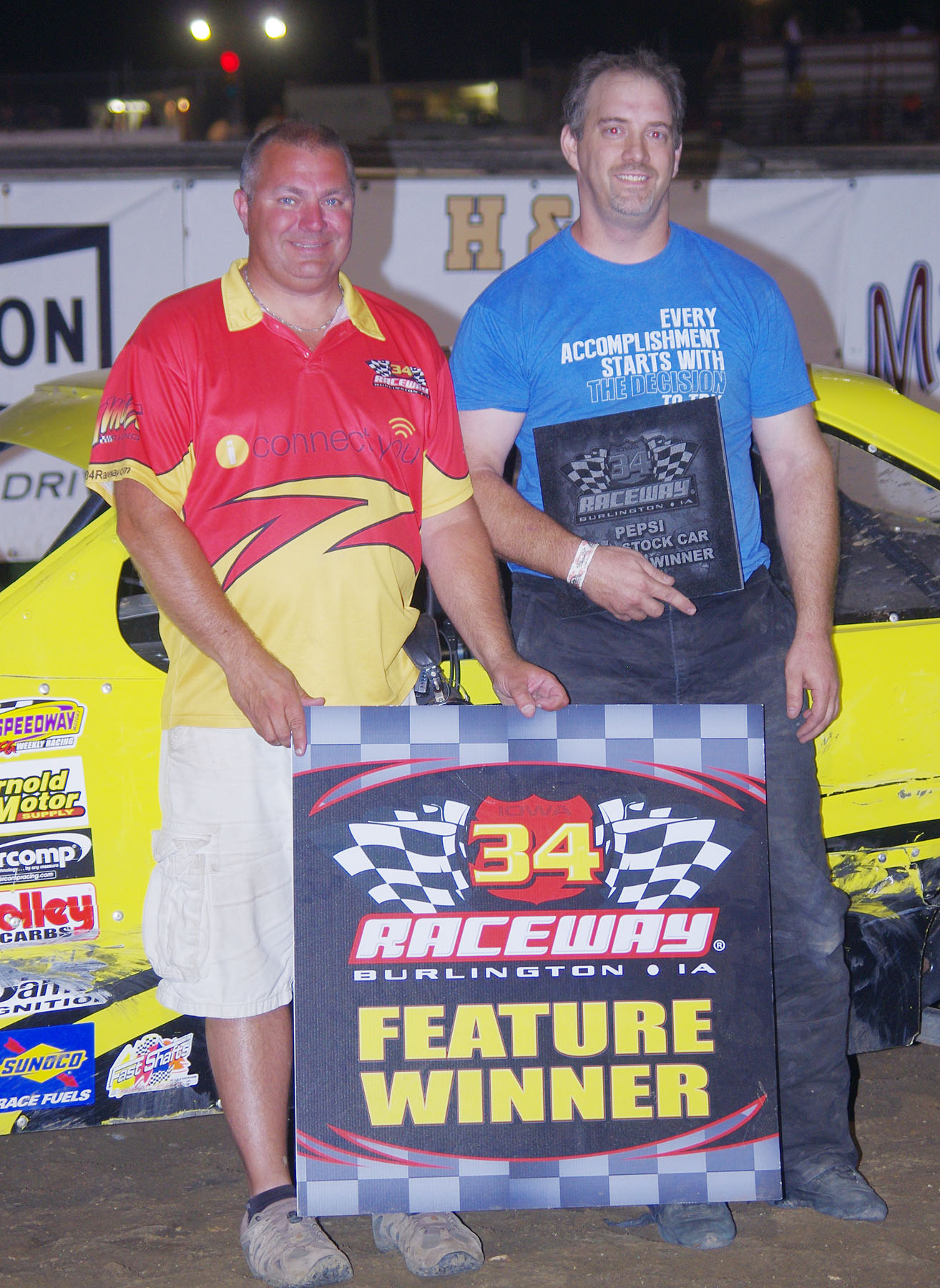 By Dana Royer
BURLINGTON, Iowa (Aug. 2) – The 34 Raceway pits were packed Saturday for the night's competition on the 3/8-mile oval.
Three racers got their first wins this year when Chad Krogmeier, got his first career IMCA Sunoco Stock Car feature win, Kyle Hill raced to his first Karl Chevrolet Northern SportMod win of the year and Bill Roberts Jr. got his first win of the year in the IMCA Xtreme Motor Sports Modified feature.
Krogmeier scored the win in the flag-to-flag 20-lap Stock Car feature. Krogmeier took the lead from his front row start and had to work to hold off Dane Fenton, Jake Wenig, John Oliver, Ray Raker, Tom Bowling and Shane Watts.
Krogmeier, in his second year in the division, scored the victory ahead of Fenton, Wenig, Oliver and Bowling.
Kyle Hill picked up his first Casebine Credit Union IMCA Northern SportMod feature win by holding off Bobby Anders in an exciting finish.
Hill took the lead from Dave Cloke on lap three of the 15-lap race and continued to pace the field as four-time winner Anders was advancing through traffic.
Anders passed Hill in turn three on the final lap, but Hill responded by taking the lead back coming out of turn four on his way to the exciting win, his first of the season. Dakota Simmons, Sean Wyett and Joey Gower rounded out the top five.
A nice field of 19 Ryner Transportation IMCA Modifieds were on-hand with Dugan Thye and Dennis LaVeine on the front row of the 20-lap feature.
LaVeine took the early lead, but gave it up to Bill Roberts,Jr. on lap six. Roberts held his lead with LaVeine and Jeff Waterman not far behind.
Roberts went on to take the win, his first this season, with LaVeine and Waterman following. Just a car-length separated the top three in a close finish.
There will be no racing this Saturday, August 9 for the Summer Fun Pit Stop as drivers, crews, race fans and employees get the night off. Racing action resumes Saturday, August 16 for the Brockway Mechanical Sprint Invaders Nationals with racing for the 360 sprints as well as IMCA Stock Cars and mod lites. Vintage cars get a chance at taking their machines around the high banks, as well.
Feature Results
Modifieds – 1. Bill Roberts Jr.; 2. Dennis LaVeine; 3. Jeff Waterman; 4. Tyler Cale; 5. Brandon Banks; 6. Mitch Morris; 7. Chris Zogg; 8. Tyler Glass; 9. Mike Weikert Jr.; 10. Dugan Thye; 11. Blake Woodruff; 12. Lonne Heap; 12. Dustin Smith; 14. Chadwick Giberson; 15. Dean McGee; 16. Josh Woodruff; 17. Darrow Lillie; 18. Troy Greiner; 19. Larry McConnell.
Stock Cars – 1. Chad Krogmeier; 2. Dane Fenton; 3. Jake Wenig; 4. John Oliver Jr.; 5. Tom Bowling; 6. Shane Watts; 7. Ray Raker; 8. John Brockway; 9. Randy Wachter; 10. Joe Gerdes; 11. Bo Hunter.
Northern SportMods – 1. Kyle Hill; 2. Bobby Anders; 3. Dakota, Simmons; 4. Sean Wyett; 5. Joey Gower; 6. Adam Shelman; 7. Creston Williams; 8. Andre Laporte; 9. Scot Van Buskirk; 10. Tony Olson; 11. David Cloke; 12. Ethan Allen; 13. Jonny Williams; 14. Tom Lathrop; 15. Brett Timmerman.