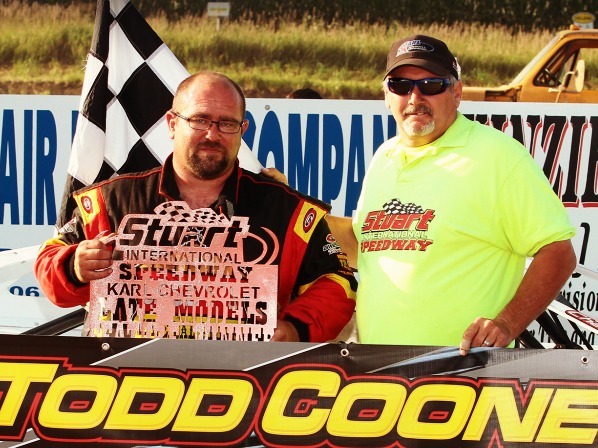 STUART, Iowa (Aug. 3) – Thirty-odd years ago, Todd Cooney was one on the kids hanging on the fence and reveling in the races at Stuart Speedway.
On Sunday, Cooney got to celebrate another of his own on-track accomplishments at the same storied venue.
The Des Moines driver won his career division-best 200th IMCA Late Model feature in the resched­uled event, then got number 201 in the scheduled race.
"Stuart was the best place in the world for me to get my 200th win and it's where I wanted to do it. This is the track where it really all began for me," Cooney said. "I remember being six, seven, eight years old and watching my dad and best friend Doug Davis race. It was awesome."
"I love everything about Stuart, the way it's promoted and how much fun it is to race here," he added. "I wish we could race here every week."
His 200th career win is the latest Late Model milestone for Cooney, IMCA's national champion in 1997 and 2002 and the IMCA Speedway Motors Super Nationals fueled by Casey's king in 2006 and 2008.
He's raced to 23 track championships in the division since 1995 and counts three straight Iowa crowns among seven total Allstar Performance State titles.
"I cherish all those. My first Super Nationals championship was very special and 200 wins is just awesome. I never expected to have 200 wins at this point in my career," Cooney said. "I've been fortunate over the years to have good help, good equipment and good sponsors."
At 41, Cooney acknowledges that there's a light at the end of his racing tunnel that's getting closer, especially given the success of his son Shawn, last year's national rookie of the year in the Mach-1 Sport Compacts and a strong contender for the same award in the Karl Chevrolet Northern SportMods this season.
"Every year I say I'm going to slow down and with my son racing I can see that happening. I have way more fun racing with him, " he said. "My wife Shawntell and Mike Egenberger take him most nights and they do a really good job."
"Shawn didn't grow up at the track like I did. Last year was his first year racing and the Sport Com­pacts were a good class for him to learn the basics," Cooney continued. "Going into the SportMod he's further along than we expected. We work on our cars at the same shop but I want to be there more to watch him race."