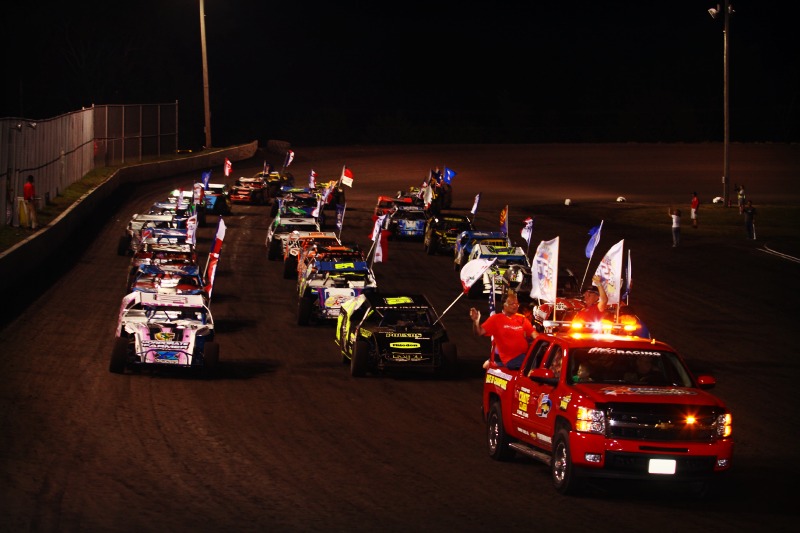 BOONE, Iowa (July 29) – The 2013 race winner will return to defend his Fast Shafts All-Star Invitational crown.
Todd Shute prevailed in one of – if not the – most talked about Modified events of the season during last year's IMCA Speedway Motors Super Nationals fueled by Casey's. He was one of 15 All-Stars, three from each of IMCA's five Modified regions, elected via Facebook to the 2014 starting field for the Friday, Sept. 5 race.
Thirteen more starters will be elected, also through Facebook, from among the next top 50 vote recipients. That balloting runs from this afternoon (Tuesday) through the end of the business day next Tuesday, Aug. 5.
Eleven different states are represented by the initial group of All-Stars.
Tim Ward, Ricky Thornton Jr. and Brad Pounds were the top three vote-wise in the Larry Shaw Racing Western Region.
William Gould, Keith White and Dean Abbey ran 1-2-3 in the Razor Chassis South Central Region.
Jet Racing Central Region All-Stars were paced by Jeff Taylor, Cody Gearhart and Corey Lagroon.
Jason Murray topped polling for the Belleville Motorsports North Central Region, ahead of Shute and Robert Hellebust.
Kyle Strickler had the top overall vote total and will be joined by fellow All-Stars A.J. Ward and Chris Fleming in representing the Dirt Works Eastern Region.
"All of the 120-plus drivers on the All-Star ballot earned their way there by winning a qualifying event, state or regional championship," noted IMCA Vice President of Operations Brett Root. "Getting into the race is a little like politics, some of these guys campaigned very well and very hard."
"It's great to see such diversity among the All-Star starters," he added. "It's an outstanding snapshot of the diversity of IMCA racing in general."
Completing the 30-car starting grid will be All-Star candidates with the top national point total and the most feature wins as of Aug. 28 who competing at Super Nationals.
First-time All-Stars are Abbey, Gearhart, Hellebust, Lagroon, Murray and A.J. Ward. Fleming, Gould, Strickler and Thornton each make their second starts in the Friday night dance while Shute is now a three-time All-Star.
Taylor and White both make their career fourth All-Star starts, Pounds and Tim Ward both their fifth.
All-Star drivers will draw for starting positions in the Fan Zone behind the main grandstands at Boone Speedway on race night. The 11th annual event pays $1,000 to win, a minimum of $200 to start and is a qualifier for the 2015 ballot.