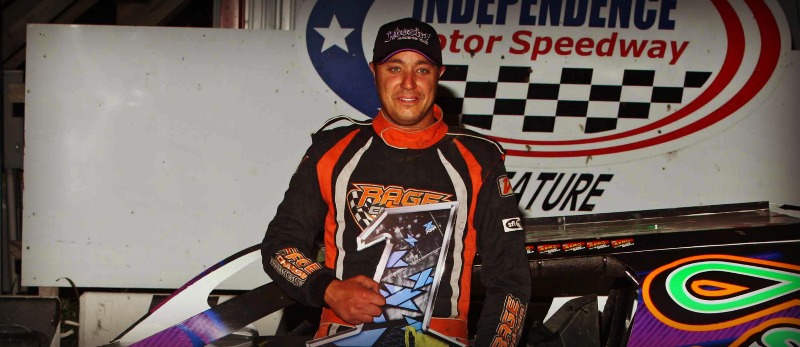 INDEPENDENCE, Iowa (July 24) – The caution that Troy Cordes was hoping for finally came out with eight laps left in Thursday's XSAN Hawkeye Dirt Tour main event at Independence Motor Speedway.
Defending IMCA Xtreme Motor Sports Modified series champion Ronn Lauritzen drew the outside pole start and clearly had the fastest ride through the first 22 circuits. Cordes had taken the opening green from 11th and worked his way steadily to second but was still well off the pace before the fateful yellow flew for a car stopped on the track.
The two Independence regulars dueled up front before Cordes finally found his way to the front. The final caution, for a car perched on the backside of turn four, set up a green, white, checkered fin­ish.
Cordes pulled ahead to take the checkers a couple car lengths ahead of Lauritzen. He earned a spot on the 2015 Fast Shafts All-Star Invitational ballot along with his tour career first victory.
Vern Jackson, Jeff Waterman and Adam Johnson completed the top five. Point leader Mike Van Genderen was sixth.
Different drivers have prevailed in each of the first six series events this season; Cordes had run second to Darin Duffy when the Hawkeye Dirt Tour shared the midweek stage with the World of Outlaw Late Models last August.
Cordes has won 10 sanctioned events this season and now has 90 IMCA Modified victories to his ca­reer credit.
Next up on the Hawkeye Dirt Tour schedule is the Thursday, Aug. 7 show at Hancock County Speedway in Britt.
That event doubles as the 20th annual Night of 1,000 Stars special and pays a minimum of $3,500 to win. Another $2,500 in lap money is at stake, plus a $1,000 bonus for leading at midway of the 50-lapper.
Another $2,000 will be added to the winner's share if they've raced at Hancock County Speedway at least four times previously this season, making for a potential payout of $9,000 at the Doug Studer Farms-sponsored program.
Feature results – 1. Troy Cordes, Dunkerton; 2. Ronn Lauritzen, Jesup; 3. Vern Jackson, Water­loo; 4. Jeff Waterman, Quincy, Ill.; 5. Adam Johnson, Independence; 6. Mike Van Genderen, New­ton; 7. Scott Hogan, Vinton; 8. Jesse Sobbing, Glenwood; 9. Jeremy Mills, Garner; 10. Cay­den Carter, Oskaloosa; 11. Tim Ward, Gilbert, Ariz.; 12. Darin Duffy, Urbana; 13. Joe Docekal, Dysart; 14. Patrick Flannagan, Cedar Rapids; 15. Mark Schulte, Delhi; 16. Ed Thomas, Waterloo; 17. Tyler Groenendyk, Oskaloosa; 18. Nick Roberts, Des Moines; 19. Richie Gustin, Gilman; 20. Jacob Murray, Hartford; 21. Jason Snyder, Dunkerton; 22. Matt Gansen, Zwingle; 23. J.D. Au­ringer, Waterloo; 24. Dustin Brown, Thornton.
1st heat (top three) – 1. Carter; 2. Waterman; 3. Johnson; 4. Duffy; 5. Groenendyk; 6. Snyder; 7. Justin O'Brien, West Union; 8. Ward.
2nd heat – 1. Van Genderen; 2. Gustin; 3. Cordes; 4. Sobbing; 5. Gansen; 6. Schulte; 7. Murray; 8. Derek Reimer, Marshalltown.
3rd heat – 1. Hogan; 2. Mills; 3. Docekal; 4. Flannagan; 5. Dustin Brown; 6. Kyle Brown, Kellogg; 7. Tyler Droste, Waterloo; 8. Zach Less, Hopkinton.
4th heat – 1. Lauritzen; 2. Roberts; 3. Jackson; 4. Auringer; 5. Shane DeMey, Denison; 6. Thomas; 7. Brennen Chipp, Waterloo.
1st "B" feature (top five) – 1. Duffy; 2. Flannagan; 3. Groenendyk; 4. Dustin Brown; 5. Snyder; 6. Kyle Brown; 7. O'Brien; 8. Droste; 9. Less; 10. Ward.
2nd "B" feature – 1. Sobbing; 2. Auringer; 3. Gansen; 4. Thomas; 5. Schulte; 6. DeMey; 7. Mur­ray; 8. Chipp; 9. Reimer.
Provisionals – Ward and Murray.