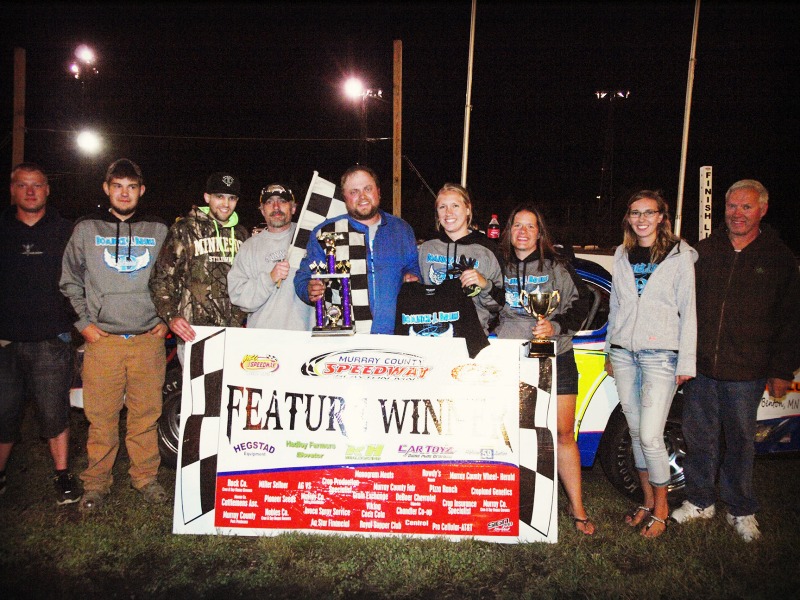 SLAYTON, Minn. (July 18) – Round two of the Dominick Bruns Memorial Challenge Cup Chase Friday at Slayton went to Murray County Speedway regular Kevin DeBaere.
DeBaere led all 18 laps after starting the IMCA Sunoco Stock Car feature outside Shaun Madden on the front row.
The victory, DeBaere's second this season at Slayton, paid $1,000.
Derek Green, Chris Palsrok, Elijah Zevenbergen and Dan Veenstra rounded out the top five.
Runner-up in the series last season, DeBaere had Derek Green on his back bumper most of the way. Restarts following cautions near midway, then with four laps to go and finally with three laps left didn't make his job any easier.
"It felt good to win this race, DeBaere said. "The bottom line was the line that was working so that's where you had to be."
The Chase, which raises awareness about Sudden Infant Death Syndrome, concludes Aug. 10 at Redwood Speedway.
Feature results – 1. Kevin DeBaere; 2. Derek Green; 3. Chris Palsrok; 4. Elijah Zevenbergen; 5. Dan Veenstra; 6. Jim Larson; 7. Jim Gregoire; 8. Gary Mattison; 9. James Richert; 10. Nick Johansen; 11. Wayne Oftedahl; 12. Dean Nething; 13. Shaun Madden; 14. Jake Bruns; 15. Shaun Bruns; 16. Jake Masters; 17. Shane Bruns; 18. David Breyfogle.