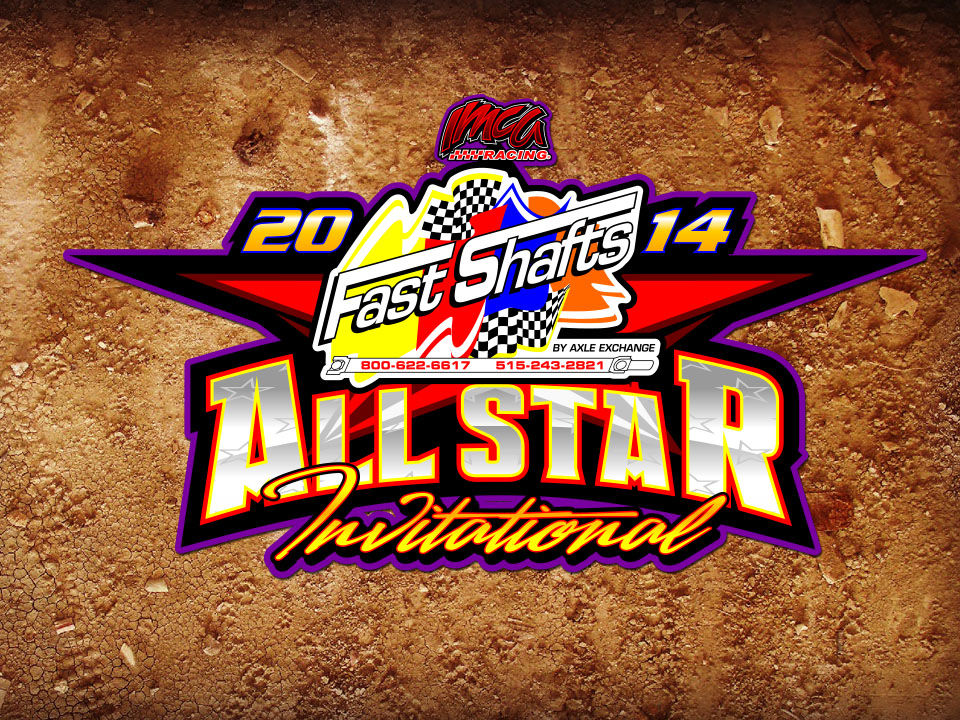 BOONE, Iowa (July 21) – Voting begins this evening (Monday) to determine the starting field for Fast Shafts All-Star Invitational.
Three drivers from each of the five IMCA Xtreme Motor Sports Modified regions will be elected through round one electronic polling conducted on the IMCA Facebook page through the end of the business day next Monday, July 28.
All-Star candidates will be listed by region; one vote can be cast for one driver per region each day.
Thirteen more All-Stars will be elected through round two, also via the IMCA Facebook page, between Tuesday, July 29 and Tuesday, Aug. 5.
Winners will be notified and their names announced as soon as possible after each round of voting.
The initial round of voting was to have been conducted through the IMCA website; one other change made was that all drivers not elected through the first round will be vote eligible in the second.
"Race fans vote for the drivers they most want to see in the event and genuine vote totals should reflect that," IMCA Vice President of Operations Brett Root said. "Using our Facebook page for the voting process eliminates more of the possibility of manipulating those totals."
"We want the number of ballots cast to be accurate and using Facebook is also the most interactive means to accomplish that," he added. "The power of social media is at al all-time high and this is an excellent way for these racers to become more interactive with their fans and 'sharing' the ballot will help as well."
Completing the starting grid for the Friday, Sept. 5 30-lapper will be All-Star candidates with the top national point total and the most feature wins as of Aug. 28 competing at the IMCA Speedway Motors Super Nationals fueled by Casey's.
All-Star drivers will draw for starting positions in the Fan Zone at Boone Speedway on race night. The event pays $1,000 to win, $200 to start, and is a qualifier for the 2015 ballot.
By region, the 121 drivers on the 2014 Fast Shafts All-Star Invitational ballot include:
Larry Shaw Racing Western Region – Ricky Alvarado, Mark Carrell, Brian Cass, Eric Center, Kellen Chadwick, Nick DeCarlo, Casey Delp, Zane DeVilbiss, Jake Donnelly, Troy Foulger, Joe German, Chase Hansen, Dustin Hansen, Bobby Hogge IV, Wyatt Howard, Paul Jones Jr., David Karst, Eddie Kirchoff, K.C. Kubichek, Cody Laney, Randy McDaniel, Ryan McDaniel, Jason Noll, Brad Pounds, Cory Sample, Brian Schultz, Jeremy Shank, Brody Spangler, Alex Stanford, Paul Stone, Jeffrey Streeter, Randy Thornell, Ricky Thornton Jr., Zachary Thorp, Curtis Towns, Daniel Waldemar, Tim Ward, Mark Wauge, Jesse Williamson and Justen Yeager.
VOTE HERE: https://apps.facebook.com/my-polls/sn14fsallstar-western
Razor Chassis South Central Region – Dean Abbey, Chase Allen, Chris Dawson, Dean Deming, Neal Flowers, William Gould, Phillip Houston, Nicholas Littlejohn, Chad Melton, Vince Ogle, Kevin Sustaire and Keith White.
VOTE HERE: https://apps.facebook.com/my-polls/sn14fsallstar-southcentral
Jet Racing Central Region – Kreg Dobson, Jeremy Frenier, Cody Gearhart, Steven Glenn, Jordan Grabouski, John Hansen, Jared Hoefelman, Corey Lagroon, Jared Landers, Bill Leighton, Hunter Marriott, David Murray Jr., Jeremy Payne, Mike Petersilie, Kyle Rohleder, Johnny Saathoff, Dylan Smith, Jeff Taylor, Jesse Taylor and Randy Weaver.
VOTE HERE: https://apps.facebook.com/my-polls/sn14fsallstar-central
Belleville Motorsports North Central Region – Chris Abelson, J.D. Auringer, Jason Bahrs, Brandon Beckendorf, Masen Big Eagle, Cayden Carter, Troy Cordes, Ray Cox Jr., Jason Cummins, Tim Czarneski, Eric Dailey, Todd Dart, Darin Duffy, Greg Durbin, Jimmy Gustin, Richie Gustin, Robert Hellebust, Scott Hogan, Sean Jerovetz, Benji LaCrosse, Tyler Limoges, Josh Meyer, Stacey Mills, Brian Mullen, Mike Mullen, Jason Murray, Justin O'Brien, Ryan Ruter, Andrew Schroeder, Jason Schueller, Kelly Shryock, Todd Shute, Jared Siefert, Dustin Smith, Jesse Sobbing, Jake Strayer, Jim Thies, Mike Van Genderen, Luke Wanninger, Spencer Wilson, Austin Wolf and Marcus Yarie.
VOTE HERE: https://apps.facebook.com/my-polls/sn14fsallstar-northcentral
Dirt Works Eastern Region – Scott Bennett, Myron DeYoung, Chris Fleming, Matt Roberts, Dale Schweikart, Kyle Strickler and A.J. Ward.
VOTE HERE: https://apps.facebook.com/my-polls/sn14fsallstar-eastern