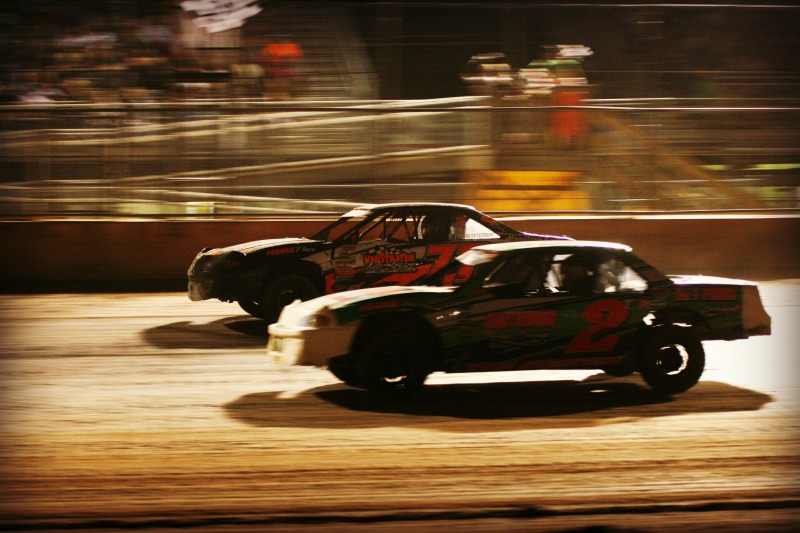 OSHKOSH, Wis. (July 18) – Races don't get much closer than this.
Neither do the finishes.
Justin Jacobsen grabbed the lead for the Total Power Sales IMCA Stock Car main Friday at Osh­kosh Speedzone Raceway ahead of point leader John Heinz, Dylan Heilmann, Kevin Hebbe, Travis Van Straten and David Hoerning.
Van Straten was hooked up and powered into the lead on lap seven. Contact with Heinz on the following lap brought out the caution with Heinz going to the back and Van Straten still the leader for the restart.
Jacobsen, Barry Van Straten, Larry Karcz Jr. and Heilmann were now right behind. The Van Straten boys ran side-by-side for the lead with Travis inside and Barry outside for the rest of the race.
Travis held the top spot for much of the way with Barry scored as the leader a couple times as they pulled away from the field. Karcz, Rod Snellenberger and Jacobsen ran together with Heinz coming from the back into contention again in fifth.
A caution with three laps remaining bunched the field on the leaders. Barry again took the outside line with Travis holding inside. Snellenberger, Karcz and Heinz were wrapped in the race for third, which allowed the leaders to duke it out on their own. They were dead even at the line for the white flag with Travis gaining a slight edge in turn one.
Barry stayed even again down the back and out of four, was able to get the bite up high to edge Travis at the line by a bumper for his first feature win of the season and first-ever at Osh­kosh. The close victory was a bit of payback for Travis stealing one away from Barry at Seymour the past Sunday night.
With a field of 40 Automotive Supply Company IMCA Modifieds on hand, it was tough to make the 20 car feature field. Sean Jerovetz caught Mike Mueller to win by half a car length.
Steve Schneider raced to his fifth local Karl Chevrolet Northern SportMod victory of the season after a mid-pack start.