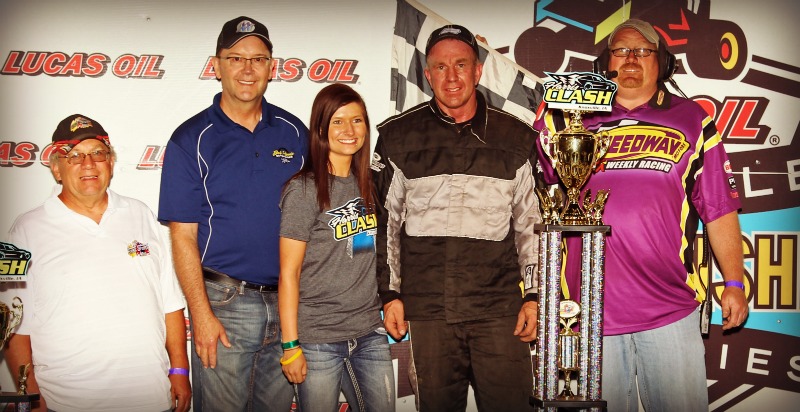 KNOXVILLE, Iowa (July 17) – Chris Abelson was plenty fast in winning his Thursday night "B" feature during the Harris Clash at Knoxville.
He proved even faster in the evening's IMCA Xtreme Motor Sports Modified main event, racing from 17th starting to the lead on the 19th of 25 laps.
Abelson pulled away in the final circuits to the $2,000 payday. The Clash was also an XSAN Hawkeye Dirt Tour event and the final race of IMCA's Hawkeye State Modified Speedweek. Eighty drivers from 11 states and Canada contended.
Brett Lowry was the $1,000 Karl Chevrolet Northern SportMod winner. That division drew 59 entries from six states.
Eric Dailey drew the Modified pole but it was Canadian visitor Aaron Turnbull in the lead when the opening lap was scored.
Cautions slowed the early going before a long green flag run that saw Mike Van Genderen race from mid-pack to second. Kurt Kile, Jeff Jodersma and the hard-charging Abelson were running close behind when the yellow came back out on lap 16.
The opportunistic Abelson shot into second following the restart, then found his way past Turnbull and led to the finish.
Van Genderen was promoted to second when Turnbull came up light on the post-race scales. Kurt Kile, Luke Wanninger and two-time defending race winner Kyle Strickler completed the top five.
Already on the Fast Shafts All-Star Invitational ballot, Abelson became the fifth different winner in as many HDT events so far this season; the victory was his tour career second.
Lowry inherited the Northern SportMod lead early after taking the original green from inside row three.
He put some distance on the rest of the field before winning ahead of Cody Olsen, Ty Luellen, Matt Looft and Jared Boumeester.
Feature Results
Modifieds – 1. Chris Abelson, Sioux City; 2. Mike Van Genderen, Newton; 3. Kurt Kile, Nichols; 4. Luke Wanninger, Minburn; 5. Kyle Strickler, Mooresville, N.C.; 6. Jeff Stephens, Denison; 7. Andrew Schroeder, Clive; 8. Levi Nielsen, Mason City; 9. Jeff Joldersma, McClelland; 10. Ryan Ruter, Kanawha; 11. Jay Noteboom, Hinton; 12. Randy Havlik, Madrid; 13. Richie Gustin, Gilman; 14. Steve Stewart, Burlington; 15. Tim Ward, Gilbert, Ariz.; 16. Kevin Stoa, Clear Lake; 17. Cayden Carter, Oskaloosa; 18. Eric Scribner, Kiel, Wis.; 19. Marcus Yarie, Wausau, Wis.; 20. Jeremy Mills, Garner; 21. Jacob Murray, Hartford; 22. Eric Dailey, Armstrong; 23. Jesse Sobbing, Glenwood; 24. Colt Mather, Keswick; 25. Todd Shute, Des Moines; 26. Cory Wray, Trenton, Mo.; 27. Aaron Turnbull, Estevan, Sask.
1st heat (top two) – 1. Gustin; 2. Stephens. 2nd heat – 1. Yarie; 2. Van Genderen. 3rd heat – 1. Joldersma;
2. Mather. 4th heat – 1. Kile; 2. Strickler. 5th heat – 1. Dailey; 2. Schroeder. 6th heat – 1. Stoa; 2. Murray. 7th heat – 1. Ruter; 2. Havlik. 8th heat – 1. Turnbull; 2. Wanninger.
1st "B" feature (top two) – 1. Abelson; 2. Shute. 2nd "B" feature – 1. Sobbing; 2. Scribner. 3rd "B" feature – 1. Nielsen; 2. Stewart. 4th "B" feature – 1. Wray; 2. Mills.
Hawkeye Dirt Tour provisionals – Ward and Carter. Past feature winner's provisional – Noteboom.
Northern SportMods – 1. Brett Lowry, Montezuma; 2. Cody Olsen, Omaha, Neb.; 3. Ty Luellen, Minburn; 4. Matt Looft, Swea City; 5. Jared Boumeester, Waseca, Minn.; 6. Bob Sutherland, Blairsburg; 7. Taylor Musselman, Norwalk; 8. Jim Gillenwater, Keokuk; 9. Clint Luellen, Minburn; 10. Ryan Fullenkamp, Bloomfield; 11. Brayton Carter, Oskaloosa; 12. Josh Sink, Stanton; 13. Brandon Dale, Memphis, Mo.; 14. Chad Shaw, Trimble, Mo.; 15. Jerid Ratzke, Williams; 16. Matt Lettow, Roland; 17. Shawn Cooney, Des Moines; 18. Cody Knecht, Whittemore; 19. Brandon Williams, Des Moines; 20. Dustin Crist, St. Joseph, Mo.; 21. Dylan Book, Adel; 22. Glenn Gladson Jr., Des Moines; 23. Mike Stark, West Des Moines; 24. Andy Tiernan, Woodward;
1st heat (top two) – 1. Sutherland; 2. Lowry. 2nd heat – 1. Boumeester; 2. Cooney. 3rd heat – 1. Crist; 2. Williams. 4th heat – 1. Looft; 2. Ratzke. 5th heat – 1. Olsen; 2. Luellen. 6th heat – 1. Dale; 2. Musselman.
1st "B" feature (top three) – 1. Sink; 2. Gladson; 3. Tiernan. 2nd "B" feature – 1. Book; 2. Lettow; 3. Shaw. 3rd "B" feature – 1. Gillenwater; 2. Fullenkamp; 3. Knecht. 4th "B" feature – 1. Luellen; 2. Carter; 3. Stark.