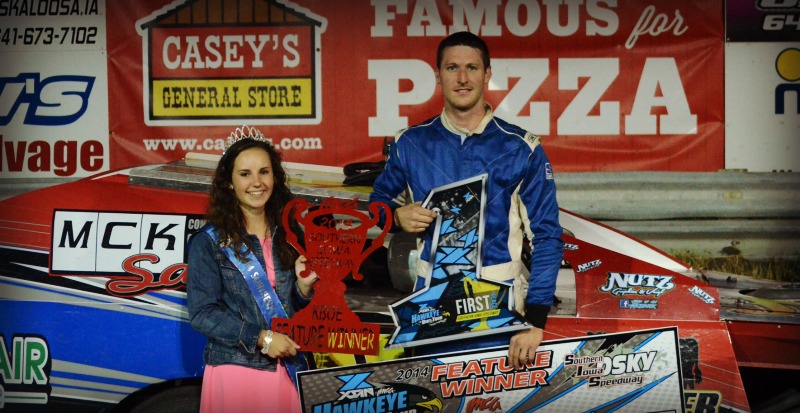 OSKALOOSA, Iowa (July 15) – While the list of entries came from eight states and Canada, it was a driver from the Hawkeye State in victory lane following Tuesday's XSAN Hawkeye Dirt Tour main event at Southern Iowa Speedway.
Andrew Schroeder took advantage when race-long leader Todd Shute got high in traffic with four circuits left in the IMCA Xtreme Motor Sports Modified series 25-lapper, going low coming out of the second turn to take the front spot away.
Schroeder pulled away to win by five car lengths, earning $1,000 and a spot on the ballot for the 2014 Fast Shafts All-Star Invitational ballot.
Shute had started on the pole and ended second in the latest Hawkeye Dirt Tour feature to run caution free. Monday night HDT winner and current point leader Mike Van Genderen, Luke Wan­ninger and Jacob Murray completed the top five.
After wrestling second away from Van Genderen on lap 11, Schroeder tried to sneak inside Shute, who pulled ahead and looked to have the race in hand until encountering the back of the field on lap 18.
Schroeder cut into Shute's advantage and pounced when the leader got too high late in the race.
Aside from the mandatory caution at halfway of Sunday's Hogan Memorial special, only one yel­low has flown during 95 laps and the first three events of the July 13-17 Hawkeye State Modified Speedweek.
In addition to Iowa, Modified entries for the fourth tour race of the season hailed from Arizona, Illinois, Kansas, Missouri, Nevada, Oklahoma and Texas, plus the Canadian province of Saskatche­wan.
Other winners Tuesday at Osky were Todd Cooney in the IMCA Late Models, Cayden Carter in the IMCA Sunoco Stock Cars, Brett Lowry in the Karl Chevrolet Northern SportMods and Mike Hughes in the IMCA Sunoco Hobby Stocks.
Southern Iowa Speedway also hosts the fourth event of IMCA's Speedweek as Modifieds run in another $1,000 to win, Fast Shafts All-Star Invitational ballot qualifying show on Wednesday, July 16 during the Mahaska County Fair.
Racing starts at 7:30 p.m.
The crown jewel of Speedweek is the Thursday, July 17 Harris Clash at Knoxville Raceway. The Modified feature pays $2,000 to win and doubles as an XSAN Hawkeye Dirt Tour race. Karl Chevro­let Northern SportMods vie for $1,000 to win that evening.
Feature results – 1. Andrew Schroeder, Clive; 2. Todd Shute, Des Moines; 3. Mike Van Gen­deren, Newton; 4. Luke Wanninger, Minburn; 5. Jacob Murray, Hartford; 6. Jeremy Mills, Gar­ner; 7. Colt Mather, Keswick; 8. Jesse Sobbing, Glenwood; 9. Kurt Kile, Nichols; 10. Aaron Turnbull, Estevan, Sask.; 11. Cayden Carter, Oskaloosa; 12. Richie Gustin, Gilman; 13. Mark Elliott, Web­ster City; 14. Nick Roberts, Des Moines; 15. Scott Dickey, Packwood; 16. Jeff Joldersma, McClel­land; 17. Mike Jergens, Plover; 18. Jeff Waterman, Quincy, Ill.; 19. Ronn Lauritzen, Jesup; 20. Hunter Marriott, Brookfield, Mo.; 21. Jason Schoenberger, Russell, Kan.; 22. Tim Ward, Gilbert, Ariz.; 23. Scott Drake, Joplin, Mo., 24. William Gould, Calera, Okla.
1st heat (top three) – 1. Murray; 2. Mather; 3. Elliott; 4. Dustin Brown, Thornton; 5. Schoen­berger; 6. Jergens; 7. Carter; 8. Roberts.
2nd heat – 1. Van Genderen; 2. Drake; 3. Turnbull; 4. Sobbing; 5. Jay Noteboom, Hinton; 6. Jim Lynch, Bloomfield; 7. Joldersma; 8. Waterman.
3rd heat – 1. Schroeder; 2. Mills; 3. Gould; 4. Kyle Brown, Kellogg; 5. Jimmy Gustin, Mar­shalltown; 6. Joey Franklin, Las Vegas, Nev.; 7. Dickey; 8. Ray Bunnell, Martinsburg.
4th heat – 1. Kile; 2. Wanninger; 3. Shute; 4. Lauritzen; 5. Richie Gustin; 6. Ward; 7. Marriott; 8. Bill Pittaway, Corpus Christi, Texas.
1st "B" feature (top five) – 1. Dickey; 2. Jergens; 3. Carter; 4. Schoenberger; 5. Roberts; 6. Dustin Brown; 7. Jimmy Gustin; 8. Kyle Brown; 9. Franklin; 10. Bunnell.
2nd "B" feature – 1. Richie Gustin; 2. Sobbing; 3. Marriott; 4. Lauritzen; 5. Ward; 6. Joldersma; 7. Waterman; 8. Noteboom; 9. Lynch; 10. Pittaway.
Provisionals – Joldersma and Waterman.