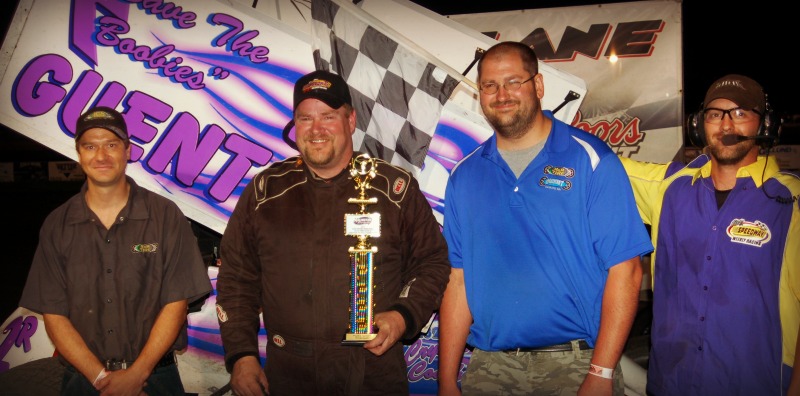 ARLINGTON, Minn. (July 12) – Ron Guentzel waved the checkered flag for other drivers at Arlington Raceway for three seasons.
On Saturday night, Guentzel's replacement waved it for him.
The second-year IMCA Eagle Motorsports RaceSaver Sprint Car driver won for the first time in his short career in the winged class, during the Dan Grams Memorial Night program.
"There were three cautions and I was wondering if the race was ever going to get over," admitted Guentzel, from St. Peter. "It was extremely humid and my shield was fogging over, so I had to flip that up just to see. After the race I was so excited I could barely talk when they were doing the interview."
"It was really special to win this race because Dan was a friend of mine. The car was set up so perfect. It was just a rocket ship," he added. "To finally come to the checkers and know I'd won was really special. Everybody was excited. It was just so much fun. It was a magical night."
Guentzel flagged after a 15-year IMCA Sunoco Stock Car career. Under the tutelage of friend and retired Sprint Car driver Bruce DeFries, he got back on track in the new division in 2013 and finished third in the point standings at Arlington.
His first win came in just his sixth night out this season.
"I always wanted to drive a Sprint Car but knew nothing more than the basics about them," Guentzel explained. "DeFries said he'd help me and I bought a 2001 Nygaard Chassis from Bruce Allen as kind of a learning car for my first year. We got a 2009 J & J Chassis for this season."
Guentzel grew up going to the races at Arlington and the venerable Allen was one of his favorite drivers.
"I used to cheer for Bruce. Now I'm racing side-by-side with him," he said. "It's cool to be able to race with your childhood idol."
DeFries heads up the crew that also includes his son Travis and Guentzel's wife Becky and son Dylan.
Sponsors include DeFries' Countryside Refrigeration & Heating of North Mankato, Lake Crystal Coaches of Madison Lake, Jeff's Automotive & Machine of Hutchinson, Arlington PC Repair and A & J Cusom Graphics, both of Arlington, and Larson Repair of Mankato.
"I like the speed and I like the adrenaline rush, but what I like most about the Sprint Cars is the people I race with," Guentzel said. "We've known each other for years and we're very tight knit. Everybody helps everybody."
Also winning sanctioned features on Dan Grams Memorial Night at Arlington were Brandon Beckendorf in the IMCA Xtreme Motor Sports Modifieds, Dan Mackenthun in the IMCA Sunoco Stock Cars, Chris Isaacson in the Karl Chevrolet Northern SportMods, Todd Sievert in the IMCA Sunoco Hobby Stocks and Nate Coopman in the Mach-1 Sport Compacts.