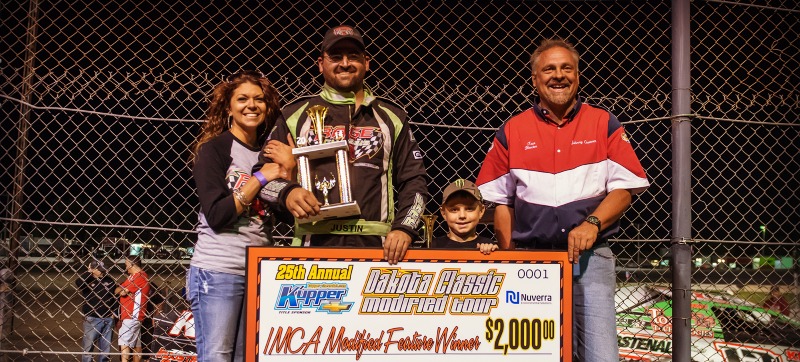 JAMESTOWN, N.D. (July 11) – Two first-time feature winners took their turns in victory lane following the sixth and final night for the Kupper Chevrolet Dakota Classic Tour.
With a track record 80 IMCA Xtreme Motor Sports Modifieds at Jamestown Speedway Friday, Justin O'Brien took the lead from Steven Pfeifer late in the 30-lapper and outran Justen Yeager for the $2,000 checkers.
"This was absolutely the biggest win of my career," said O'Brien, newly qualified for the Fast Shafts All-Star Invitational ballot. "The best of the best in IMCA were here."
Jeff Taylor clinched the series title with his third-place finish, still in a borrowed car. Pfeifer and Ryan Ruter completed the top five.
Point runner-up Jordan Grabouski started last in the field of 26 and finished 12th.
Perry Misner almost didn't capitalize on a rare start near the front of the field, falling back to ninth before rallying to win the IMCA Sunoco Stock Car tour feature and $800.
"I had a pretty good car so once I got rolling I was able to pass a few cars," said Misner, who got the lead with four circuits left in the 25-lapper. Nathan Burke was second and Austin Daee took third.
Dalton Flory finished fourth and won the tour title as defending champion Elijah Zevenbergen saw his 12-point advantage wiped out by a 19th place finish. Greg Wichman was fifth.
Feature Results
Modifieds – 1. Justin O'Brien, West Union, Iowa; 2. Justen Yeager, Green River, Wyo.; 3. Jeff Taylor, Cave City, Ark.; 4. Steven Pfeifer, Minot; 5. Ryan Ruter, Kanawha, Iowa; 6. Mike Jergens, Plover, Iowa; 7. Aaron Turnbull, Estevan, Sask.; 8. Darin Duffy, Urbana, Iowa; 9. Jason Strand, Portland; 10. John Hansen, Brush, Colo.; 11. Adam Larson, Ankeny, Iowa; 12. Jordan Grabouski, Beatrice, Neb.; 13. Shawn Anderson, Minot; 14. Eric Burwick, Dickinson; 15. Hunter Marriott, Brookfield, Mo.; 16. Brian Mullen, Seymour, Wis.; 17. Chris Bragg, Springtown, Texas; 18. Mark Dahl, Bismarck; 19. Drew Christianson, Minot; 20. David Murray Jr., Oberlin, Kan.; 21. Tim Perkins, Bismarck; 22. Jason Wolla, Ray; 23. Scott Drake, Joplin, Mo.; 24. Thomas Silver, Glenwood, Minn.; 25. Eric Sinness, Williston; 26. Spencer Wilson, Minot.
Stock Cars – 1. Perry Misner, Garden City, Kan.; 2. Nathan Burke, Minot; 3. Austin Daae, Estevan, Sask.; 4. Dalton Flory, Williston; 5. Greg Wichman, Bonduel, Wis.; 6. Jake Nelson, Williston; 7. Joe Flory, Williston; 8. Matt Speckman, Sleepy Eye, Minn.; 9. Scott Yale, Minot; 10. Chris Ellis, Minot; 11. Travis Ulmer, Mandan; 12. Dustin Erickson, Jamestown; 13. Dave Swallers, Williston; 14. Shawn Volk, Bismarck; 15. Jordan Durward, Trenton; 16. Blaine Durward, Trenton; 17. Jake Lunderby, Sidney, Mont.; 18. Gary Goudy Jr., Stoughton, Sask.; 19. Elijah Zevenbergen, Ocheyedan, Iowa; 20. Aden Clark, Stanley; 21. Casey Stangeland, Kensal; 22. Justin Striefel, Minot; 23. Scott Gartner, Bismarck; 24. Kody Scholpp, Estevan, Sask.; 25. Beau Deschamp, Bottineau; 26. Cody Nelson, Kenmare; 27. Kyle Schlopp, Lampman, Sask.; 28. Ross Cummings, Berthold.