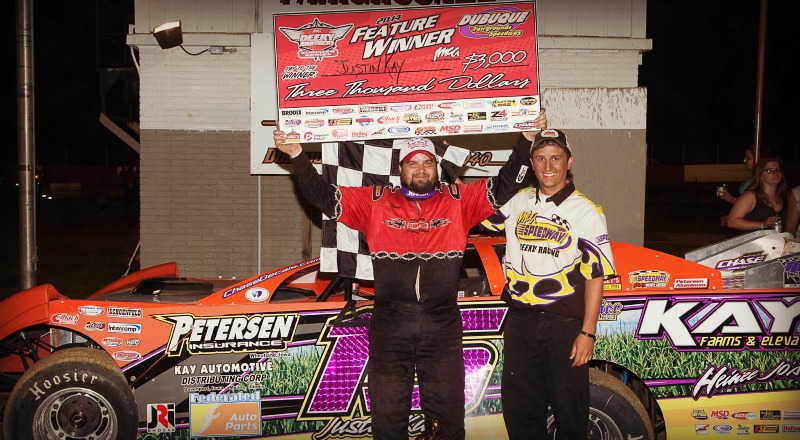 DUBUQUE, Iowa (July 13) – He's won six straight races at Dubuque Speedway this season and eight in a row dating back to last year.
But Justin Kay has never won a race anywhere like he did at Dubuque on Sunday night.
Kay inherited the lead in the Deery Brothers Summer Series main event when Mike Murphy Jr. broke with seven circuits left in the IMCA Late Model tour 50-lapper. Brian Harris then came from deep in the field to challenge before getting into the wall with two to go.
Five lead changes, eight cautions and plenty of excitement preceded Kay's $3,000 payday, the third this season and second straight for the top driver in the series point standings.
"It was a wild night, that's for sure. Apparently, being the leader wasn't the place to be," Kay said. "Murph had the car to beat and would have won if he hadn't broke. I was right next to Harris when he hit the wall. He was going for it all."
Murphy, Dan Shelliam and Kay split time at or near the front much of the night. Kay took the initial green from 11th. Shelliam led laps five through 17 and Murphy enjoyed a lengthy stint there from laps 18-39 and again from 41-43 after getting back past Kay.
Third-running Luke Goedert then caught a piece of a lapped car to bring out the yellow. He exited and was followed to the pits by Murphy, who had broken a bolt in his rear suspension.
Kay was at the front while Scott Fitzpatrick, who had gone pitside to change a tire during a lap seven yellow, was second for the ensuing restart.
The defending series champion, Harris seemingly came out of nowhere to challenge Kay in the final laps. His banzai charge ended in the wall, however, and Kay led the last two times around the track after the final restart
Rob Moss, Jeff Aikey, 14th starting Andy Eckrich and Fitzpatrick completed the top five. Jason Rauen was the $250 Sunoco Race Fuels feature qualifier drawing winner.
Kay's engine was checked for compression and cubic inches in post-race tech and was found to conform with IMCA specifications.
Next up for the Deery Series is the Wednesday, Aug. 6 show at Independence Motor Speedway.
Feature results – 1. Justin Kay, Wheatland; 2. Rob Moss, Iowa City; 3. Jeff Aikey, Cedar Falls; 4. Andy Eckrich, Oxford; ; 5. Scott Fitzpatrick, Long Grove; 6. Ryan Dolan, Lisbon; 7. Jeff Tharp, Sherrill; 8. Joel Callahan, Dubuque; 9. Nate Beuseling, Silvis, Ill.; 10. Joe Zrostlik, Long Grove; 11. Doug Yates, Monticello; 12. Jeremy Grady, Story City; 13. Bobby Hansen, Center Point; 14. Brian Harris, Davenport; 15. Mike Murphy Jr., Colona, Ill.; 16. Luke Goedert, Guttenberg; 17. Jon Poll, Delmar; 18. Dan Shelliam, Hazel Green, Wis.; 19. Matt Ryan, Davenport; 20. Greg Kastli, Waterloo; 21. Charlie McKenna, Clear Lake; 22. Jon Merfeld, Dubuque; 23. Ray Guss Jr., Milan, Ill.; 24. Jason Rauen, Farley.
1st heat (top three) – 1. Tharp; 2. Rauen; 3. Moss; 4. Grady; 5. McKenna; 6. Beuseling; 7. Steve Schueller, Dubuque; 8. Darrel DeFrance, Marshalltown; 9. Poll.
2nd heat – 1. Callahan; 2. Goedert; 3. Murphy; 4. Zrostlik; 5. Eckrich; 6. Darren Ackerman, Read­lyn; 7. Becky Roth, Kieler, Wis.; 8. Ross Pierce, Dubuque.
3rd heat – 1. Shelliam; 2. Kay; 3. Aikey; 4. Harris; 5. Rick Wendling, Hazleton; 6. Hansen; 7. Ja­son Udelhofen, Potosi, Wis.; 8. Curt Marks, Dubuque.
4th heat – 1. Guss; 2. Fitzpatrick; 3. Dolan; 4. Yates; 5. Ryan; 6. Kastli; 7. Merfeld; 8. Steven Hunter, Hopkinton.
1st "B" feature (top four) – 1. Harris; 2. Grady; 3. Beuseling; 4. Hansen; 5. Wendling; 6. McKenna; 7. Schueller; 8. DeFrance; 9. Marks; 10. Udelhofen; 11. Poll.
2nd "B" feature – 1. Eckrich; 2. Yates; 3. Zrostlik; 4. Kastli; 5. Ryan; 6. Ackerman; 7. Merfeld; 8. Pierce; 9. Hunter; 10. Roth.
Hard charger – McKenna. Point provisionals – Ryan, Poll and Merfeld.