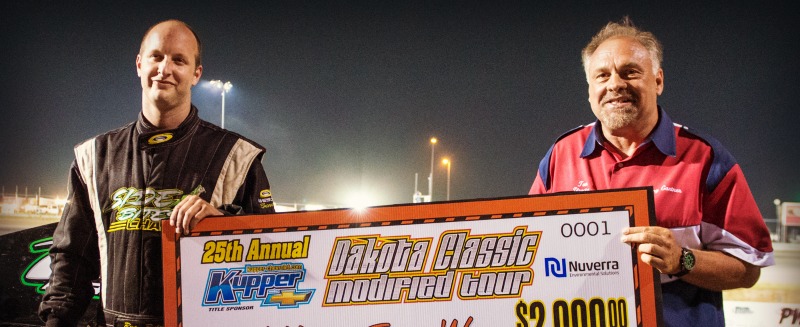 DICKINSON, N.D. (July 9) – Ryan Ruter proved to be fastest in a fast-paced feature for IMCA Xtreme Motor Sports Modifieds, on another record-setting night for the Kupper Chevrolet Dakota Classic Tour.
Ruter led every circuit of Wednesday's main event at Southwest Speedway. The 30-lapper ran caution-free and Ruter held on for the $2,000 checkers ahead of Jeff Taylor after getting mired in slower traffic.
A track record 79 Modifieds ran at Dickinson. Car count records for the division have been broken or equaled each of the first four nights of the 25th annual tour.
Taylor ended the night in second, just a car length off the pace. Jordan Grabouski, Jeremy Keller and Scott Drake were third through fifth, respectively.
After drawing the outside row one start, Ruter ran the middle line until catching up with the back of the field near midway. His big lead disappeared in traffic but he held off the seventh starting Taylor for the win.
Ruter was already on the ballot for the upcoming Fast Shafts All-Star Invitational.
Defending champion Elijah Zevenbergen drove to his third $800 win in four IMCA Sunoco Stock Car series events, starting on the pole and leading start to finish in a 25-lapper slowed by multiple cautions.
Eventual runner-up Perry Misner, Matt Speckman and Nathan Burke hounded Zevenbergen much of the distance. Burke was forced to exit after contact with the leader following a late restart.
Dalton Flory, Speckman and Justin Striefel completed the top five. Zevenbergen, who added another plug for family friends and sponsors, has now won eight of the last 10 Dakota Tour Stock Car events.
Feature Results
Modifieds – 1. Ryan Ruter, Kanawha, Iowa; 2. Jeff Taylor, Cave City, Ark.; 3. Jordan Grabouski, Beatrice, Neb.; 4. Jeremy Keller, Mandan; 5. Scott Drake, Joplin, Mo.; 6. Brian Mullen, Seymour, Wis.; 7. Justin O'Brien, West Union, Iowa; 8. John Hansen, Brush, Colo.; 9. Darin Duffy, Urbana, Iowa; 10. Chris Bragg, Springtown, Texas; 11. Allen Kent, Minot; 12. Shawn Strand, Man­dan; 13. Aaron Turnbull, Estevan, Sask.; 14. Spencer Wilson, Minot; 15. Eric Burwick, Dickinson; 16. Tim Ward, Gilbert, Ariz.; 17. Steven Pfeifer, Minot; 18. Adam Larson, Ankeny, Iowa; 19. Hank Berry, Sidney, Mont.; 20. Mark Elliott, Webster City, Iowa; 21. Mike Jergens, Plover, Iowa; 22. Drew Christianson, Minot; 23. Randy Artz, Battle Mountain, Nev.; 24. Justen Yeager, Green River, Wyo.; 25. Eric Sinness, Williston; 26. Masen Big Eagle, Manor, Sask.
Stock Cars – 1. Elijah Zevenbergen, Ocheyedan, Iowa; 2. Perry Misner, Garden City, Kan.; 3. Dalton Flory, Williston; 4. Matt Speckman, Sleepy Eye, Minn.; 5. Justin Striefel, Minot; 6. Jake Nelson, Williston; 7. Kody Scholpp, Estevan, Sask.; 8. Jor­dan Durward, Trenton; 9. Dave Swallers, Williston; 10. Scott Yale, Minot; 11. Austin Daae, Estevan, Sask.; 12. Cody Nelson, Kenmare; 13. Cody Nelson, Kenmare; 14. Chris Ellis, Minot; 15. Scott Gartner, Bismarck; 16. Brenden Eilts, Grand Island, Neb.; 17. Zach Frederick, Richardton; 18. Shane Nehring, Williston; 19. Travis Ulmer, Mandan; 20. Jake Lunderby, Sidney, Mont.; 21. Caleb Sorenson, Williston; 22. Greg Wichman, Bonduel, Wis.; 23. Joe Flory, Willis­ton; 24. Na­than Burke, Minot.