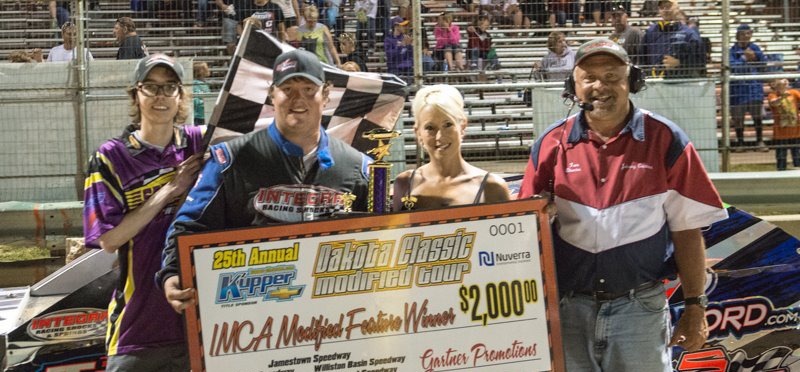 MANDAN, N.D. (July 10) – For a driver who's never followed the series before, Jordan Grabouski is making himself right at home on the Kupper Chevrolet Dakota Track Side Tour.
With a mind-boggling and new series event record 92 IMCA Xtreme Motor Sports Modifieds at Dacotah Speedway, Grabouski sped to his second $2,000 feature win of the week Thursday night.
Of equal importance, Grabouski climbed to second in the standings going into Friday's finale at Jamestown Speedway, 17 points behind Jeff Taylor.
"The track was really racy," said Grabouski, who started sixth and led the last 21 circuits of a 30-lapper that ran without caution. "I've never been to any of these tracks before but they've been a lot of fun. Mandan is a really cool place."
He ran the top side early on, moving lower as the race progressed and he caught up with the back of the pack.
"I got slowed down in traffic," Grabouski said. "When I was running with lapped cars, I wanted to stay cautious and be smart."
Grabouski beat outside pole starter Masen Big Eagle to the finish line by half a straightaway.
Jeremy Keller, Darin Duffy and Justin O'Brien completed the top five. Ryan Ruter, winner of the Wednesday night feature at Dickinson that also ran non-stop, was sixth.
Also a two-time winner over the course of the tour, Taylor started 25th and finished 14th Thursday night.
Sixteen states and Saskatchewan were represented in the record field. The previous car count mark of 84 had been set on opening night July 6 at Nodak Speedway; Modified car count records have been broken or equaled all five nights of the tour thus far.
Joe Flory was the $800 IMCA Sunoco Stock Car winner, ahead of defending champion Elijah Zevenbergen.
Flory's son Dalton, who'd won the Monday feature at Estevan, Greg Wichman and Perry Misner were next across the stripe.
Pit gates open at 1 p.m. and the grandstand opens at 5 p.m. Friday at Jamestown. Hot laps are at 6:45 p.m. and racing starts at 7:30 p.m.
Feature Results
Modifieds – 1. Jordan Grabouski, Beatrice, Neb.; 2. Masen Big Eagle, Manor, Sask.; 3. Jeremy Keller, Mandan; 4. Darin Duffy, Urbana, Iowa; 5. Justin O'Brien, West Union, Iowa; 6. Ryan Ruter, Kanawha, Iowa; 7. Mike Jergens, Plover, Iowa; 8. Mark Dahl, Bismarck; 9. David Murray Jr., Oberlin, Kan.; 10. Curt Lund, Redwood Falls, Minn.; 11. Hank Berry, Sidney, Mont.; 12. Spencer Wilson, Minot; 13. Aaron Turnbull, Estevan, Sask.; 14. Jeff Taylor, Cave City, Ark.; 15. Brian Mullen, Seymour, Wis.; 16. Hunter Marriott, Brookfield, Mo.; 17. Steven Pfeifer, Minot; 18. Tim Ward, Gilbert, Ariz.; 19. Scott Drake, Joplin, Mo.; 20. Mike Hansen, Dickinson; 21. Mark Elliott, Webster City, Iowa; 22. Eric Sinness, Williston; 23. Brian Swenson, Bismarck; 24. Donovan Sorenson, Laurel, Mont.; 25. Adam Larson, Ankeny, Iowa; 26. Josh Eberhardt, Jamestown.
Stock Cars – 1. Joe Flory, Willis­ton; 2. Elijah Zevenbergen, Ocheyedan, Iowa; 3. Dalton Flory, Williston; 4. Greg Wichman, Bonduel, Wis.; 5. Perry Misner, Garden City, Kan.; 6. Jake Nelson, Williston; 7. Chris Ellis, Minot; 8. Beau Deschamp, Bottineau; 9. Kody Scholpp, Estevan, Sask.; 10. Na­than Burke, Minot; 11. Travis Ulmer, Mandan; 12. Austin Daae, Estevan, Sask.; 13. Scott Yale, Minot; 14. Jor­dan Durward, Trenton; 15. Cody Nelson, Kenmare; 16. Dave Swallers, Williston; 17. Scott Gartner, Bismarck; 18. Justin Striefel, Minot; 19. Jake Lunderby, Sidney, Mont.; 20. Blaine Durward, Trenton; 21. Aden Clark, Stanley; 22. Shane Nehring, Williston; 23. Gary Goudy Jr., Stoughton, Sask.; 24. Matt Speckman, Sleepy Eye, Minn.; 25. Shawn Volk, Bismarck.