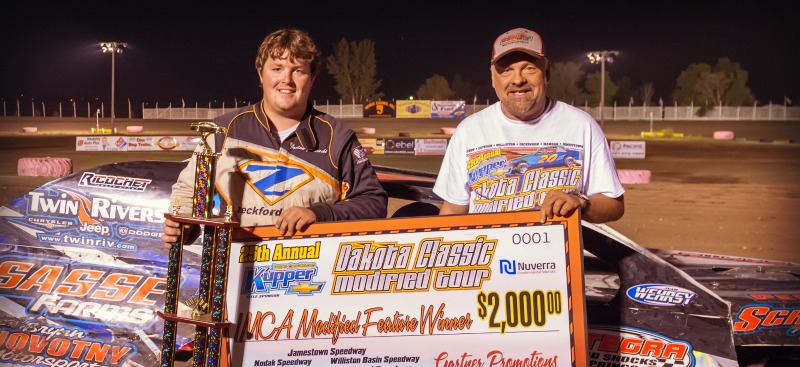 WILLISTON, N.D. (July 8) – A long green flag run ended with Jordan Grabouski taking the Kupper Chevrolet Dakota Classic Tour checkers Tuesday night at Williston Basin Speedway.
Grabouski caught Ryan Ruter for the lead nine laps into the IMCA Xtreme Motor Sports Modified feature. The race stayed green for the last 19 of 30 laps with Grabouski getting the $2,000 victory ahead of Steven Pfeifer, hard charger Jeff Taylor, Ruter and Travis Hagen.
"This was a huge win for us. This series is tough," said Grabouski, who started 10th after winning the second 'B' feature and used the middle line to find his way forward. "We had a track we could race on and pass. It means a lot to win here."
Taylor, winner of the first two tour events, put on a passing demonstration of his own after starting 19th. Already a qualifier several times over for the Fast Shafts All-Star Invitational ballot, Grabouski added the Dakota Tour triumph to a list of 2014 accomplishments that already include his 100th career win in the sanctioned division.
The 76 Modifieds entered at Williston equaled the track tour record established in 2010, making it three straight races with record-breaking or matching car counts.
A night after seeing his Dakota Tour IMCA Sunoco Stock Car series winning streak ended at four, defending champion Elijah Zevenbergen raced from 12th starting to victory lane.
Joe Flory, Michael Vennes and Greg Wichman chased Zevenbergen across the stripe. Monday winner Dalton Flory advanced 13 places to complete the top five.
Hard charger honors went to Perry Misner, who started last in the field of 24 and finished seventh.
The fourth of six Dakota Tour dates takes both divisions to Southwest Speedway at Dickinson on Wednesday, July 9. Pit gates open at 1 p.m., the grandstand opens at 4:30 p.m., hot laps are at 6:45 p.m. with racing to follow.
The tour is at Dacotah Speedway in Mandan on Thursday, July 10 before concluding Friday, July 11 at Jamestown Speedway.
Feature Results
Modifieds – 1. Jordan Grabouski, Beatrice, Neb.; 2. Steven Pfeifer, Minot; 3. Jeff Taylor, Cave City, Ark.; 4. Ryan Ruter, Kanawha, Iowa; 5. Travis Hagen, Williston; 6. Scott Drake, Joplin, Mo.; 7. Tracy Domagala, Bismarck; 8. Tim Ward, Gilbert, Ariz.; 9. Eric Sinness, Williston; 10. Curt Lund, Redwood Falls, Minn.; 11. Brian Mullen, Seymour, Wis.; 12. Darin Duffy, Urbana, Iowa; 13. Adam Larson, Ankeny, Iowa; 14. Hank Berry, Sidney, Mont.; 15. Spencer Wilson, Minot; 16. David Murray Jr., Oberlin, Kan.; 17. Drew Christianson, Minot; 18. Shawn Strand, Mandan; 19. Mike Hansen, Dickinson; 20. Jett Big Eagle, Manor, Sask.; 21. Rusty Kollman, Carrington; 22. Ed Conlin, Williston; 23. Aaron Turnbull, Estevan, Sask.; 24. John Flory, Williston; 25. Mike Jergens, Plover, Iowa; 26. Robert Hellebust, Minot.
Heat winners were Hagen, Drake, Flory, Pfeifer, Ward, Domagala, Ruter and Big Eagle.
1st "B" feature (top four) – 1. Sinness; 2. Larson; 3. Strand; 4. Mullen. 2nd "B" feature – 1. Grabouski; 2. Conlin; 3. Duffy; 4. Lund. 3rd "B" feature – 1. Turnbull; 2. Murray; 3. Taylor; 4. Hansen. 4th "B" feature – 1. Berry; 2. Jergens; 3. Christianson; 4. Hellebust.
Stock Cars – 1. Elijah Zevenbergen, Ocheyedan, Iowa; 2. Joe Flory, Willis­ton; 3. Michael Vennes, Minot; 4. Greg Wichman, Bonduel, Wis.; 5. Dalton Flory, Williston; 6. Jake Lunderby, Sidney, Mont.; 7. Perry Misner, Garden City, Kan.; 8. Jake Nelson, Williston; 9. Dave Swallers, Williston; 10. Kody Scholpp, Estevan, Sask.; 11. Scott Gartner, Bismarck; 12. Chris Ellis, Minot; 13. Dennis Losing, Williston; 14. Cody Nelson, Kenmare; 15. Matt Speckman, Sleepy Eye, Minn.; 16. Brenden Eilts, Grand Island, Neb.; 17. Justin Striefel, Minot; 18. Scott Yale, Minot; 19. Jor­dan Durward, Trenton; 20. Gary Goudy Jr., Stoughton, Sask.; 21. Shane Nehring, Williston; 22. Austin Daae, Estevan, Sask.; 23. Na­than Burke, Minot; 24. Andy Isom.
1st heat (top three) – 1. Lunderby; 2. Scholpp; 3. Zevenbergen. 2nd heat – 1. Swallers; 2. Burke; 3. Wichman. 3rd heat – 1. Vennes; 2. Jake Nelson; 3. Durward. 4th heat – 1. Joe Flory; 2. Daae; 3. Eilts.
1st "B" feature (top six) – 1. Losing; 2. Gartner; 3. Nehring; 4. Yale; 5. Goudy; 6. Isom. 2nd "B" feature – 1. Cody Nelson; 2. Striefel; 3. Dalton Flory; 4. Ellis; 5. Speckman; 6. Misner.