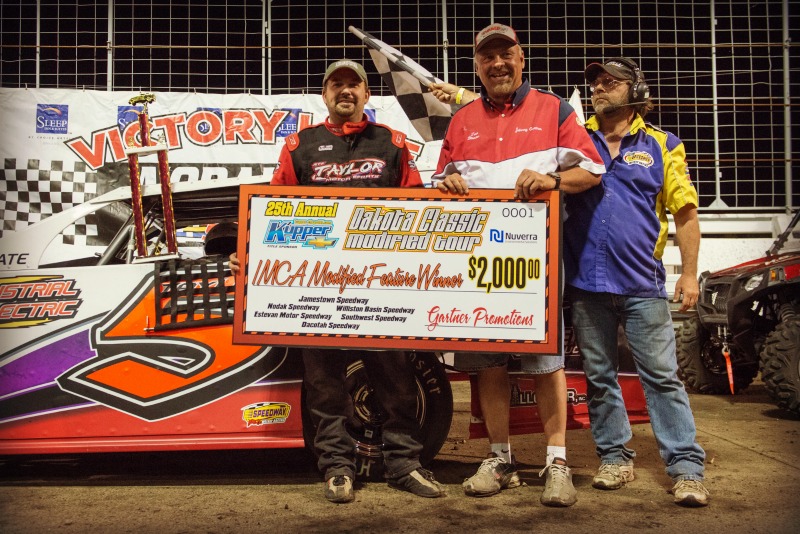 MINOT, N.D. (July 6) – Jeff Taylor left the gremlins back home in Arkansas.
Taylor led all 30 laps of Sunday's Kupper Chevrolet Dakota Classic Tour main event for IMCA Xtreme Motor Sports Modifieds at Nodak Speedway. The $2,000 victory came on a record-setting opening night for the 25th annual series and clearly got Taylor's title quest started right.
"We came here better prepared than last year and didn't have to fight the gremlins off," said Tay­lor, ninth in the 2013 tour point standings. "I wasn't very good in hot laps but we loosened the car a bunch and I had a good car in my heat and the feature. It was fun to drive."
Taylor drew the outside row two start and used the bottom and middle grooves to get to the front, then moved higher up on the track to stay there. 'B' winner Ryan Ruter and Shawn Strand both pressured the leader before falling back and finishing well off the pace in second and third, respec­tively.
Hard charger Brian Mullen advanced 20 spots to fourth. Adam Larson completed the top five. Defend­ing champion Aaron Turnbull improved 17 positions to seventh.
The tour runner-up and a three-time winner in 2012, Taylor took the opening night checkers in a Industrial Electric, Spur Bar, New Vision Graphics and Provence Construction sponsored ride.
A series single event record 84 Modifieds from 16 states and Canada saw action at Minot. The previous tour best was 81, established at Mandan in 2011 and equaled at Minot two years ago.
Elijah Zevenbergen picked up where he left off last July, winning the IMCA Sunoco Stock Car fea­ture from outside row one.
The defending champ led all 25 circuits, running the high side until he caught up with the back of the field and then moving to the bottom.
"We're starting off good. It was a good night for us," said Zevenbergen, who changed his setup after light rain fell mid-program.
His sponsors include Mega Inc., Z-Dash Machine and D & K Transportation.
Kody Scholpp, Nathan Burke, Perry Misner and Dalton Flory were next across the stripe.
A Dakota Tour record 34 Stock Cars ran Sunday at Minot.
Both divisions are at Estevan Motor Speedway for round two of the tour on Monday, July 7. The grandstand opens at 5 p.m., hot laps are at 6 p.m. and racing starts at 7 p.m.
Feature Results
Modifieds – 1. Jeff Taylor, Cave City, Ark.; 2. Ryan Ruter, Kanawha, Iowa; 3. Shawn Strand, Man­dan; 4. Brian Mullen, Seymour, Wis.; 5. Adam Larson, Ankeny, Iowa; 6. Spencer Wilson, Minot; 7. Aaron Turnbull, Estevan, Sask.; 8. Drew Christianson, Minot; 9. Steven Pfeifer, Minot; 10. Hank Berry, Sidney, Mont.; 11. Darin Duffy, Urbana, Iowa; 12. Tim Ward, Gilbert, Ariz.; 13. David Murray Jr., Oberlin, Kan.; 14. Jordan Huettl, Minot; 15. Lance Mari, Imperial, Calif.; 16. Eric Sinness, Williston; 17. Curt Lund, Redwood Falls, Minn.; 18. Rusty Kollman, Carrington; 19. Randy Artz, Battle Mountain, Nev.; 20. Wayne Johnson, Minot; 21. John Hansen, Brush, Colo.; 22. Allen Kent, Minot; 23. Jeff Larson, Lakefield, Minn.; 24. John Flory, Williston; 25. Chris Bragg, Springtown, Texas.
Heat winners were Kollman, Wilson, Mari, Strand, Artz, Taylor, Bragg and Huettl.
1st "B" feature (top four) – 1. Christianson; 2. Murray; 3. Sinness; 4. Johnson. 2nd "B" feature – 1. Ruter; 2. Adam Larson; 3. Jeff Larson; 4. Kent. 3rd "B" feature – 1. Lund; 2. Duffy; 3. Ward; 4. Turnbull. 4th "B" feature – 1. Hansen; 2. Pfeifer; 3. Flory; 4. Mullen.
Past champions provisional – Berry.
Stock Cars – 1. Elijah Zevenbergen, Ocheyedan, Iowa; 2. Kody Scholpp, Estevan, Sask.; 3. Na­than Burke, Minot; 4. Perry Misner, Garden City, Kan.; 5. Dalton Flory, Williston; 6. Joe Flory, Willis­ton; 7. Matt Speckman, Sleepy Eye, Minn.; 8. Greg Wichman, Bonduel, Wis.; 9. Dave Swallers, Williston; 10. Jake Lunderby, Sidney, Mont.; 11. Gregg Mann, Estevan, Sask.; 12. Jor­dan Durward, Trenton; 13. Cody Nelson, Kenmare; 14. Chris Ellis, Minot; 15. Justin Striefel, Minot; 16. Zach Frederick, Richardton; 17. Scott Yale, Minot; 18. Aden Clark, Stanley; 19. Jake Nelson, Williston; 20. Blaine Durward, Trenton; 21. Brenden Eilts, Grand Island, Neb.; 22. Billy Preston, Burlington; 23. Austin Daae, Estevan, Sask.; 24. Michael Vennes, Minot.
1st heat (top three) – 1. Scholpp; 2. Vennes; 3. Swallers. 2nd heat – 1. Zevenbergen; 2. Daae; 3. Joe Flory. 3rd heat – 1. Wichman; 2. Dalton Flory; 3. Misner. 4th heat – 1. Burke; 2. Preston; 3. Jordan Durward.
1st "B" feature (top six) – 1. Speckman; 2. Ellis; 3. Yale; 4. Frederick; 5. Blaine Durward; 6. Clark. 2nd "B" feature – 1. Lunderby; 2. Mann; 3. Cody Nelson; 4. Jake Nelson; 5. Striefel; 6. Eilts.
30