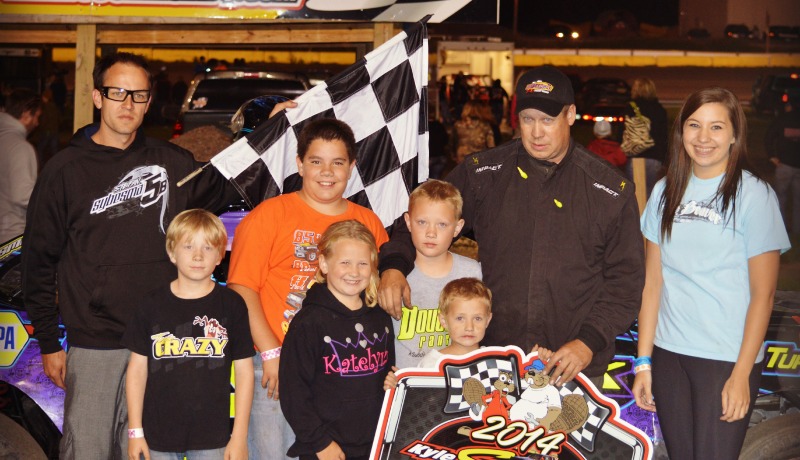 ALTA, Iowa (July 2) – From the vantage point of winner David Smith, the 25-lap distance for Buena Vista Raceway's Kyle Suter Memorial was just right.
Smith led the last 24 circuits and earned $1,000 for his Wednesday night IMCA Sunoco Stock Car vic­tory at Alta.
"I ran the very top of the track. There was just enough momentum on the top, which was starting to go away," said Smith, who'd lined up behind pole starter Chris Ullrich and taken the lead with a pass inside. "I didn't want any more laps."
Smith's younger brother Devin, a contender for national and Arnold Motor Supply Northern Re­gion rookie of the year honors, used lower lines in advancing 13 spots to second.
"Any time you see us finish 1-2, it's good. It doesn't get any better than that. It's the best when everybody runs good," Smith said. "The $1,000 was a bonus."
Brian Blessington passed nine cars and finished third. Derek Green challenged Smith several times for the lead before ending in fourth and Allan Schmidt was fifth.
Feature results – 1. David Smith; 2. Devin Smith; 3. Brian Blessington; 4. Derek Green; 5. Allan Schmidt; 6. Josh Suhr; 7. Mel Elsberry; 8. Jason Mickelson; 9. Roger Verdoorn; 10. Jason Rold; 11. Chris Ullrich; 12. Patrick Cross; 13. Marcus Hansen; 14. Justin Regnerus; 15. Jake Masters; 16. Chad Palmer; 17. Bob Staiert; 18. Justin Bromert; 19. Mathias Lux.