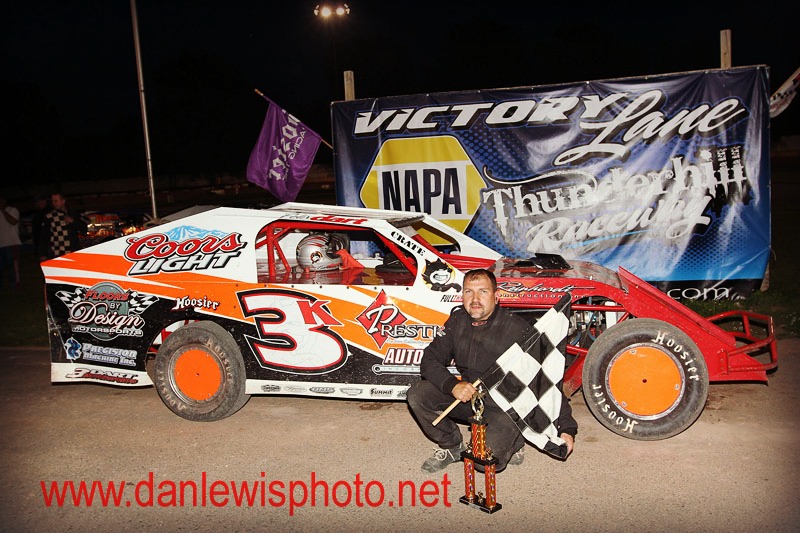 By Tom Wagner
STURGEON BAY, Wis. (June 28) – Maybe it was destiny.
On Saturday night, Thunderhill Raceway inducted its first Hall of Fame class and in a surprise turn of events, a future Hall of Famer took home the night's top prize.
Todd Dart etched his name in the record books again by winning for the 51st time in the IMCA Xtreme Motor Sports Modified headliner when a late crash sidelined Benji LaCrosse just two laps from the checkers.
Dart had used an inside pass on Greg Gretz to take the lead on the third lap. LaCrosse was close behind and just four laps later swung to the outside to take control of the point.
LaCrosse eased away to a comfortable margin, matched by Dart's command of second. Focus shifted to the battle for third as the laps ticked away but things changed dramatically just as the white flag was about to fly.
LaCrosse caught a couple cars at the back of the field as he entered the third turn. Tyler Wilson had moved outside with the leader approaching, but lost the handle heading into the fourth turn. LaCrosse's attention was on a car to his immediate right and his approach to the front stretch, meaning he never saw the sliding Wilson coming down in front of him until the split se­cond before contact.
LaCrosse blasted into the side of Wilson, and while both drivers emerged unhurt, their night was over. Dart took command immediately on the restart, leading the final two laps unchallenged.

The victory was his fourth in a row in the and broke a tie with Charlie Kroll for the most feature wins at Thunderhill since the track reopened in 1993.
Sharing the on-track spotlight with Dart on the night were Bret Koehler in the IMCA Sunoco Stock Cars, Jarred VanLaanen in the Karl Chevrolet Northern SportMods and Jeremy Jauquet in the IMCA Sunoco Hobby Stocks.
Earlier in the night, Thunder Hill inducted its inaugural Hall of Fame class. The group included the pre-announced seven inductees, all with ties back to the days of the Door County Speedway era: Clyde LeMieux. Sr., Irv Ettien, Joe Haferkorn, Les Sternard, Dale Knudson, Butch Georgenson, Fritz "Van" VanDuyse, as well as surprise eighth inductee Tom Wagner.