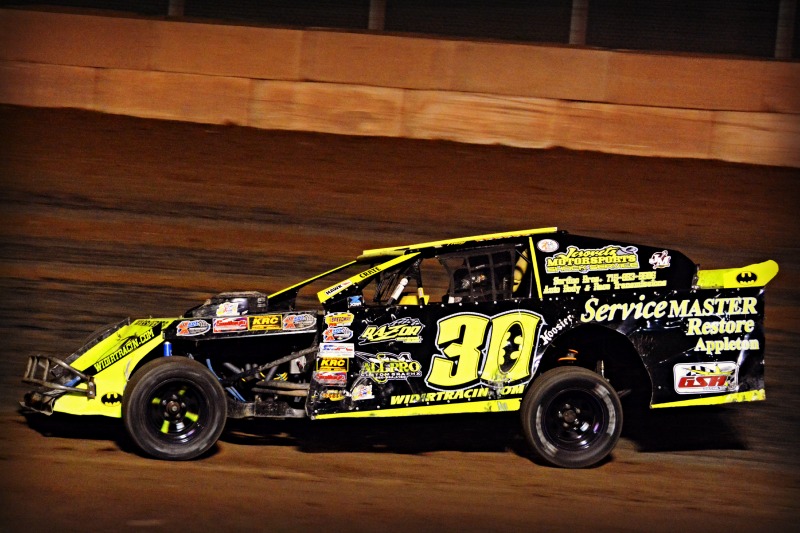 By Scott Owen
SHAWANO, Wis. (June 28) – A high-speed chess match Saturday at Shawano Speedway ended with Tracy Wassenberg in victory lane following the Karl Chevrolet Northern SportMod main event.
Lucas Lamberies shot from fourth to the lead on the first lap while Wassenberg moved into se­cond on the fifth go-around, setting up that high-speed chess match.
Lap after lap with Lamberies leading, Wassenberg tried to get inside and get to the front. Wassen­berg showed his nose to the Clintonville teenager numerous times and Lamberies showed great poise staying in the lead.
Wassenberg kept trying to get inside of Lamberies until lap 18 when he tried the outside and the pair were virtually side-by-side as the white flag waved.
Wassenberg pulled ahead on the final lap and scored his fourth win of the year. Lamberies took second. Jordan Bartz started last by taking the challenge and finished third.
Tom Schaal led the first five laps of the IMCA Modified feature before Matt Oreskovich snuck under­neath Schaal to take over the lead on lap six. Oreskovich was quickly joined by Eddie Muen­ster and Jerry Wilinski out in front.
After a lap seven caution for debris in the IMCA Xtreme Motor Sports Modified main, Jerry Wilin­ski utilized an outside pass to get around Matt Oreskovich. He continued to race the high line and looked to have the car to beat.
Muenster tried multiple grooves to stay with the leader. On lap 19 Wilinski got too high in turn four and kissed the wall, breaking his momentum. Muenster capitalizedand grabbed the lead and went on to win. Wilinski recovered to finish second. Marcus Yarie, who had taken the challenge to start last, passed 15 cars to finish in third.
Rookie Trent Nolan paced the first six laps of the IMCA Sunoco Stock Car feature before Travis VanStraten took to the inside exiting turn two and secured the lead. VanStraten led the rest of the wayt for his third straight local feature win.
Mike Schmidt finished second in the race. He has finished no worse than fourth in a feature this year. Nolan held on to take third in the race.