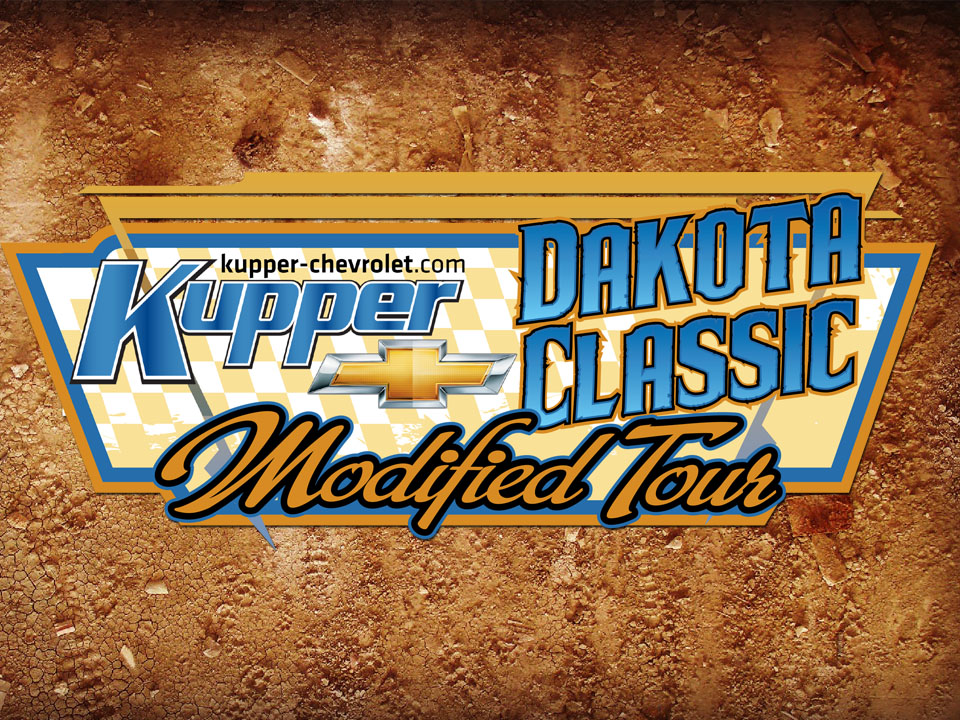 MANDAN, N.D. – Defending champions Aaron Turnbull and Elijah Zevenbergen are among the 88 drivers from 15 states and Canada already entered for the July 6-11 Kupper Chevrolet Dakota Classic Tour.
Turnbull joins 63 other pre-registered IMCA Xtreme Motor Sports Modified drivers who will contend for $2,000 to win each night of the 25th annual North Dakota and Saskatchewan-based series. Zevenbergen and 24 more pre-registered IMCA Sunoco Stock Cars vie for $800 to win on the same programs.
The series is at Nodak Speedway in Minot on July 6, at Estevan Motor Speedway on July 7, at Williston Basin Speedway on July 8, at Southwest Speedway on July 9, at Dacotah Speedway on July 10 and at Jamestown Speedway on July 11.
Modified entries are already in hand from:
Shawn Anderson, Minot; Randy Artz, Battle Mountain, Nev.; Reese Artz, Battle Mountain, Nev.; Hank Berry, Sidney, Mont.; Scott Bintz, Jamestown; Brandon Blochlinger, Concordia, Kan.; Pete Bradley, Williston; Chris Bragg, Springtown, Texas; Brian Brennan, Rozet, Wyo.; Dale Burwick, Dickinson; Eric Burwick, Dickinson; Chris Clark, Jackson, Wyo.; Tracy Domagala, Bismarck; Scott Drake, Joplin, Mo.; Darin Duffy, Urbana, Iowa; and Allan Fetzer, Max;
Eric Fetzer, Mandan; Nich Fuchs, Williston; Jordan Grabouski, Beatrice; Travis Hagen, Williston; John Hansen, Brush, Colo.; Brad Hartigan, Dickinson; Bob Heffer, Swift Current, Sask.; Robert Hellebust, Minot; Troy Heupel, Williston; Jordan Huettl, Minot; Mike Jergens, Plover, Iowa; Wayne Johnson, Minot; Paul Jones, Casper, Wyo.; David Karst, Mills, Wyo.; Jeremy Keller, Mandan; and Allen Kent, Minot;
Rusty Kollman, Carrington; Adam Larson, Ankeny, Iowa; Jeff Larson, Lakefield, Minn.; Tommy Lee, Grenora; Curt Lund, Redwood Falls, Minn.; Hunter Marriott, Brookfield, Mo.; Les McLenehan, Estevan, Sask.; Lance Mari , El Centro, Calif.; Brian Mullen, Seymour, Wis.; David Murray Jr., Oberlin, Kan.; Mike Nelson, New Salem; Jay Noteboom, Hinton, Iowa; Justin O'Brien, West Union, Iowa; Shawn Olheiser, Dickinson; Steven Pfeifer, Minot; and Dallas Rice, Minot;
And Donald Robinson, Underwood; Josh Rogotzke, Sanborn, Minn.; Ryan Ruter, Kanawha, Iowa; Marlyn Seidler, Underwood; Eric Sinness, Williston; Donavon Sorenson, Laurel, Mont.; Jason Strand, Portland; Shawn Strand, Mandan; Jeff Taylor, Cave City, Ark.; Aaron Turnbull, Estevan, Sask.; Travis Ulmer, Mandan; Tyler Wagner, Weyburn, Sask.; Tim Ward, Gilbert, Ariz.; Darin Wendt, Williston; Spencer Wilson, Minot; and Justen Yeager, Green River, Wyo.
Pre-entered Stock Car drivers include:
Aden Clark, Stanley; Austin Daae, Estevan, Sask.; Beau Deschamp, Bottineau; Blaine Durward, Trenton; Jordan Durward, Trenton; Brendan Eilts, Grand Island, Neb.; Chris Ellis, Minot; Dalton Flory, Williston; Joe Flory, Williston; Allan Frederick, Beulah; Zach Frederick, Richardton; Scott Gartner, Bismarck; and Gary Goudy Jr., Stoughton, Sask.;
And Perry Misner, Garden City, Kan.; Shane Nehring, Williston; Cody Nelson, Kenmare; Jake Nelson, Williston; Kevin Schafer, Swift Current, Sask.; John A. Sieg, Williston; John D. Sieg, Williston; Matt Speckman, Sleepy Eye, Minn.; Travis Ulmer, Mandan; Michael Vennes, Minot; Greg Wichman, Bonduel, Wis.; and Elijah Zevenbergen, Ocheyedan, Iowa.
Series title sponsor Kupper Chevrolet of Mandan provides point funds of $2,000 for the Modifieds and $1,000 for the Stock Cars and a long list of contingency sponsors will award cash and prizes to the top drivers in series standings.
XSAN has agreed to pick up the extra payout to enhance the best talent to race for six consecutive nights and in addition, will be award three $500 bonus checks to new drivers of the "New Blood, Long Haul" promotion.
The internet-based network will cover all six nights of the tour on pay-per-view at www.xsan.tv. Modified features are qualifying events for the 2014 Fast Shafts All-Star Invitational ballot.
Pit gates open at 3 p.m., the grandstand opens at 5 p.m. and racing starts at 6 p.m. on opening night at Minot. Estevan opens the gates at noon and the grandstand at 5 p.m. Hot laps are at 6 p.m. and racing starts at 7 p.m.
At Williston, pit gates open at 2 p.m. and the grandstand opens at 5 p.m. Hot laps are at 6 p.m. and racing starts at 7 p.m. Gates open at 1 p.m. and the grandstand opens at 4:30 p.m. at Dickinson. Racing follows 6:45 p.m. hot laps.
Mandan opens the gates at 3:30 p.m. and the grandstand at 6 p.m. Hot laps are at 6:30 p.m. and racing gets underway at 7 p.m. And at Jamestown, pit gates open at 1 p.m., the grandstand opens at 5 p.m., hot laps are at 6:45 p.m. and racing begins at 7:30 p.m.
The updated list of pre-registered drivers in posted on the www.dakotaclassictour.com website.
More information is available from Tour Director John Gartner at 701 202-6075.