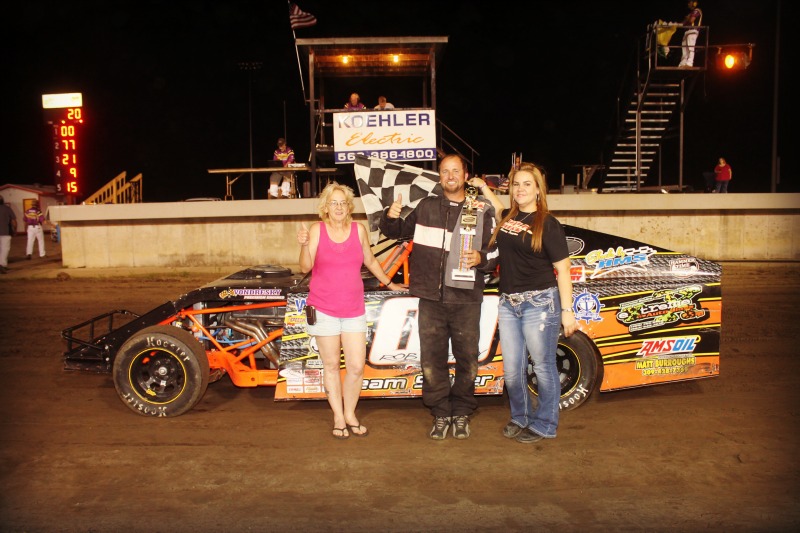 By Mike McGuire
DAVENPORT, Iowa (June 27) – Three IMCA drivers won their first local features of the season Friday at Davenport Speedway.
Rob Henry captured his first Milan Heating & Air IMCA Modified feature. The 20-lap race was a classic high side-low side battle. The first half of the race it was Henry on the bottom and Mike Fluegel on the high side. The two drivers exchanged the lead four times in the first eight laps.
After a lap nine restart, Fluegel got shuffled back and Joe Beal became the high-side hustler. Beal was able to get past Henry once, but the pass was erased by a caution flag. Henry was first to the checkers, with Beal second and Kelly Meyer third. Chris Zogg finished fourth and Brandon Durbin fifth.
Thirty IMCA Modifieds were on hand.
Mike Murphy Jr. made his first 2014 appearance in victory lane after an exciting Petersen Plumb­ing & Heating IMCA Late Model feature. Gary Webb led the first 10 laps of the race before yield­ing to Marty Diercks. Murphy took over on lap 12 and quickly built up a straightaway lead on the rest of the field.
Justin Kay started mid-pack and picked his way to the front. On the final lap, Kay was on Mur­phy's rear bumper going into turn one but could get no closer. As the leaders came past the check­ered flag, the red flag came out for Webb's car which was flipped over in turn one. Webb was able to walk away from the incident.
Dan Mohr made a rare visit to the Davenport Speedway pay off with a win in the Hawkeye Auto IMCA Northern SportMod main. Mohr passed Bryce Garnhart for the lead coming out of turn four on the final lap, to secure the victory. Garnhart finished a close second with early race leader Dustin Crear third. Henry Carson and Joe Grant were fourth and fifth, respectively.