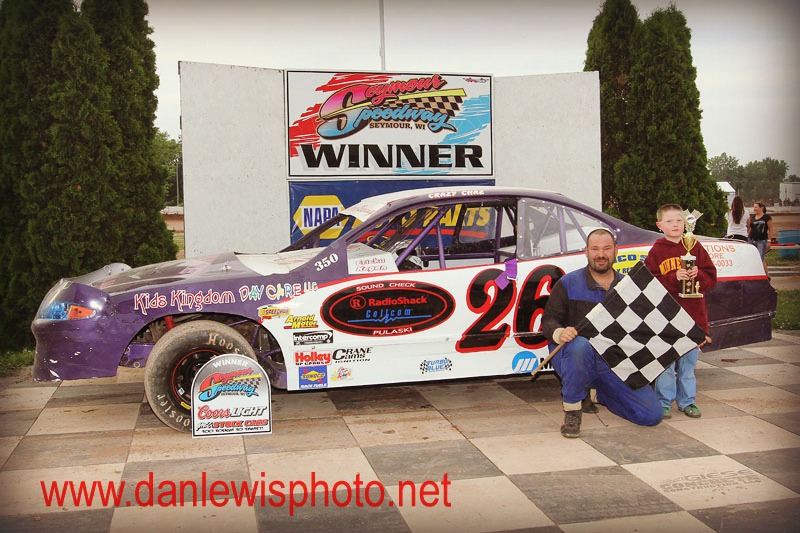 By Dave Panske
SEYMOUR, Wis. (June 22) – Chas Van Ooyen Jr. won his first Coors Light IMCA Stock Car fea­ture at Seymour Speedway since Aug. 2 of 2009 Sunday night.
Jake Lunderby led the opening lap Van Ooyen taking over the top spot on lap two. Rod Snellen­berger moved into third on lap third and moved right behind the leader. Van Ooyen was hooked up in the second groove and Snellenberger was hugging the inside line.
Barry Van Straten moved into third and made a three-car run for the lead through the first half of the race. By then, Van Ooyen and Snellenberger had started to pull away from the pack in a side-by-side battle that continued to the finish of the non-stop race.
Snellenberger would charge up to the door several times over the last half of the race but each time, Van Ooyen had the answer on the outside. With a couple laps left, Snellenberger made a last-ditch effort to take the lead, running dead even at the white flag.
Mike Wedelstadt ran the second half of the non-stop Budweiser IMCA Modified event alone at the front to collect his second straight feature win this season.
The only slow down in the Karl Chevrolet Northern SportMod main was on the opening lap and then this one joined the first two features running flag to flag.
Dennis Miesler settled into the top spot with Kevin Bethke moving into the runner-up spot on lap four. J.J. Andersen joined the leaders on lap six and the trio opened a lead on the field. Bethke made the inside line work and finally wrestled the top spot from Miesler on lap 13.
Andersen followed into second as point leader Jeremy Cota, finally broke from the pack and joined the battle up front. Bethke was able to hold off Andersen to win his second feature of the season.