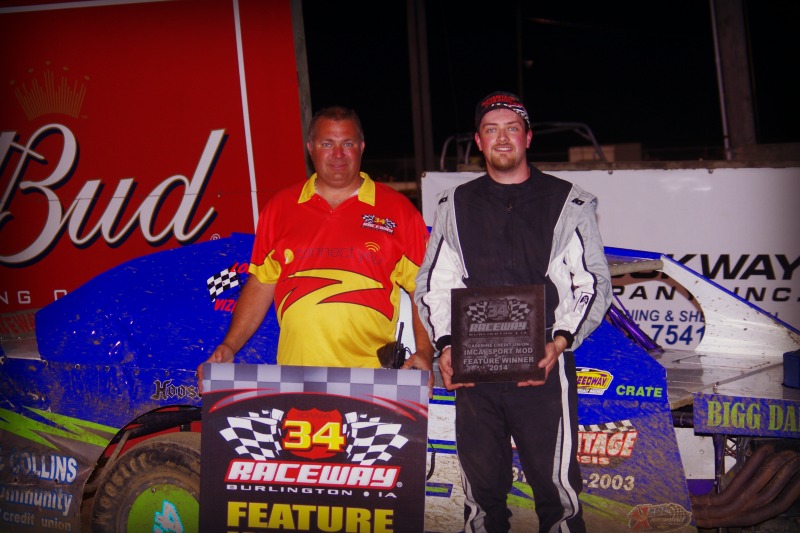 By Dana Royer
WEST BURLINGTON, Iowa (June 21) –Creston Williams held off Bobby Anders to get his first win in the Casebine Credit Union IMCA Northern Sport Mod feature Saturday at 34 Raceway.
Williams led the 12-car field until a caution flag came out on lap 13. The ensuing restart allowed Sean Wyett and Anders a chance at the lead but Williams was able to hold on. On the white flag lap, another caution came out setting up a green, white checkered finish and a battle for the win.
Anders took a shot at the leader, pulling alongside but couldn't hold his position with Williams pulling ahead and holding on for the win.
Fourteen Ryner Transportation IMCA Modifieds set the field for their twenty lap feature with Larry McConnell and Dugan Thye on the front row. Thye led the field around the first circuit but was passed by Mitch Morris on lap two.
Morris had to battle to hold off Dennis LaVeine before Jeff Waterman joined the fun. Waterman moved into the second spot on lap 11 and had his sights set on Morris. The two put on a good, clean race for the next five laps before Waterman passed Morris and went on to take the check­ered flag five laps later.
Tom Bowling beat Jake Wenig to the Pepsi IMCA Stock Car checkers.