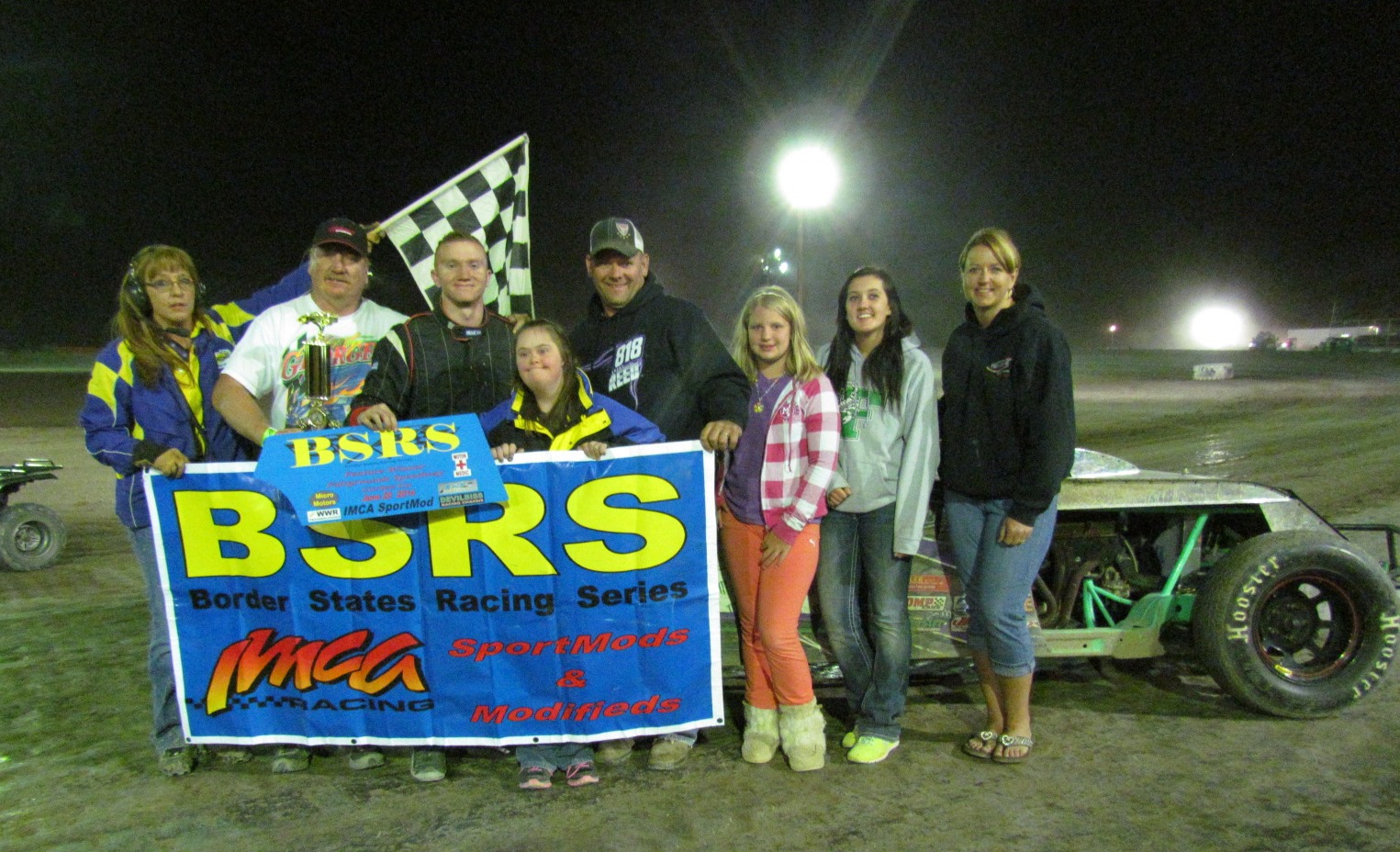 CORTEZ, Colo. (June 20-21) – Another Border States Racing Series doubleheader resulted in another sweep for IMCA Xtreme Motor Sports Modified driver Zane DeVilbiss.
Jordan Eddleman and Rex Higgins, meanwhile, became the fourth and fifth IMCA SportMod driv­ers to end their night in victory lane when the tour traveled to Fairgrounds Speedway.
With a pair of wins from the series' opening twinbill already to his credit, DeVilbiss raced from ninth starting on Friday and from eighth starting Saturday to take the checkers at Cortez.
He used all lines on the multi-groove oval to take the lead on the 10th of 30 circuits on Friday. Aa­ron Spangler and Eddie Farley were next across the stripe.
DeVilbiss needed 21 times around the track to reel in brother Shane and Wyatt Howard. Brody Spangler caught Howard for second in the late going.
Eddleman raced from eighth at the start to the front 10 laps into Friday's SportMod main event. He negotiated lapped traffic in the late going to capture his second feature win of the season.
"My dad (M.E.) set up the car pretty well. I put 100 percent faith in him and I had a really good car," Eddleman said. ""We're just a two man operation and all I had to do was jump in and drive. He does an awesome job."
An IMCA Sunoco Stock Car driver turned SportMod shoe, Higgins three-wheeled his way from 13th to second. Brian Carey was third.
The winner of 102 feature races in his sanctioned Stock Car career, Higgins raced to SportMod win number one on Saturday at Cortez.
He started inside row two, took the lead for good on lap three and won six car lengths ahead of Jesse Baldwin and Julie Boettler.
"My car and I went to a counseling session together and worked some things out," Higgins said, tongue firmly in cheek. "I'm really enjoying this class."
June 20 Feature Results
Modifieds – 1. Zane DeVilbiss; 2. Aaron Spangler; 3. Eddie Farley; 4. Matt Ratzlaff; 5. Shane DeVilbiss; 6. Allen Bradley; 7. Wyatt Howard; 8. Enos Ruble; 9. Dereck Rhoden; 10. Zach Hens­ley; 11. Michael Higgins; 12. Ryan Spangler; 13. Wayne Soares.
SportMods – 1. Jordan Eddleman; 2. Rex Higgins; 3. Brian Carey; 4. Luke McCormick; 5. Julie Boettler; 6. Darell Cordary; 7. John Young; 8. Robert Gallegos; 9. Clint Cressler; 10. Bill Fergson; 11. Christina Gallegos; 12. Juanita Faddis; 13. Billy Beanland; 14. Glenn Spangler; 15. Jeramy Hughes.
June 21 Feature Results
Modifieds – 1. Zane DeVilbiss; 2. Brody Spangler; 3. Howard; 4. Ruble; 5. Bradley; 6. Ratzlaff; 7. Da­vid Davis; 8. Rhoden; 9. Higgins; 10. Aaron Spangler; 11. Hensley; 12. Ryan Spangler; 13. Shane DeVilbiss.
SportMods – 1. Higgins; 2. Jesse Baldwin; 3. Boettler; 4. Carey; 5. Faddis; 6. Eddleman; 7. Cordary; 8. McCormick; 9. Robert Gallegos; 10. Young; 11. Fergson; 12. Christina Gallegos; 13. Cressler; 14. Beanland; 15. Dylan Terry; 16. Joe Esquibel; 17. Glenn Spangler.