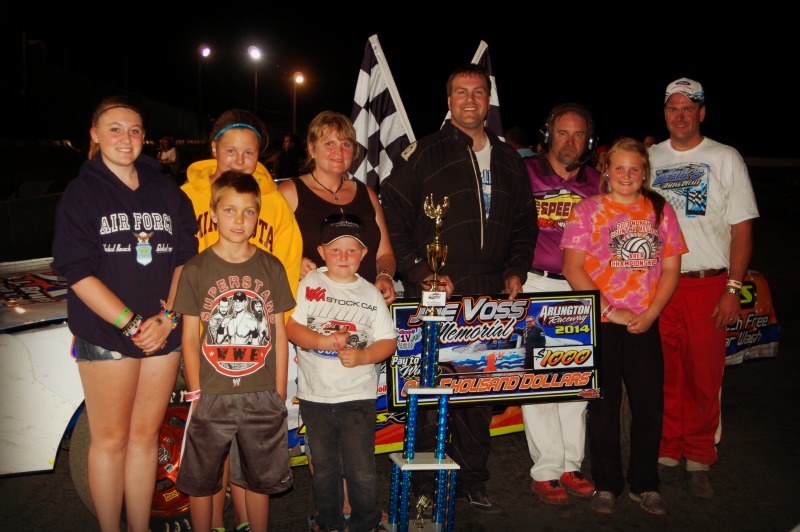 ARLINGTON, Minn. (June 21) – After they drained the track, Shaun Bruns left the rest of Saturday's IMCA Sunoco Stock Car field at Arlington Raceway in his wake.
Bruns pocketed what turned out to be $1,700 for winning the inaugural Joe Voss Memorial after starting third, going to the bottom to pass front row starters Matthew Schauer and Dan Mackenthun coming out of turn two and leading all 20 laps.
He pulled away from the pack following restarts on laps eight and 13. Mackenthun closed while Bruns battled handling issues but ran out of time and had to settle for second.
Elijah Zevenbergen, Derek Green and Schauer completed the top five.
"They did a great job getting the track ready," Bruns said. "They pulled an all-nighter pumping water off so we could race."
Feature results – 1. Shaun Bruns; 2. Dan Mackenthun; 3. Elijah Zevenbergen; 4. Derek Green; 5. Matthew Schauer; 6. Jeff McCollum; 7. Ken Tietz; 8. Brent Uecker; 9. Matt Speckman; 10. Jeff Holstein; 11. Dan Dhaene; 12. David Moriarty; 13. Jesse Anderson; 14. Daniel Eckblad; 15. Dean Cornelius; 16. Dean Nething; 17. John Polifka; 18. Travis Schurmann; 19. Chris Meyer.