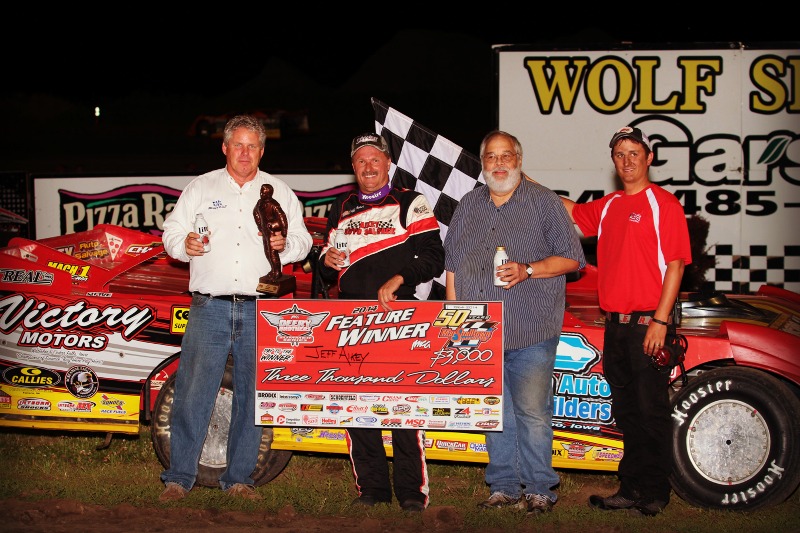 MARSHALLTOWN, Iowa (June 24) – On a night when Marshalltown Speedway continued its 50th anniversary celebration, an IMCA Late Model driver with more than his share of tour success cele­brated another Deery Brothers Summer Series victory.
Jeff Aikey led start to finish in the Miller Lite 50 event, earning a $3,000 share of the purse plus a pair of $500 bonuses along with his 62nd career Deery win.
One of seven drivers from the track's 1985-1990 Late Model era competing Tuesday night, the seven-time series champion pocketed those bonuses from H & F Distributing for winning the fea­ture and from former promoter Steve Priske, now owner of Rumor's Bar & Grill, as the highest finishing veteran in the main event.
Andy Eckrich, Ray Guss Jr., point leader Justin Kay and Curt Martin completed the top five. Defend­ing champion and hard charger Brian Harris raced to sixth in the 50-lapper after qualifying from his "B" feature and starting 17th.
Denny Eckrich made a charge and challenged Guss for second. The two made contact, with Eckrich spinning to the infield and bringing out the first caution of the night on lap 43.
The yellow waved again for a lap 45 incident. Aikey ran the topside to the checkers, beating Andy Eckrich across the stripe by a couple car lengths to become the sixth different winner in as many series events this season.
Four of Aikey's Deery wins have now come at Marshalltown, the first of them in 1987, the series' first year.
Ryan Dolan won the $250 Sunoco Race Fuels feature qualifier drawing.
Clint Luellen was the $1,000 Karl Chevrolet Northern SportMod winner. Scott Pippert topped the $500 to win feature for IMCA Sunoco Stock Cars.
Touring IMCA Late Models are next at Independence Motor Speedway on Tuesday, July 1 for another $3,000 to win, minimum $300 to start Deery Series event.
Pit gates open at 5 p.m. with hot laps at 6:45 p.m. and racing to follow.
Feature results – 1. Jeff Aikey, Cedar Falls; 2. Andy Eckrich, Oxford; 3. Ray Guss Jr., Milan, Ill.; 4. Justin Kay, Wheatland; 5. Curt Martin, Independence; 6. Brian Harris, Davenport; 7. Tyler Bruening, Decorah; 8. Rick Wendling, Hazleton; 9. Jason Hahne, Webster City; 10. Ryan Dolan, Lisbon; 11. Jason Rauen, Farley; 12. Joe Zrostlik, Long Grove; 13. Darrel DeFrance, Mar­shalltown; 14. Kevin Kile, West Liberty; 15. Ron Boyse, Kalona; 16. Spencer Diercks, Davenport; 17. Jeremy Grady, Story City; 18. Scott Fitzpatrick, Long Grove; 19. Joel Callahan, Dubuque; 20. John Emerson, Waterloo; 21. Denny Eckrich, Tiffin; 22. Ron Klein, Sherrill; 23. Matt Ryan, Daven­port; 24. Charlie McKenna, Clear Lake.
1st heat (top three) – 1. Guss; 2. Bruening; 3. Kile; 4. Randy Foote, Stanton; 5. Rauen; 6. Luke Pestka, Robins; 7. Harris; 8. Fitzpatrick; 9. Greg Kastli, Waterloo.
2nd heat – 1. Dolan; 2. Kay; 3. Denny Eckrich; 4. Diercks; 5. DeFrance; 6. Curt Schroeder, Ames; 7. McKenna; 8. Boyse; 9. Gabe Umbarger, Garner.
3rd heat – 1. Wendling; 2. Martin; 3. Hahne; 4. Callahan; 5. Emerson; 6. Paul Conrad, Colo; 7. Grady; 8. Andy Nezworski, Buffalo.
4th heat – 1. Aikey; 2. Andy Eckrich; 3. Zrostlik; 4. Bobby Hansen, Center Point; 5. Ron Klein; 6. Lyle Klein, Sherrill; 7. Ryan; 8. Richie Gustin, Gilman.
1st "B" feature (top four) – 1. Callahan; 2. Rauen; 3. Harris; 4. Emerson; 5. Grady; 6. Fitzpatrick; 7. Pestka; 8. Nezworski; 9. Foote; 10. Kastli; 11. Conrad.
2nd "B" feature – 1. Diercks; 2. DeFrance; 3. McKenna; 4. Ron Klein; 5. Boyse; 6. Schroeder; 7. Ryan; 8. Lyle Klein; 9. Hansen; 10. Umbarger.
Hard charger – Boyse. Point provisional starters were Grady, Fitzpatrick and Ryan.