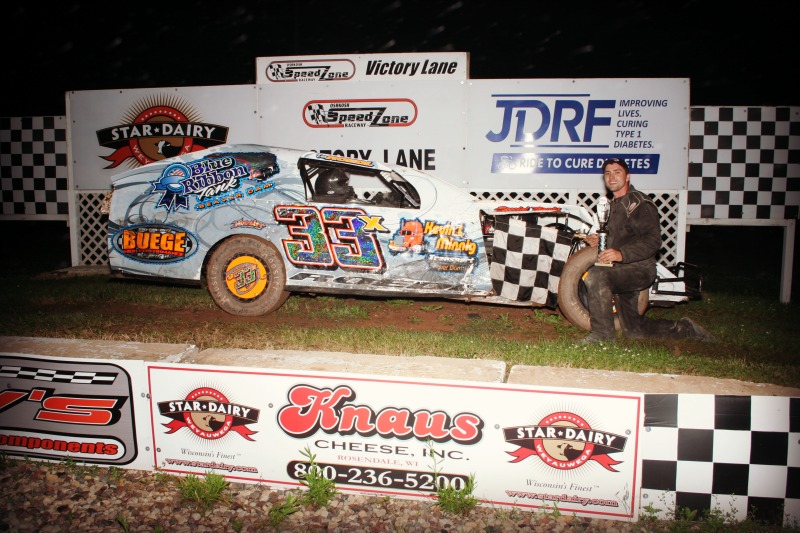 By Dave Panske
OSHKOSH, Wis. (June 20) – Dan Roedl ran away from everybody in winning his Automotive Sup­ply Company IMCA Modified first feature Friday at Oshkosh SpeedZone.
The Modifieds opened with a first-lap caution, then clicked off 20 straight hard fought laps. Roedl took the lead and sped off to hide from the rest of the field with Jerry Muenster, Shawn Frelich, Jeremy Christians, Marcus Yarie and Mike Wedelstadt behind.
Frelich was also able to open an advantage as the battle for third took center stage.
By halfway, Roedl was a quarter lap ahead with Frelich still holding a slight margin over third and lapped traffic coming into play as well. With five laps remaining, Yarie worked into third and chased down Frelich, taking second on lap 17.
Jared Siefert, Christians and Wedelstadt were also able to get by Froelich over the last few laps, but all chased Roedl as he collected his first career IMCA Modified feature.
Justin Jacobsen grabbed the Total Power Sales IMCA Stock Car lead followed by Larry Karcz Jr., Mark Schuenemann, Cody Scray, Travis Van Straten and Rod Snellenberger.
By lap five, Jacobsen was still holding the lead with Karcz, Schoenemann and Snellenberger be­hind. A lone race caution on lap seven for debris tightened the field and back under green, Snellen­berger used the inside line to take over the top spot with Schoenemann following into se­cond.
Snellenberger looked well on the way as he started to pull away when suddenly his car popped in turn four on lap 14 and he pulled into the infield, turning the lead to Schoenemann.
Karcz and Jacobsen were now right behind the leader in a battle that lasted to the finish. Schoene­mann recorded his first-ever SpeedZone feature win and first checkers in over two years with Karcz taking the runner-up spot followed by Jacobsen.
Jordan Barkholtz grabbed the initial leads in the Karl Chevrolet Northern SportMod main with Bri­anna Ambroziak, Robbie Thiel, Jon Schultz, and Lucas Lamberies behind. Schultz hooked up early and worked to the front, taking over the lead on lap eight.
Steve Schneider and Todd Wiese also made their way through traffic and followed into third and fourth, respectively. Contact between Barkholtz and Wiese caused Wiese's car to get airborne and flip in turn four, bringing out the red on lap 10. He was not injured but the car sustained heavy damage.
Schultz continued in the top spot after the restart and was able to open a lead as the run for se­cond heated up for the last half of the race. Lamberies, Adam Peschek, Jeff Schmuhl and Brock Saunders ran together chasing the leader. Schultz ran off to win his first feature here since Aug. 7, 2012, Peschek won the battle for second with Schmuhl in third.