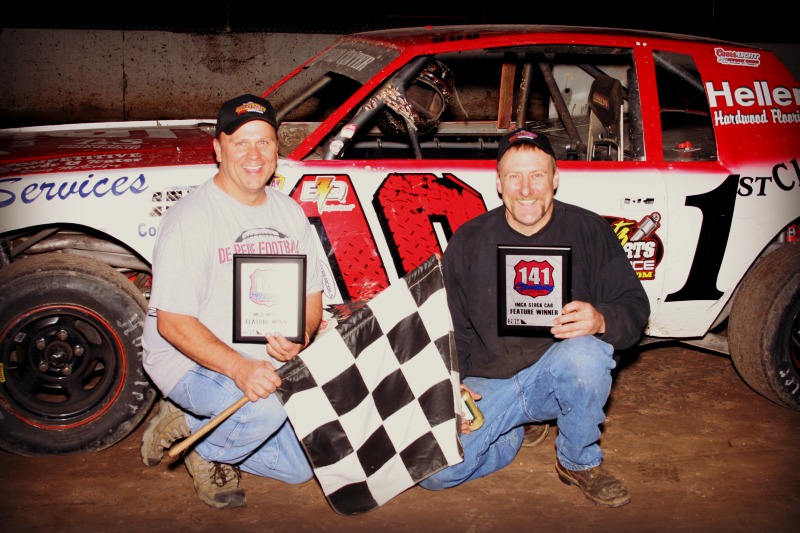 By Greg Aregoni
FRANCIS CREEK, Wis. (June 21) – Sometimes racing is like baseball with timely hitting. Or as they say, "Getting hot at the right time."
If that is a true statement then IMCA Xtreme Motor Sports Modified driver Mike Mashl is golden for this week's Clash at the Creek. Mashl has won the last two features that he has participated in at 141 Speedway.
Adam Reed gave Mike Mashl everything he could on the opening lap. Unfortunately for the rest of the field, that would be the last battle for Mashl on his way to his second consecutive win. Mashl led through a variety of cautions throughout the first half of the race.
Troy Jerovetz mounted a charge before the final caution came out with R.M. Van Pay in tow. Mashl stayed in front of everyone as it looked like a finishing order in the top three from Luxem­burg Speedway from the 1990's. Mashl took the win in front of Van Pay. Brian Mullen charged to a third place run.
Brad Lautenbach wound up fourth and James Tebon flew from 16th starting spot to finish in the top five. Mashl has now led 62 consecutive laps as he scored another clean sweep event.
A three-wide battle helped settle the IMCA Sunoco Stock Car outcome with four laps remaining.
Luke Lemmens and Rod Snellenberger passed Rick Mahlberg at the line. Lemmens led one lap with Snellenberger snatching it away with three laps remaining. A couple cautions kept the field close to the point leader.
Snellenberger pulled away from Lemmens for his third win of the season.
J.J. Tuyls set up shop in front of the field early in the Karl Chevrolet Northern SportMod main. A scary pile-up took place on lap three when Bill Edler spun and involved Kevin Bethke, Cody Schroeder, Andy Kleczka and Troy DeGrave. The incident took out some of the top contenders.
Tuyls led out of the caution with Greg Potts in hot pursuit. Potts made his move on lap seven and never looked back. Brandon Long started the show in 13th and worked forward but ran out of laps. Long was able to reach inside of Potts on the final corner but would lose by half a car length.
Potts picked up his first win of the season. Long was able to become co-point leader with his run­ner-up finish. Brandon Schmitt finished third in his first run of the season at the speedway. Brian Bruechert finished fourth with Tuyls solidly finishing fifth.