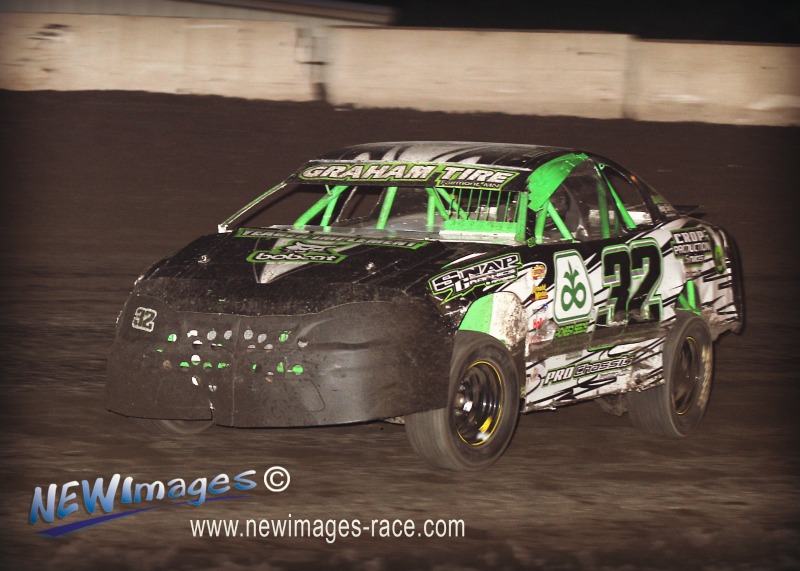 FAIRMONT, Minn. (June 20) – For most of the race's 18 laps, Derek Green gave serious thought to trying the extreme high line to get around Dan Mackenthun.
He made up his mind to do it on the last circuit and the result was his sixth IMCA Sunoco Stock Car feature win of the season, worth $1,000 Friday at Fairmont Raceway.
A late caution brought about the green, white, checkered conclusion to the evening's headliner.
""It was kind of a Hail Mary type of deal. I passed him up on top," Green said after chasing Mackenthun much of the way. "I thought about trying it all night. It took all those laps to talk myself into it.
Mackenthun ended in second. Elijah Zevenbergen, Jim Larson and Devin Smith rounded out the top five.
Zevenbergen had started 11th while Smith cracked the top five after starting 21st.
Feature results – 1. Derek Green; 2. Dan Mackenthun; 3. Elijah Zevenbergen; 4. Jim Larson; 5. Devin Smith; 6. Trent Schroeder; 7. Luke Sathoff; 8. Matt Speckman; 9. Jeff McCollum; 10. Brent reierson; 11. Ken Tietz; 12. Levi Feltman; 13. Jesse Olson; 14. Dan Thate; 15. David Reisdorfer; 16. Jerry Coopman; 17. Alex Moreno; 18. Chris Meyer; 19. Jake Masters; 20. Donnie Planting; 21. Doug Jenkins; 22. Matt Allen; 23. Andy Altenburg; 24. Gary Mattison.