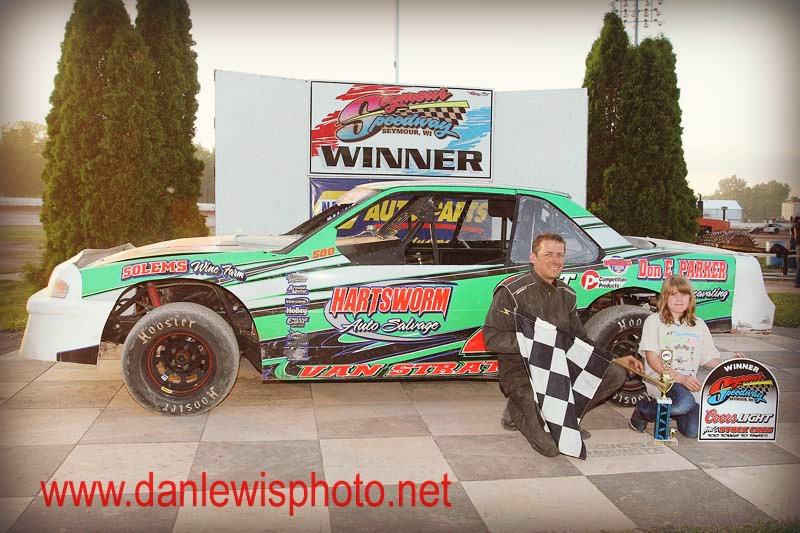 By Dave Panske
SEYMOUR, Wis. (June 15) – Once racing settled in, Travis Van Straten accomplished a career first Sunday evening at Seymour Speedway.
The Coors Light IMCA Stock Car feature started with a rollover. Bob Czarapata flipped his car on the side after hitting the turn one fence, but was not injured.
Back under green Travis Springstroh took the lead followed by Chaz Van Ooyen, Bill Kel­sey, John Heinz and Chris Lowenhagen. Van Straten quickly moved toward the front, taking over third on lap three.
A caution on lap seven bunched the pack with Springstroh still leading the way. A fantastic three wide battle for the lead ensued with Van Ooyen taking charge on the restart and Van Straten mak­ing a three-wide pass into second.
Van Straten continued to move forward and wrestled the top spot from Van Ooyen on lap nine. He started to pull away, leaving the battle for the runner-up spot. Van Ooyen, Jeremy Wii­tala, Rod Snellenberger, Heinz and Kelsey swapped positions white trying to keep up with Van Straten, who was adding to his lead lap after lap.
A spin brought out the final caution on lap 16, but Van Straten was up to the challenge and held off Snellenberger and Heinz to record his first-ever Stock Car feature win at Sey­mour. Snellenberger beat Heinz for the runner-up spot with Van Ooyen a close fourth.
Tyler Wilson pulled into the top spot of the Budweiser IMCA Modified feature with Lance Arneson, T.J. Smith, Jay Matthias and Eric Arneson behind. Mike Wedelstadt made a direct run toward the front, taking second on lap six before the lone caution of the race appeared.
Wedelstadt wasted little time taking the top spot on the restart and set out to hide from the field, leaving Wilson, Brad Lautenbach, Chad Bartel, Lance Arneson and Jamie Schmidt to decide se­cond.
Wedelstadt continued to cruise taking his first feature win of the season and become the fifth differ­ent winner this season. Lautenbach took the runner-up finish with Bartel third. Wilson rec­orded his best finish this season, taking fourth.
Mike Dauphinais set the pace for the first seven laps of the Karl Chevrolet Northern SportMod contest with Lucas Lamberies chasing in second with Hunter Parsons and Bruce Belland close behind.
By lap five, Joey Taycher had moved into third and continued into the runner-up spot on the next lap. Taycher challenged the leader for two laps and took charge on lap eight. Lamberies and Bel­land moved up in line as well, but could not keep pace with Taycher, who ran alone to the finish.